Council opens process to close two of seven sanctioned premises of Punta del Arenal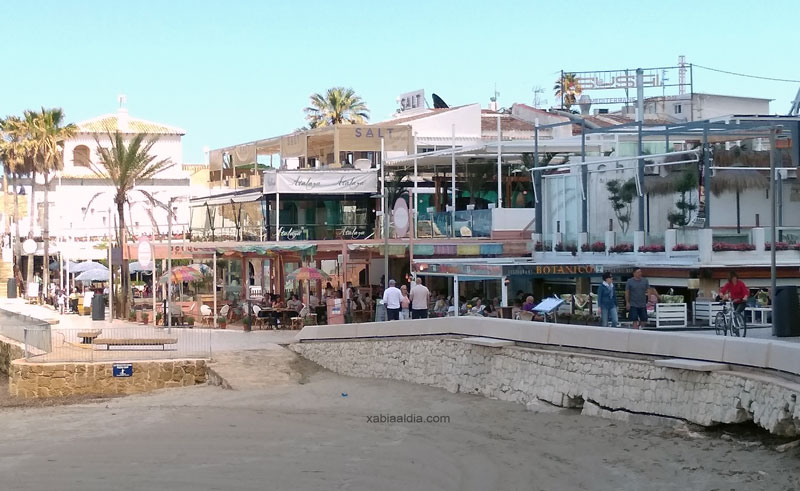 ---
Wednesday 20th April 2022 – Mike Smith
Source: original article – Xàbia AL DÍA
---
The saga continues. A couple of weeks ago, it was reported that seven hospitality businesses in the Punta del Arenal zone in the popular tourist beach zone of Xàbia would be required to cease activity and close their doors after a decree was issued by the town hall, the businesses sanctioned due to lacking the mandatory opening licence. The affected businesses were notified and would be able to re-open once the required licensing was in place. Failure to do so would result in a "subsidiary execution" of the decree being activated, in other words, the authorities would enable the closures by force.
According to Levante-EMV, the affected businesses are Achill, Acqua, Atalaya, Bambula, Baltasar, Botánico and Salt, and the local council has confirmed that their closure, which has been demanded by the Valencian Anti-Fraud Agency after a lengthy investigation, is "due to the lack of a mandatory opening licence" which could not be granted due to deficiencies which have prevented the process being completed and "have not been corrected by any of the seven premises during the time that the investigation has been open".
The decree demanded that the venues should be closed within ten days of the receipt of the notification requiring them to do so and, in the case of non-compliance, the council would be forced to activate the subsidiary execution.
According to Levante-EMV, during Semana Santa and the Easter weekend, traditionally the beginning of the summer season in Xàbia, two of the sanctioned businesses didn't open at all (Baltasar and Atalaya) in compliance with the municipal decree whilst Botánico and Salt were open as usual in defiance of the notification to cease activity, which was confirmed by an inspection by the Policía Local which reported non-compliance. According to municipal sources, Achill, Acqua and La Bambula were able to open as usual since after the owner delayed receipt of the municipal decree and legally they don't need to close until later in the month when the ten-day notification period ends.
On Tuesday 19th April, the local council activated the subsidiary execution process to force the closure of Botánico and Salt, a complex procedure at a technical level which needs to follow the guidelines set out in the Administrative Procedure Law. This will allow the owners of the businesses a period of time to close voluntarily and without the local authorities – the town hall and the police – being obliged to go through the courts to force their closure.
All the affected businesses will be able to re-open once all the necessary licensing has been obtained, having had to remedy all the identified deficiencies for which they were warned and notified to rectify during the different phases of the investigation.
---
Related Links
---
---