Chulvi: "The Council has no interest in harming the economy of Xàbia"
The mayor explains that it is the Ministry of the Interior that regulates live music performances in bars, restaurants and nightclubs through the regional entertainment law, not the local council.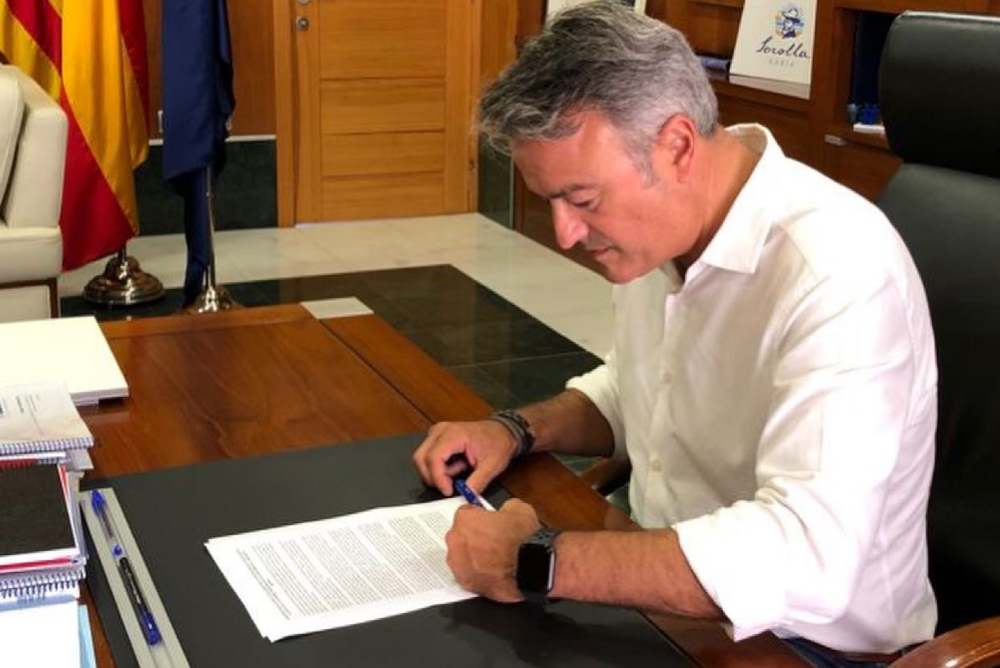 Tuesday 6th July 2021 – Compiled by MIKE SMITH
---
Mayor José Chulvi has responded to accusations from local musicians that he doesn't care about live music in Xàbia. In an article published last week (see below), we reported about the perception that the town hall deliberately suppresses live music performances in the municipality, forcing local professional musicians to travel to other towns in the region to earn money whilst several social media comments accused the mayor of promoting municipal events over live music in bars and restaurants.
Here is his response in full:
After reading several complaints about the restrictions that live music has suffered in restaurants and that, apparently, several people believe – or want to believe – that it is the Xàbia Council which has prohibited it, I would like to clarify how the regulation of this activity works.

First, let me make it clear that, even if it is the same activity (a concert), it is not the same when it is held in a public place (streets, squares or public buildings, which are the responsibility of the Council) as when it is inside bars, restaurants or entertainment venues. In the Comunidad Valenciana, it is the regional government that regulates live music performances in bars, restaurants and nightclubs through the regional entertainment law.

Since the beginning of the pandemic, these activities have been included – among many others – among the regional restrictions established in terms of public health.

Live music concerts have been allowed on public roads or in cultural venues (public and private) for months, but, until a recent relaxation of measures, they have been specifically prohibited in the hospitality industry (bars and restaurants) as is being serving at the bar and other activities that can promote the transmission of the virus.

As I mentioned, the latest decree (which in force from June 30 to July 15) removes some restrictions and once again allows bars and restaurants to organize musical performances … under the same conditions prior to the pandemic. In the hospitality sector (banquet halls, restaurants, cafes, bars, cafeterias, public establishments located in the maritime-terrestrial zone and lounge-bars) professional performances of musical groups and disc jokeys are allowed, so long as there is sufficient ventilation and safety distances, which in the case of singers or wind instruments, must be at least 2 metres between musicians and audience.

I say again, they are allowed in the same circumstances as before the pandemic. That is, requesting the pertinent special permission from the regional government (it must be understood that a bar/restaurant's main activity is to serve food and drink, therefore, concerts are not an activity linked to its license).

The Council does not have any local regulations for musical performances in bars and restaurants, nor does it act 'ex officio' to prevent concerts. However, in the event that someone calls the Local Police reporting a concert, the officers have the obligation to visit the premises and check that the owners have the necessary permission for live music. If not, the police will initiate a file informing the regional government of what has happened and it is this body that decides the sanction to the premises. The police have never stopped a concert without someone having previously called them to complain about it.

In leisure establishments (discos, dance halls and cocktail bars, pubs, internet cafes, theatre cafes, concert cafes and music cafes): Yes, professional performances by musical groups and DJs are allowed, ensuring sufficient ventilation and a safety distance (in the case of singers and wind instruments, at least 2 metres). These premises do not need prior authorization, as the music is an activities related to their license. On the other hand, indoor or outdoor dancing, or karaoke and sporadic or amateur singing performances are not allowed.

You can consult the current decree as well as future updates in the Official Gazette of the Comunidad Valenciana: https://dogv.gva.es/datos/2021/06/30/pdf/2021_7296.pdf.

Finally, I want to assure you that Xàbia Council has no interest in harming any economic activity. On the contrary, since the pandemic began, it has been working to be able to offer aid to employees and companies that have not been able to work as usual because – let's not forget – we are experiencing a global health crisis that has affected us all in some way.

I ask for a little understanding and one last effort to overcome this pandemic.

Thank you all very much and I hope that soon we can safely enjoy everything that makes us happy.
---
Related Link
---