CD Jávea go third after victory over Pego CF
Two second-half goals from Obele and Guerrero sealed victory for the rojiblancos.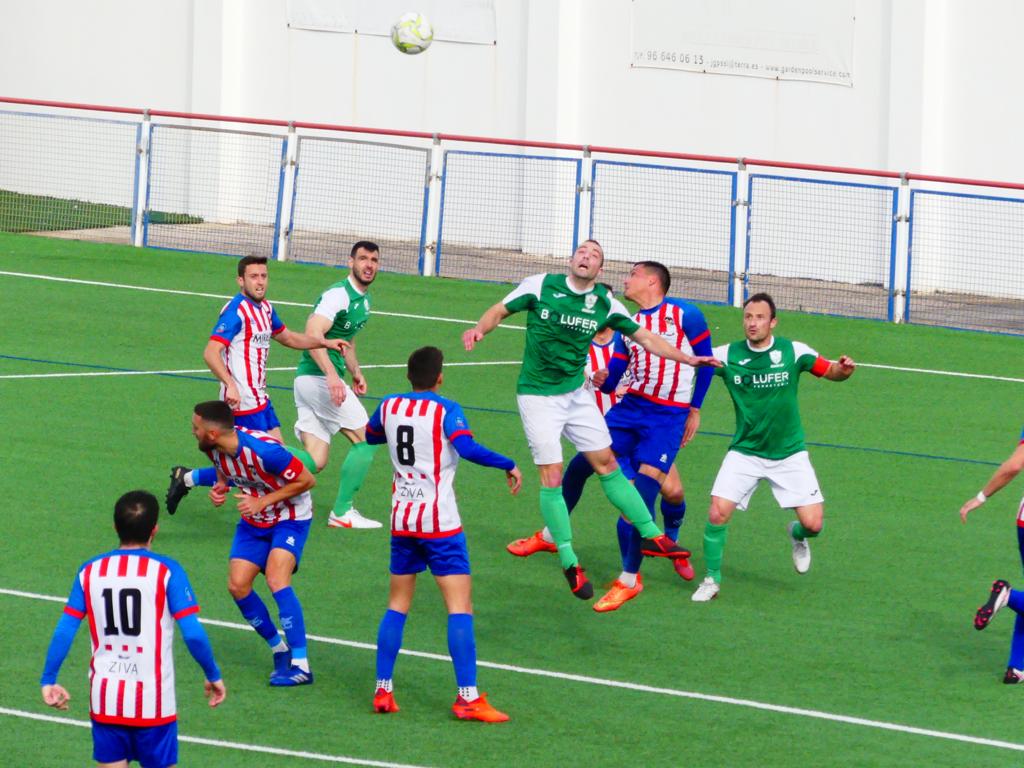 Monday 26th April 2021 – XÀBIA AL DÍA with Mike Smith
CD Jávea 2-0 Pego CF
Two second-half goals from Obele and Guerrero sealed victory for CD Jávea in a game in which new signings Vicente Palau and Carlos Djaló made their debuts for the club.
The opening minutes of the game saw both sides create several chances to open the scoring with Jávea's Guerrero heading just wide whilst at the other end Pego's Enrique was well-blocked by goalkeeper Edu. The visitors grew in confidence, stealing balls and attacking the home goal, defying their bottom of the table position, with Álvaro hitting the bar in an play that would be ultimately judged offside. Jávea dug deep and gradually hauled the wind out of Pego's sails but the visitors defended well to keep the score level at half-time.
The second half began with Guerrero and Obele combining well for the latter to force a fine save from the Pego keeper, a replacement after the starting keeper was sent off just minutes into the second period. Obele would be on hand to open the scoring when a free-kick sent high into the six-yard box confused the Pego defence, allowing the striker to pounce on a loose ball and smash home from close range. Minutes later Guerrero doubled the advantage with a header that beat the keeper, the leading scorer reaching double figures after meeting a great high pass into the box from substitute Palau. The striker might have made it three later on but his shot hit the crossbar. Pego might have reduced the deficit late in the game when a corner from Arnau was converted into the side netting.
CD Jávea: Edu, Marcos (Javi, 46m), Paolo, Ayoze (Palau, 38m), Paco (Toti, 74m), Molina, Soler, Obele (Carlos, 68m), Álvaro (Jorrín, 74m), Luís Carlos y Guerrero.
Pefo CF: Iván, Giménez, Ferrán, Álvaro (Carles, 68m), Ramiro, Pere (Guillem, 49m), Xavi Jordi, 62m), Curro (Chamorro, 62m), Borja, Frede (Arnau, 68m) y Enrique.
Goals: 1-0, 62m. Obele, 2-0, 65m Guerrero.
Referee: Alejandro Chaves Gallego. Cautioned Paco, Palau, Javi and Molina for CD Jávea and Frede, Álvaro, Pere, Curro and Giménez for Pego CF. Pego's goalkeeper Iván Toledo was sent off just after half-time.
Following the modification of the COVID-19 measures, this was the last game to be played behind closed doors as the easing of restrictions means that up to 1,000 spectators will be allowed back into football grounds to watch their team play.
---
---

---