CD Jávea go third after victory against UD Portuarios
Both teams were reduced to ten men in the opening 20 minutes of the game.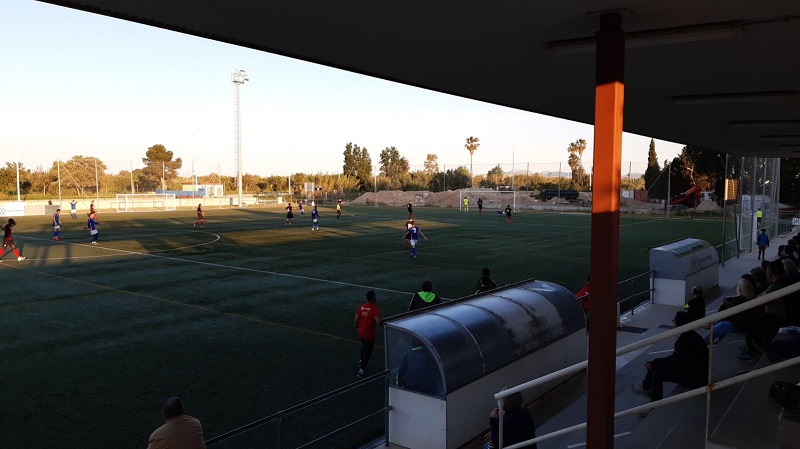 Thursday 6th May 2021 – XÀBIA AL DÍA with Mike Smith
UD Portuarios 0-3 CD Jávea
CD Jávea go third in the table after a comprehensive victory over struggling side UD Portuarios at the Campo Fort-Llopis in El Grau de Gandía. The rojiblancos are now just four points behind league leaders CFI Alicante and in a great position to maintain momentum in the final third of the season and claim a top three spot for a chance of promotion to the Third Division.
However, it didn't start well for the rojiblancos after Leading striker Juanma Guerrero was dismissed with a straight red after just two minutes. However, the sides were re-balanced barely twenty minutes later when Portuarios defender José Brines received his second yellow which meant that both sides were down to ten men with barely a quarter of the game gone.
The opening goal came just before half-time through Vicente Palau, scoring his first for Jávea since his return a couple of weeks ago. After the break, Luis Carlos doubled the advantage on 60 minutes before substitute Álvaro López secured the three points with a goal thirteen minutes from time.
UD Portuarios: Sergio Ruiz, Brines, Federico (Marcos 78m), Jordi (Aníbal 78m), Didac (Carlos 62m), Nicolás, Carles Estruch, Escrivá, Darío (Iñaki 62m), Thiam (Víctor 27m), Julio.
CD Jávea: Edu Samblás, Marcos (Javi 57m), Paolo, Paco, Aldo, Ferrán, Soler (Piñero 80m), Luis Carlos (Jorrín 68m), Carlos (Vargas 80m), Palau (Álvaro 57m), Guerrero.
Goals: 0-1 39m Palau; 0-2 60m Luis Carlos; 0-3 77m Álvaro.
Referee: Iván Arias.
Cautions (Portuarios): Julio, Carles Estruch, Federico with Brines sent off for two yellow cards. (Jávea): Marcos with Guerrero sent off with a direct red on two minutes.
---
---

---