CD Jávea deserved more against CF UE Tavernes
A great game was drawn 2-2 with Jávea's Paco missing a penalty.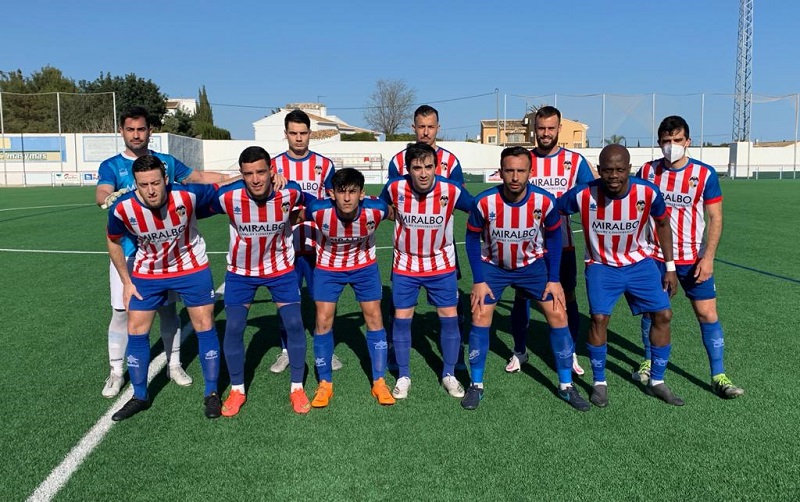 Sunday 21st March 2021 | Xàbia AL DÍA, translated by MIKE SMITH
CF UE Tavernes 2-2 CD Jávea
A great match was fought in Tavernes between two sides aspiring to claim a top three spot and a chance at promotion to the Third Division, the very competitive game ending up a 2-2 draw.
The first half saw the hosts score first on 22 minutes through Alfonso who met a fine free-kick from Salom on the left to finish at ease. Jávea equalised on 38 minutes, goalkeeper Edu's huge long ball reaching Obele who connected with Guerrero, the striker taking advantage of an indecisive defensive live to score past the hesitant keeper. Five minutes later, Guerrero scored again, firing well past the keeper into the corner of the net to put Jávea into the lead at the break.
The competitive edge continued into the second half with both teams fighting hard to claim all three points. And it was Jávea that had to golden opportunity to put themselves into a commanding lead when they were awarded a penalty after Obele was tripped inside the box. However, the spot-kick from Paco was saved by a combination of the keeper and the post. The hosts reacted well and pulled themselves back into the game of 75 minutes when Palomares scored to force a share of the spoils.
Teamsheets
CD UE TAVERNES. Xumi, Artur, Corbalán, Palomares, Carrasco, Alfon, Sean (Aranda, 57´), Sol, Edu (Aarón, 57´), Joan Talens, Salom.

C.D. JÁVEA. Edu, Ayoze, Paolo, Paco, Aldo (Fran, 60´), Ferrán, Javi (Toti, 88´), Álvaro, Guerrero, Luis Carlos (Juan Soler, 78´), Obele (Jorrín, 78´).
GOALS: 1-0, 22m, Alfon; 1-1 38m, Guerrero; 1-2, 43m, Guerrero; 2-2, 75m, Palomares.
REFEREE: Alejandro Gomis.
The next game for the CD Jávea will be this Wednesday at 8.00pm against CF Gandia in Xàbia.
---
Click below to read the original article in Spanish on Xàbia AL DÍA

---