Athletics club claims third place in team category in Trail Bernía Xaló
Veteran runner Nasio Cardona claimed the runner-up spot in the 21km test whilst Miriam Moritz finished 25th in her category in the 15km test.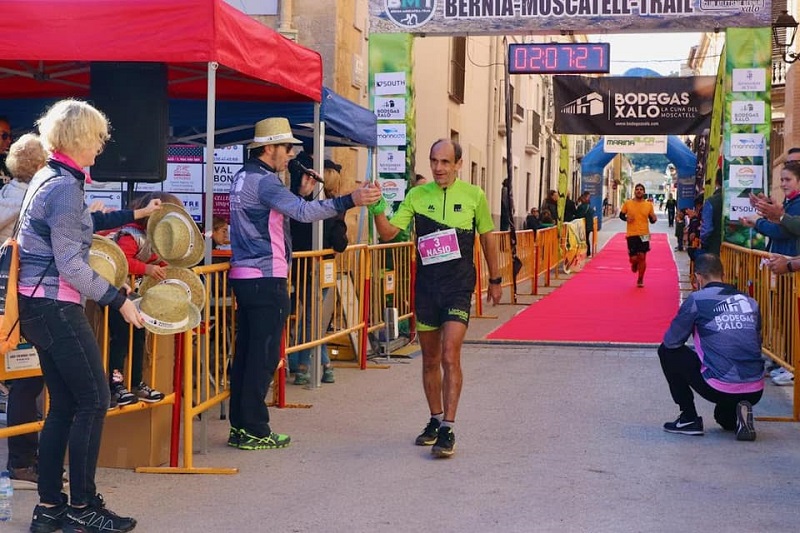 Thursday 11th November 2021 – CARLOS LÓPEZ with Mike Smith
---
The Club Atletisme Llebeig Xàbia claimed a spot on the podium in the team classification at the Bernia Moscatel Xaló Trail that was held last weekend in the wine capital of the region. All the runners of the athletics club reaped very good results that meant that it was placed to third place on the podium.
Top of the pile was Nasio Cardona, who was also runner-up in the 21km test and veteran, along with Isaac Díaz (9th in his category and 20th in the general classification), Juanjo Vallés (13th in his category and 32nd in the general), Cristian Monzó (6th in his category and 46th in the general), Alex Gayá (19th in his category and 58th in the general), Marisol Catalá (6th in his category and 129th in the general), Ferran Bernat was 56th in his category and 156th overall). For her part, Miriam Moritz competed in the 15km test, and recorded the 25th best time in her category.
Other athletes from club attended the IV Solidarity Race Against Cancer in Ondara. Juan Gallego was 8th in his category and 44th in the general classification; Fernando Serrat (27th in his category and 91st in the general), Yunqiao Thompson, (3rd in his category and 117th in the general; José Font (31st in his category and 118th in the general) and Ángeles Llidó, who finished 12th in his category and 183rd of the general classification of the test in which Jorge Llacer won.
Junior Teams
On the other hand, the different teams from the athletics school participated in the Cross Ciutat de Benicarló, which was scoring for the regional team championship.
The boy's U12 team made up of Reuben Hunter, Pablo Sapena, Kike Devesa and Edu Crespo took fifth place.
Meanwhile, the U16 team formed by Celia Fornes, Anaia Collinson, Laura Crespo, Ainara Sapena and Inés García were sixth.
Meanwhile, María Devesa and Edurne Mata ran their respective tests individually, both having very good races.
---

---