Arenal residents demands council forces owner to comply with resolutions
In 2019, the council called for the demolition of a hut built on the roof of commercial blocks which remains in the place today.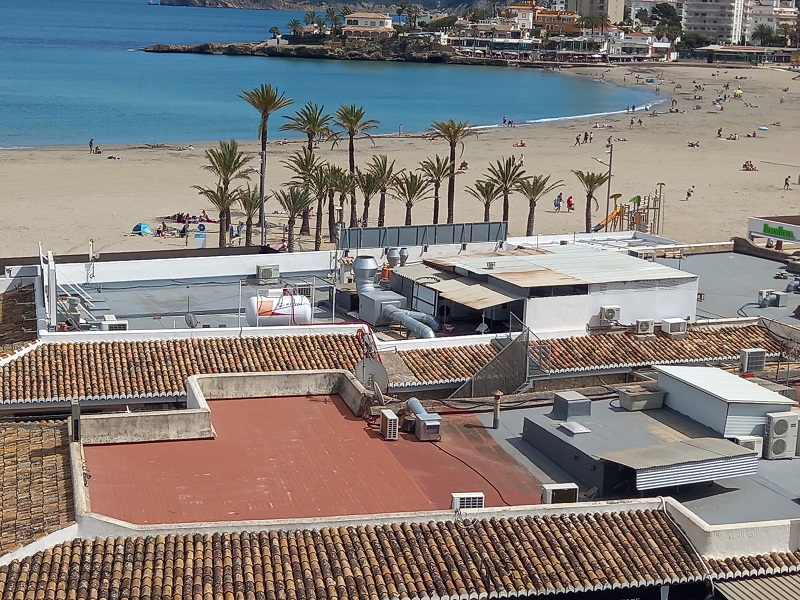 ---
Tuesday 19th April 2022 – Mike Smith
Source: original article – Carlos López (Xàbia AL DÍA)
---
The residents of the La Crehueta urbanisation block in the Arenal sent the council a letter on April 5th in which they urged the Urban Planning Department to inform them about the latest situation of a file that was opened in 2019 against the owner of one of the premises on the beach promenade who had built a hut on top of it.
The events date back to April 2019 when the councillor in charge of Urban Planning signed a decree in response to a report from a municipal technician dated November 2018, which stated that in one of the premises located in front of this apartment block, the owner had built a hut for installations and storage. In the decree, the councilor ordered that the owner had to remove the hut, giving him a timeframe to do so, warning of fines. Today, as can be seen in the image, the hut is still in place.
Since then, these apartment owners have repeatedly asked the council to inform them about the status of that file: on October 5th 2020, February 23rd 2021, September 27th 2021 and the last time on April 5th of this year, requests that. according to the residents, have gone unheard.
In response to enquiries from Xàbia AL DÍA, the councillor for Urban Development, Pepa Gisbert, explained that, like all urban infraction files, this particular one "is still being processed" and has indicated that "coercive fines" have been imposed on the owner for failing to comply totalling 1,400 euros.
The councillor insisted that all the procedures and deadlines allowed by the regulations are being followed and has indicated that, if the order is not complied with, "the council will execute it in a subsidiary manner". However, for that, it still have to overcome other phases.
She has also claimed that, in recent times, the Urban Planning technicians have imposed some 70 coercive fines for non-compliance with municipal decrees.