Arenal Closures: "This situation is the fruit of years of administrative chaos"
Owner Edgar Slama, director Antoinette Slama and solicitor Jaume Vives addressed the protest against the closure of Javeacompany premises by the local council.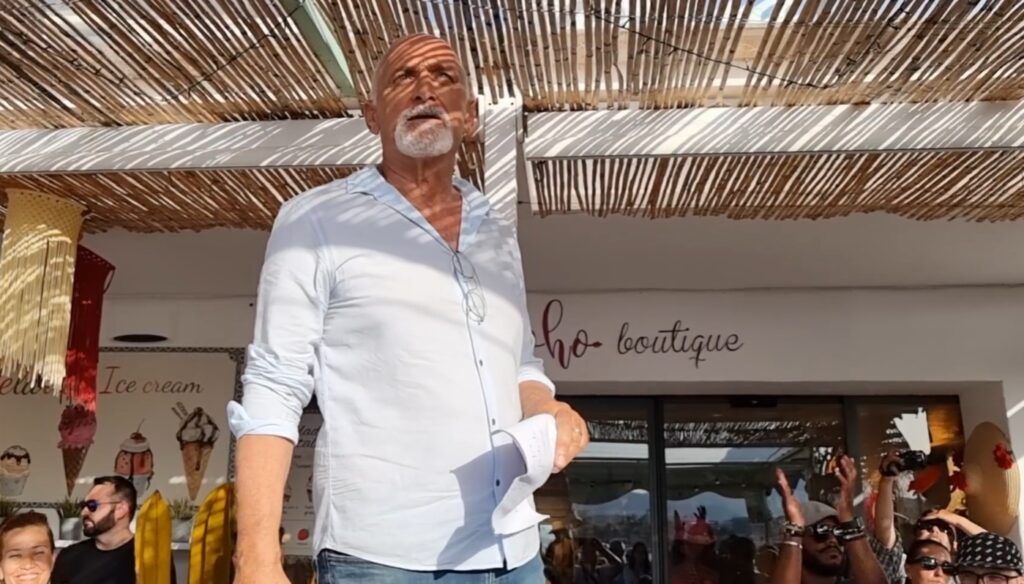 ---
Friday 20th May 2022 – Mike Smith
Source: video – Carlos López (Xàbia AL DÍA)
---
On Tuesday, the town hall in Xàbia released a statement in which it attempted to explain its side of the story in the controversial closures of seven premises in the Punta del Arenal zone of the popular beach area.
On Thursday evening, staff and customers of Jáveacompany, which owns three of the premises that have been forcibly closed by the local council, gathered on the terrace of one of them – La Bambula – to protest by striking pots and pans and to listen to statements made by company director Antoinette Slama, solicitor Jaime Vives, and finally, company owner Edgar Slama.
The following texts have been transcribed, translated and summarised from an original video taken by Carlos López at Xàbia AL DÍA and published on the XAD Facebook page.
Antoinette Slama – Company Director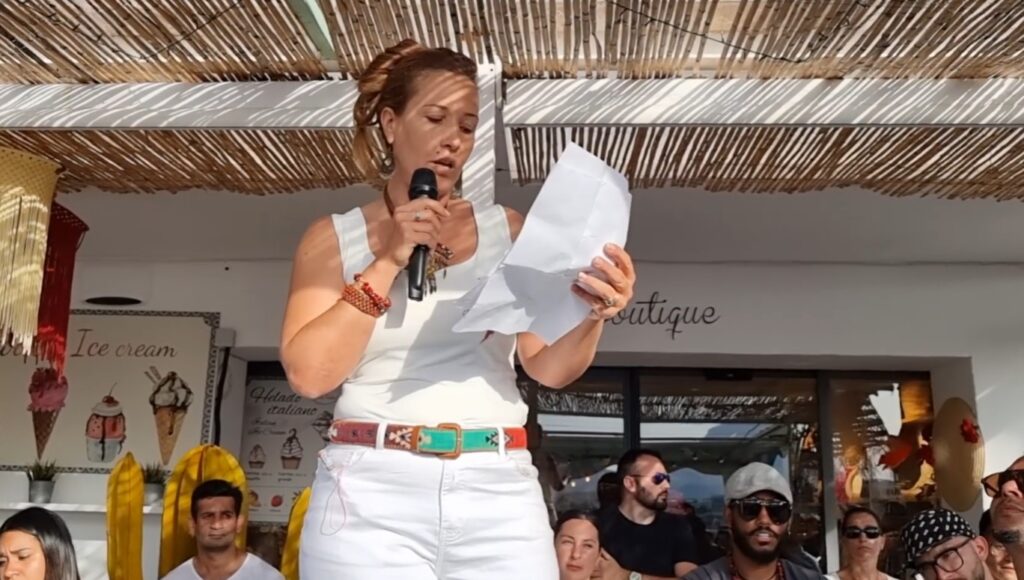 "I feel great sadness and profound desolation because we don't understand this situation. Here at Javeacompany, we don't understand envy, we don't understand hate and we don't understand frustration … that is why we don't understand what is happening. But we are not alone. Our lawyers don't understand it either, they don't understand that a town hall can reach such an extreme, having all the legal elements necessary to avoid it.
We have put it a lot of effort, enthusiasm and affection on the part of Jávea, to make the people enjoy something that is simply unique. We have really achieved that through our premises, that many people have heard about this privileged and special place that is Jávea.
I have personally witnessed how the town hall has placed more obstacles than provided help for Javeacompany and I find that very sad but above all outrageous since Jávea is a tourist destination. The external image remains, the town hall is a discriminatory image. Unfair and arrogant when they could give out an image of pride and collaboration with companies in Jávea. A huge number of businesses don't have a license and this situation is the fruit of years of administrative chaos cultivated by both the current and former government teams.
Thus, on behalf of Javeacompany, I ask that they [the town hall] end this discrimination and demand a change in its management, working for the benefit and not against them."
Jaime Vives – Solicitor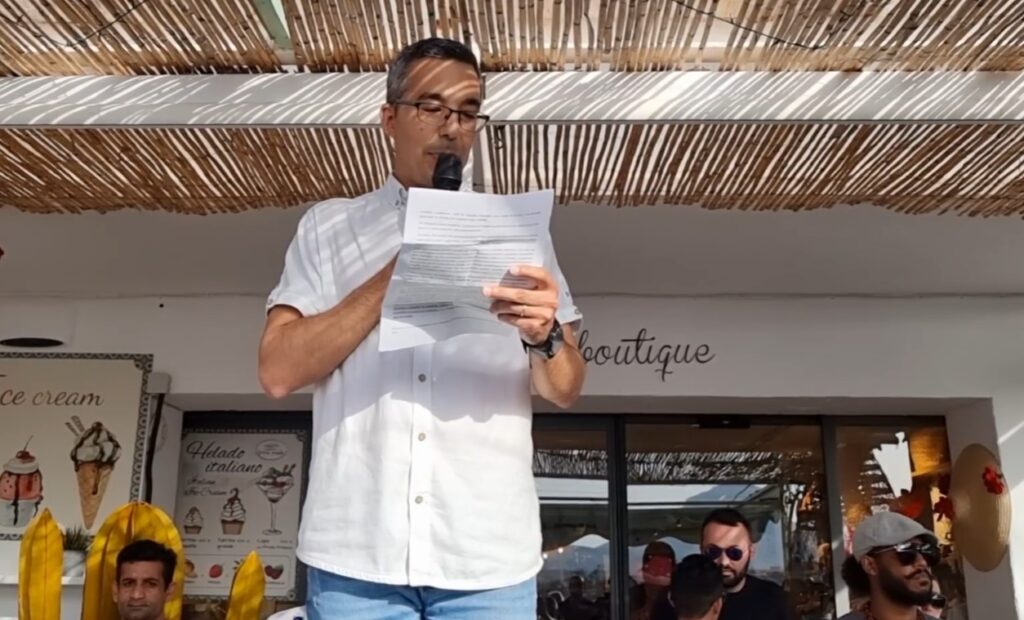 "Before the arrival of the Anti-Corruption Agency and in view of the fact that several of our licences were requested long ago and the process was still paralyzed, we requested and held a meeting with the town hall in Jávea after talking about the situation of administrative collapse that means that the majority of premises in Jávea are operating without a license and that it would be convenient to regularize the situation. It was decided to work as a team to streamline and solve this problem as soon as possible after the work meetings that were agreed upon. The only thing we got in response was submit what you think and we will review it.
As you all know, in September 2021, after the complaint from the Anti-Corruption Agency, the town hall – I think in fear that they would continue to investigate the current reality of the municipality – initiated the procedures to close our premises without even considering looking for a solution. It is still more complicated to be able to have meetings or even access our files, further slowing down the work of our engineers and lawyers.
The law allows proof of compliance with the regulations through an authorized control body OCA and we have gone to one of them. It has certified that our premises comply with said regulations. Despite having the certification of a control body authorized by the administration and with the permission of Costas, the town hall has not paid any attention to us and not only has it not taken this into account, but has decided to close the premises. As you know, we have presented arguments to justify that we have everything necessary to to be able to remain open and that we have a license to carry out the activity, but again nothing, we have not received any response other than the order of closure. All of this has brought us to this point. We have been forced to request that a judge rule on the illegality of the actions of this administration.
Finally, and to top it off, even having presented this to the town hall, it has continued to ignore the law and has decided to close the premises without respecting this measure. Unfortunately for us, justice has not been quick enough to stop this administration's malpractice.
With this, I have tried to briefly explain the hundreds of hours and resources that we have used to be able to regularize our situation and I would like to share with you some things. What have surprised me during this process? In this time I have met with several friendly town hall personnel, attentive and those you see who care a lot about doing their job correctly and helping you if possible. But I have also come across those who put obstacles in the way, they serve you with reluctance and rudeness and even having hundreds of files on the table. They leave [work] before 2.00pm. When you call them on the phone or ask for a meeting they are never there and that is why I wonder who controls the people who control us and does Jávea have enough officials? Another thing that struck me is that the administration can impose things on us, but they have all the time in the world and if a member of staff is on sick leave, no one replaces them.
In the town hall statement, there are two things which essentially surprises me. Yes, as they say in their statement, they are going to provide the necessary resources because they have not done so before. As they promised to do in their meetings … surely we could have had a different ending. They also want to enforce the law and close all unlicensed premises. And here is my question: what are they going to do with the dozens of premises without an activity license in Jávea and with the planning licenses – are they going to destroy the town or are they going to continue to apply the law selectively?
To make it clear, We are going to exhaust all legal channels to defend our rights and also those of your clients in our establishments who are prevented from being with us and we trust that justice will recognize the right that assists us. Thank you for your attention and for this great show of support".
Edgar Slama – Owner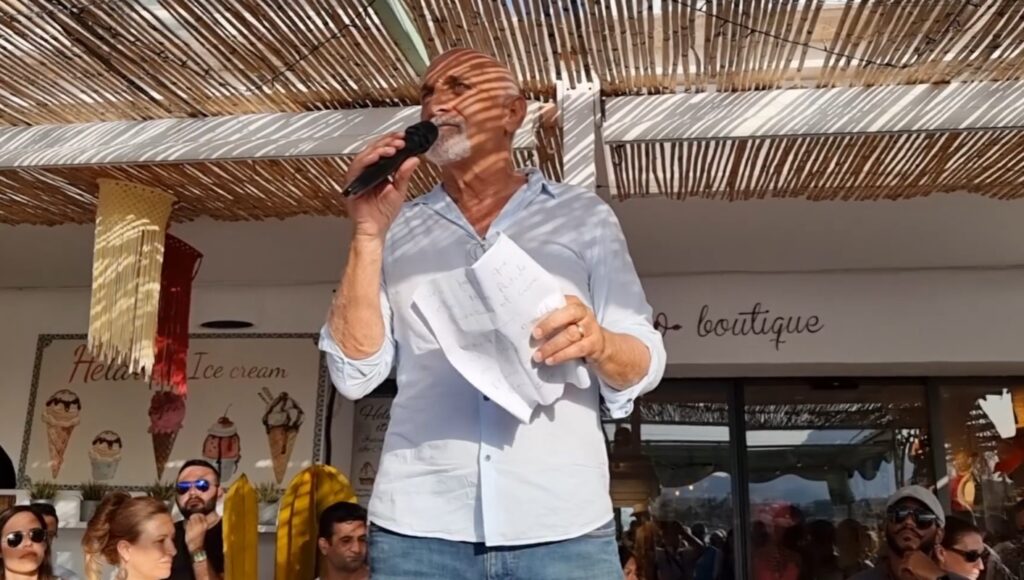 "[Jaime] asks the questions that we all ask ourselves. I want to speak to you because I've seen that there is a lot of press. And I want them to answer those questions tomorrow, that's all I want.
The question I want to ask is – who is behind it [the situation]? This Anti-Corruption b***h; what do you care? Throw people on the street for him to be calm in his chalet? I'm not afraid, I'm not anonymous. But the town hall is very afraid. It has a lot of power but it doesn't do anything. So I call on the press to say something, the press which didn't think that it would have to do much because they talk a lot but don't say much.
Now I'm going to ask you a question that's going to be surprise to everyone, including the journalists. For how long have we been waiting for a license from the town hall? 10 years? Wrong. For 25 years. That's my daughter's age. We've been here for 25 years without a license. But in those 25 years we have been presented with endless obstacles to prevent us from obtaining our licences. It has been obstacle after obstacle, it matters little what we do, what we repair and correct. For they will find something else, they will say that I don't have everything in order. For example, I'm not going to remove an awning because everyone has one but then they will not give me my license. They say will that we don't have to change the floor but now they are waiting for me to change it and then they're going to tell me no.
We have to ask ourselves how the town hall works. If there are staff members or politicians directly related to the competition, a nephew of one or the aunt of another. Well, I'm not going to answer that because you all know it, you know very well that I think that by answering this question, you are going to understand why Jáveacompany never achieves anything, the process of obtaining a license.
Could the town hall update the totally obsolete and absurd laws that make it impossible to obtain a license? Of course they could. But what has surprised me most, the thing that always surprises me, is that 200 people are going to lose their jobs. 200 people. Is there any reaction from the local government? Have they made a statement, given an idea or provided a proposal? Nothing. But not only only is there nothing from the government team. The reaction of the other political parties [is the same]. Nothing. No party has come here to say, look, we're going to try and save 200 jobs. Nobody. That says a lot about the political class in Jávea.
Well, there is no more talk, there are not going to be more questions. But I would like them to answer these ones. I'm not talking about José Chulvi as mayor. No. I'm not going to talk about him because he doesn't do anything. And why has he not done anything? Because he's not in charge. It is some town hall personnel, some despot officials who are blind when it comes to their friends but transform without hesitation into Sherlock Holmes. They are very efficient because they subject politicians to their interpretations of the law and then selectively apply yes to some and no to others.
The fruit of their work is not money, otherwise we would be talking about corruption as in many places. What motivates them is the satisfaction of not giving us a license for 25 years, rubbing their arrogance against us and you can feel the contempt, a curious mixture of envy and frustration. There are many people in the town hall who are honest people, but they stay silent because they can't act.
We want to open the door to the mayor José Chulvi to seek a solution to end this systematic discrimination forever on behalf of all businesses worthy of the licences. And to update the laws of the General Plan to give the necessary tools to honest town hall staff so that they can work fairly. The fault lies with the town hall, without a doubt, because that had the legal elements to do it.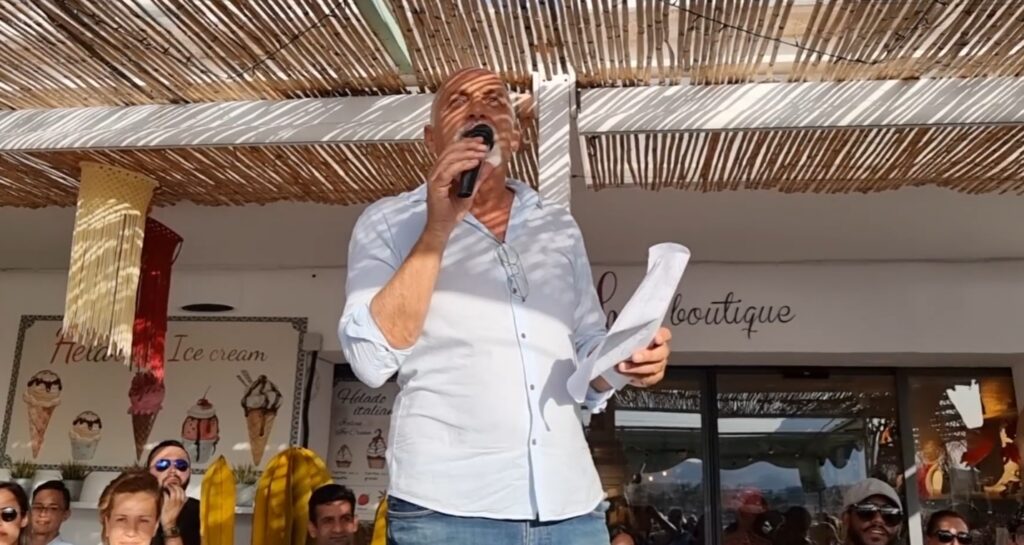 Related Links
---

---