Xàbia Council announces 17% reduction in IBI for 2022
Large family and "green" bonuses are maintained on electric or hybrid vehicles and on solar panels.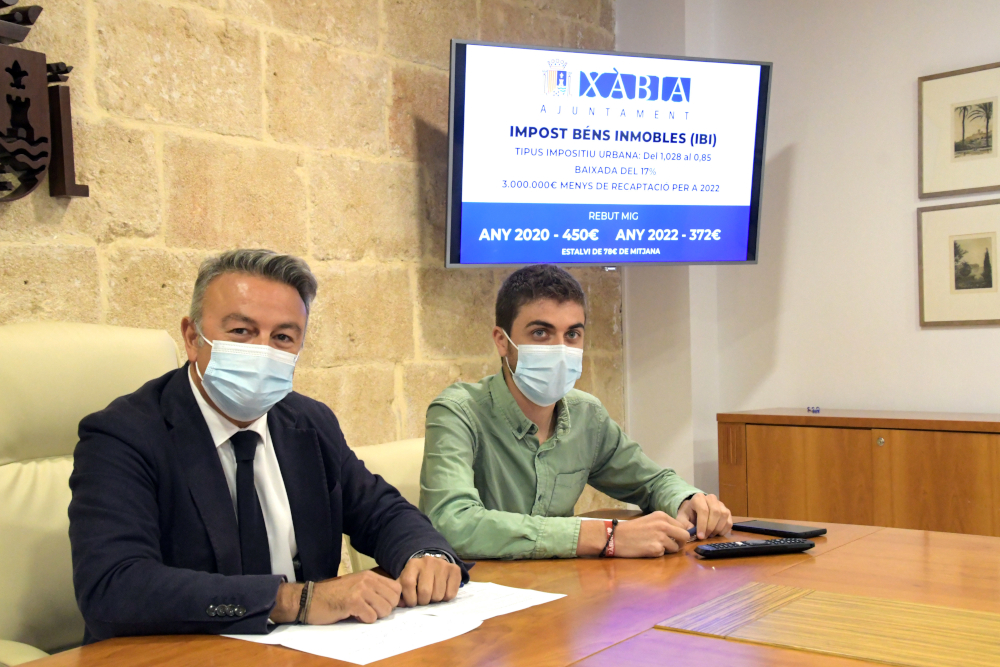 Tuesday 26th October 2021 – PRESS RELEASE with Mike Smith
---
Councillor Ximo Segarra (Treasury) has announced several changes to local taxes for 2022, of which the most important is the reduction in the tax rate used to calculate IBI – from 1.028 to 0.85 – which will result in a saving of 17% for property owners next year, compared to the current year.
The councillor also confirmed that the council will continue with the discounts of 50% for large families and up to 25% for three years (up to 200 euros per year) for legal residential building which have installed approved systems for thermal use or electrical solar energy.
Other tax incentives for ecological purposes that are being extended are for ECO vehicles in mechanical vehicle tax, whilst electric vehicles will have a 75% discount and owners of hybrid vehicles will enjoy a 50% discount.
The councillor added that, following the modernization of the technological systems in the tax collection area, it won't be necessary to apply for the discounts for vehicles or large families, since they will already be applied after an exchange of data with the DGT and other agencies.
Another great advantage of the comprehensive changes in the collection of municipal taxes is the ability to apply measures to make the payment of debt much easier, including the possibility to spread it across 24 monthly installments and offer deferrals without the need to deposit any guarantee unless the debt exceeds 12,000 euros.
As for the rubbish collection tax, it will remain unchanged.
The councillor explained that these changes will result in municipal tax collection for 2022 being reduced by some 3 million euros but efforts will be made to cover the decrease in income without diminishing services, thanks to the healthy situation of the municipal finances and the availability of a surplus to balance the budget.
Mayor Jos´e Chulvi acknowledged the great work done by the Treasury Department to be able to offer the largest reduction in IBI obligations in recent years, part of a policy to support families in Xàbia who are in a difficult economic situation after the pandemic and with the large increases in electricity bills.
He added that some municipal budgets are being worked out so that, despite the fall in income due to a reduction of the IBI, they will not be affected, with big projects in process and others in planning, nor in social support with aid to families in precarious positions, subsidies to companies and the self-employed and various employment plans for the provision of services.
---

---