Xàbia shops prepare special campaign for Mother's Day with La Xabiera online portal
The gift vouchers are available for gastronomy, home comforts, personal care, and fashion.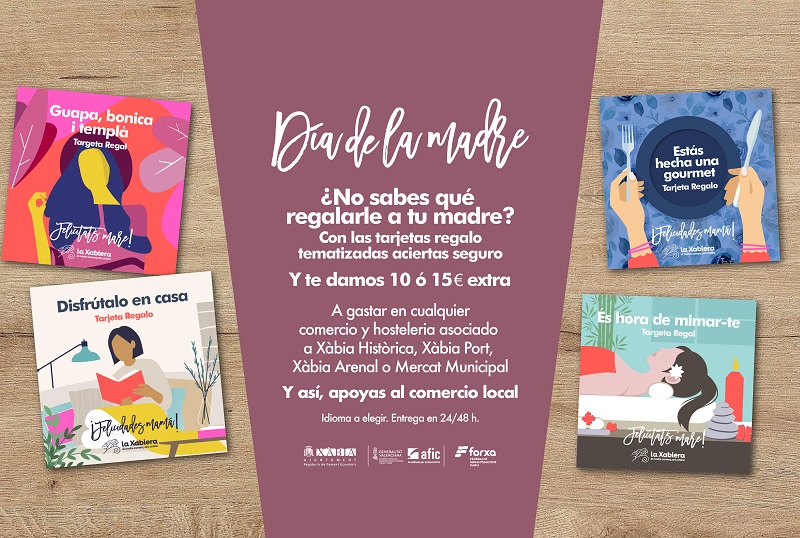 ---
Wednesday 27th April 2022 – Mike Smith
Source: original article – Xàbia AL DÍA
---
The Federación de Organizaciones de Xàbia has re-launched the online campaign in the La Xabiera marketplace for the sale of gift cards for "Día de la Madre" to be exchanged in associated businesses.
The business associations of Xàbia Històrica, Xàbia Port, Xàbia Arenal and Mercat de Xàbia, through the federation that brings them together, have re-launched this new online campaign on the online portal La Xabiera (www.laxabiera.com) for the sale of gift cards to redeem at associated stores.
The lowest value cards are worth €10 with an additional €15 to the purchase value of the card whilst those who buy the €30 card will be able to spend €40 in establishments and those who buy the €50 card can spend €65 in establishments. These cards are a perfect option for those who do not know what to give to the most beloved woman in the house.
They are divided into four categories:
For those who enjoy gastronomy, they will be in their element with the cards "

Estas hecha una Gourmet

" to spend in restaurants and food establishments.

For those who like to feel comfortable at home, they have the "

Disfruta en Casa

" card.

For those who like to take care of themselves, they have their time with the "

Es hora de Mimarte

" cards.

And, for those who like to be fashionable, they will be able to do so, wearing the "

Qué Estilazo

" cards.
---

---