Xàbia Cancer Association participates in Sports Day
The Asociación Española Contra el Cáncer Valencia has taken part with its "Escuela Activa" project, encouraging physical activity amongst school-children.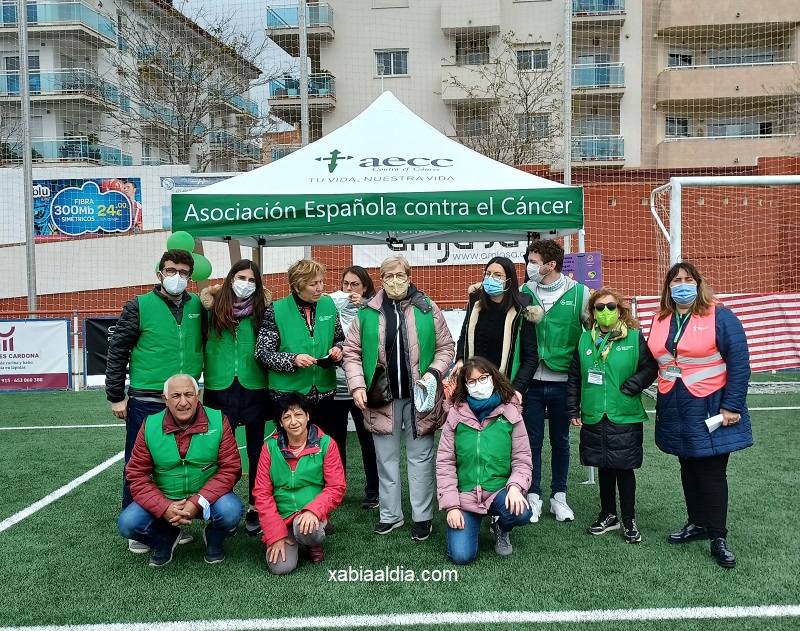 ---
Thursday 7th April 2022 – Mike Smith
Source: original article – Carlos López (Xàbia AL DÍA)
---
The Día de l'Esport de la Comunitat Valenciana celebrated its seventh edition this week and in each edition there has been a charitable aspect. For the 2022 edition, the Asociación Española Contra el Cáncer Valencia has taken part with its "Escuela Activa" project.
The association has a local branch in Xàbia and its board of directors did not want to miss the chance to make themselves known and spread the values ​​that physical activity inside and outside the school have for children, allowing them to reduce the risk of suffering from non-communicable diseases such as cancer.
Xàbia AL DÍA spoke with Carmen Hernández, the president of the local branch, who has been very happy to be able to participate in this event with a stand.
Hernández explained that throughout the day they have educated "children to do sports, because cancer is prevention, prevention and more prevention." She also commented that another relevant aspect is food, for which they created "a series of games" in the municipal football ground, something they have done in collaboration with other social entities.
As for projects over the next few days, the local president explained that on April 12th, they will celebrate the Día de la Banderita, when they will set up a table in the market with information and some collection boxes to raise funds for the association. Likewise, during the second part of the year, they intend to organize the race of life, provisionally for Sunday 23rd October.
She added that, throughout the year, they have a person who gives yoga classes, they can provide advice if someone is sick, whilst the association at the national level has a telephone number that is very important. It is called info cancer and you call at this number 900 100 036 (which is open 24 hours a day) about any problem, leave your question and from there they can help you by asking for a series of things, such as wigs, breast prostheses, etc.
---
---