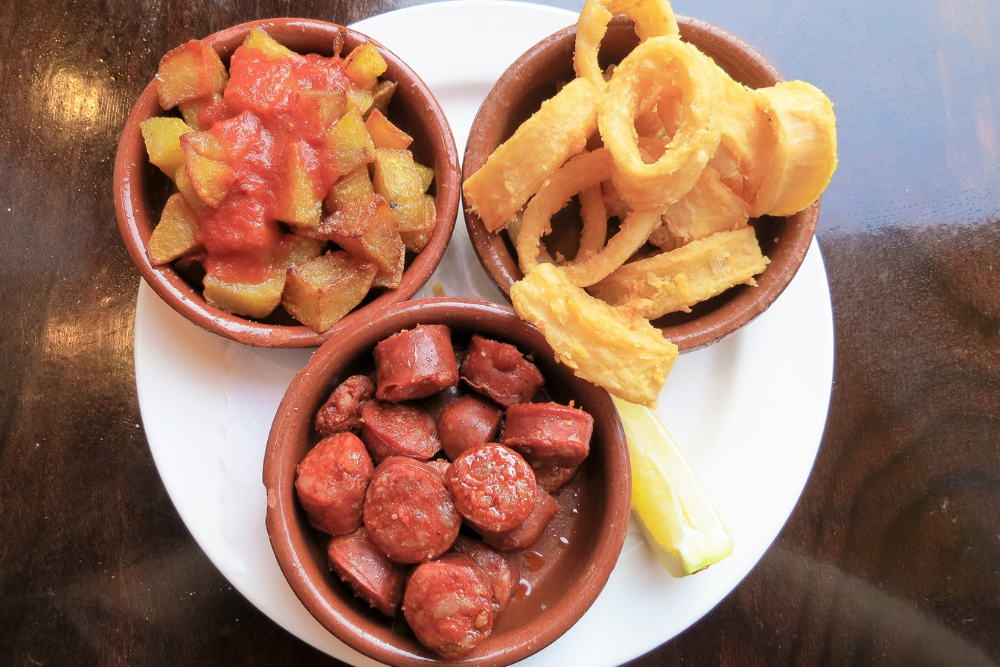 The word "tapas" comes from the verb 'tapar' which means "to cover" and the origins of these tasty snacks are many, but the most popular is that when Alfonso XIII was visiting the city of Cádiz in Andalusia, he stopped in a bar and ordered a glass of wine. The waiter brought the wine to the king's table with a small plate of slices of cured ham. At that moment, the wind began to blow and the waiter quickly placed the plate of ham on top of the glass of wine to protect it from the sand that had been blown into the air from the nearby beach. Impressed, when he'd finished his tipple, the king ordered another glass of wine complete with a "tapa".
Are tapas main dishes or snacks? Opinion is often divided and many consider that, since the word "tapas" often refers to a small portion of food on a small dish, anything bigger is simply not tapas. They are perfect to share in the middle of a table full of friends along with a refreshing wine or beer as something to eat – "para comer" – or just standing up at the bar enjoying a glass of wine or beer and a chat with the bar staff or fellow drinkers, something to pick at – "para picar" – which, for many people, is the only way to eat tapas, really as a small snack or appetiser before heading home for dinner. Whichever is correct, the truth is that the concept of the tapas has evolved to the extent that it has become the fashion for many bars to offer them as a complete meal experience composed of many little dishes, a concept that is frowned upon by the tapas purists.
And you'll have a completely difference experience in eating tapas in different regions of Spain. In the south of the country, such as Granada, tapas are often served free when ordering a drink, the belief being that the customer will drink more to quench the thirst created by the often salty snacks. But, in other regions, tapas are ordered from a menu and are paid for like any other menu item.
There are a wide variety of tapas available, many often reflecting the gastronomy of the region in which they are offered. Some are more traditional: olives, slices of cheese or smoked sausage, or a few slices of the famous cured ham from the ubiquitous leg of ham covered with a tea towel at one end of the bar, all served cold, nice and easy, and often free as a complement to your drink. Others have become the staple fried variety of tapas, such as boquerones (fried anchovies), calamares (fried squid rings), croquetas (croquettes) and torreznos (deep-fried crispy strips of pork) and, where served with a salad or fries, could become a filling lunch.
By the way, the word "tapeo" means the "art of eating tapas", for it is such.
Here is a list of the Twelve Tapas of Spain, a dozen of the most popular dishes.
---
Tortilla Española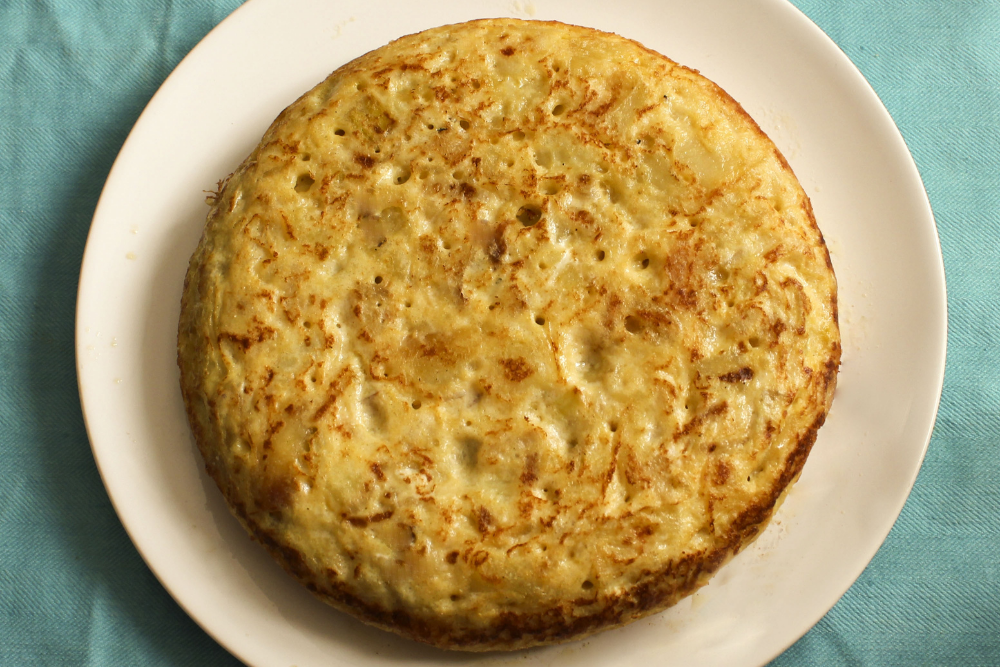 If ever there was a national dish of Spain, then this may well be the main contender. Also known as tortilla de patatas, in its purest form of a fried potato and egg mix, it is an essential element of Spanish cuisine. Sometimes chopped onion is added but this is a source of confrontation between those who do – the concebollistas – and those who wouldn't dare – the sincebollistas. There are also those who prefer the inside to be of a runny consistency whilst others prefer a more solid form. According to the Guinness Book of Records, the largest tortilla española was cooked in Japan in 1994, refusing to accept a claim by chefs in Vitoria in 2014 on the basis that it had been created using smaller portions stitched together to form one giant tortilla.
Recipe: Tortilla de Patatas
---
Patatas Bravas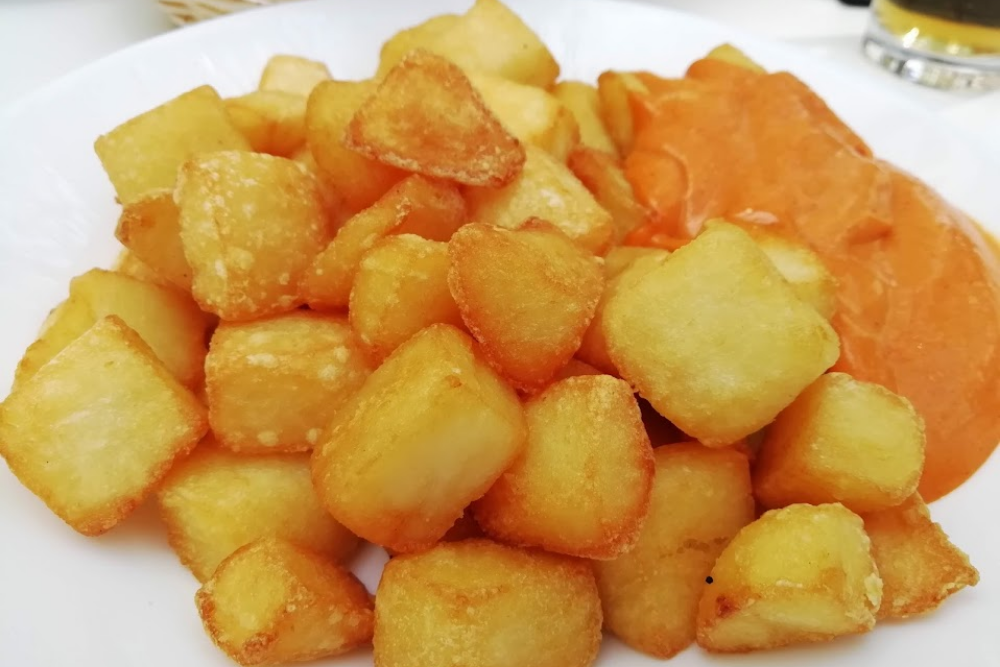 Another contender for Spain's national dish is patatas bravas. These spicy potatoes are the mainstay of a tapas evening. The most authentic dish, particularly popular in Madrid, consists of potatoes cut into small cubes before being fried in oil to a deep golden colour and served covered in a spicy sauce made from garlic, flour and a mixture of sweet and spicy paprika mixed in a chicken or vegetable broth; no tomatoes are used. Other variations use tomatoes blended with vinegar and cayenne, or with olive oil, chili and paprika. Every bar, every region has its own recipe. But the one thing everyone agrees on – long thin chips are not patatas bravas! The potatoes must be bite-sized chunks. And the trick to getting them crispy on the outside and fluffy on the inside is the method of frying; the cook starts with a medium heat and when they appear to be cooked, the temperature of the oil is increased to create that enjoyable crisp taste sensation. In many places, a dish of patatas bravas can be served with mayonnaise or the popular garlic dip alioli.
---
Calamares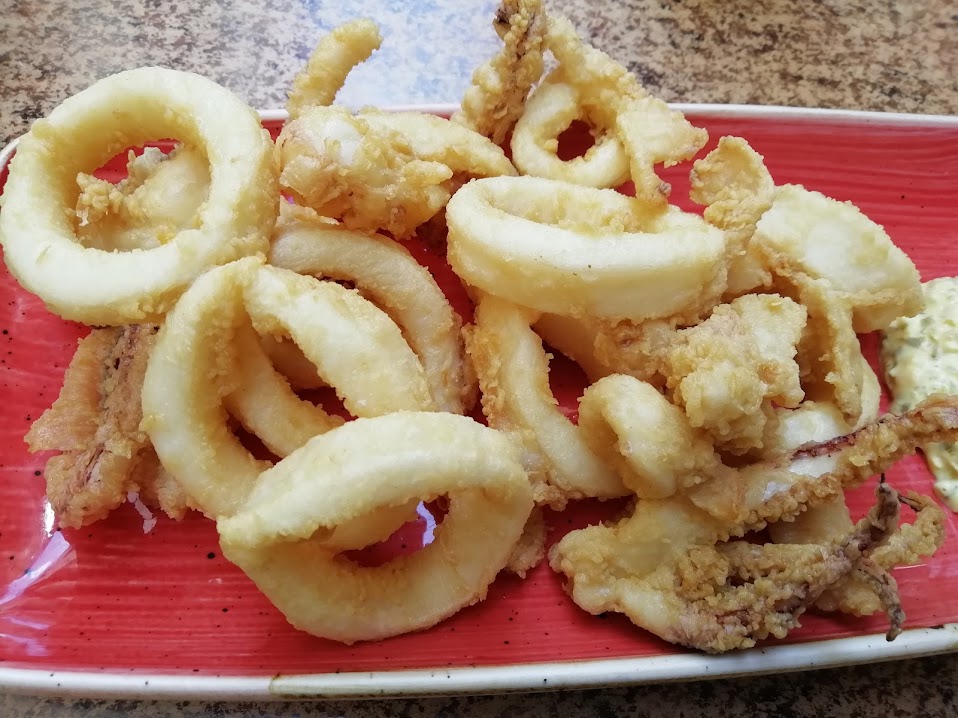 Calamares – squid – is another very popular dish, especially in coastal regions of Spain and are often served in two styles: a la Romana and a la Andaluz. So, what is the difference? Calamares a la Romana consists of rings of squid which have been dipped in a batter and deep fried then served golden brown with chunk of lemon; some novices might find them similar to onion rings, crispy on the outside and tender on the inside. It is commonly thought that this process was developed in the 16th century by Portuguese Jesuits in Japan which they ate during Lent, hence the tag 'Roman' style, due to its Latin origin, not that they originated in Rome. Calamares a la Andaluza is different. This dish consists of two or three whole small squid sliced into rings and pieces, including its tentacles, then fried in a dry flour coating and served with a lemon slice. Both styles should be eaten immediately or they will lose their crunch if the pieces are piled on top of each for too long, the steam making them moist quite quickly.
---
Huevos Rotos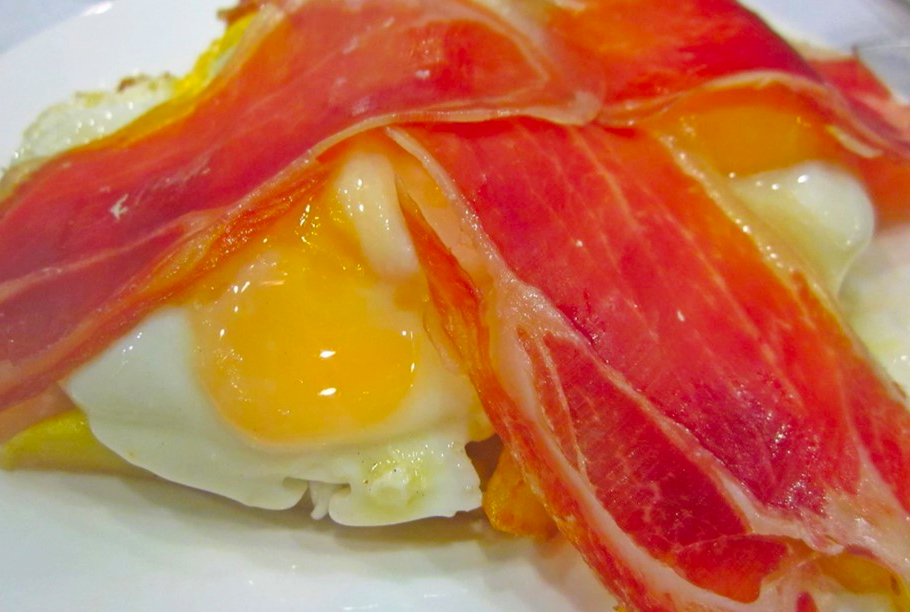 This is another dish that is particularly common in Madrid and the Canary Islands which translates to "broken eggs" and, in its basic form, it consists of some lightly fried eggs served on top of chips but is often served with slices of serrano ham, chorizo, etc. The idea is that the egg is cut first so that the soft yolk spills out over the potatoes. The dish dates back to at least the early 19th century when it was a popular meal for poor families since the ingredients were very cheap. Purists will say that the eggs need to be fried in best quality olive oil and need to be served immediately.
---
Pulpo á Feira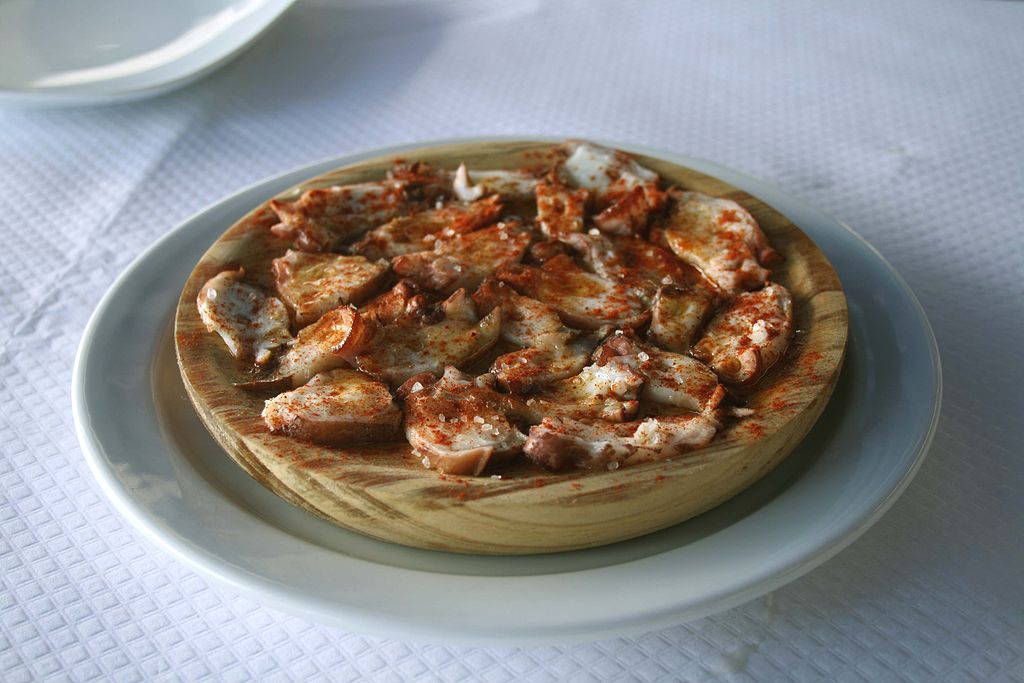 This is probably better known by its more familiar name – Pulpo a la Gallego – and as that name suggests, it is a traditional dish from the Galician region of Spain, although it can be found in many places across the country. For the best dish, the whole octopus must be "cooked" three times, placed in boiling water for a few seconds and then removed and then the process is repeated twice more, a process which helps it retain its skin once it is cooked properly. After this, the octopus is left in boiling water for a certain period, which depends on several factors, including its weight, and then rested in the open air for 15 minutes before being served. Traditionally, this is done on a wooden plate, the octopus cut into slices around a centimetre thick and then sprinkled with sweet paprika and a little good quality olive oil. Sometimes hot paprika is used but never smoked paprika. For the past 60 years, the Fiesta del Pulpo is held in the town of Carballino in Galicia on the second Sunday in August during which some 40,000kg of octopus is consumed in a single day.
---
Chopitos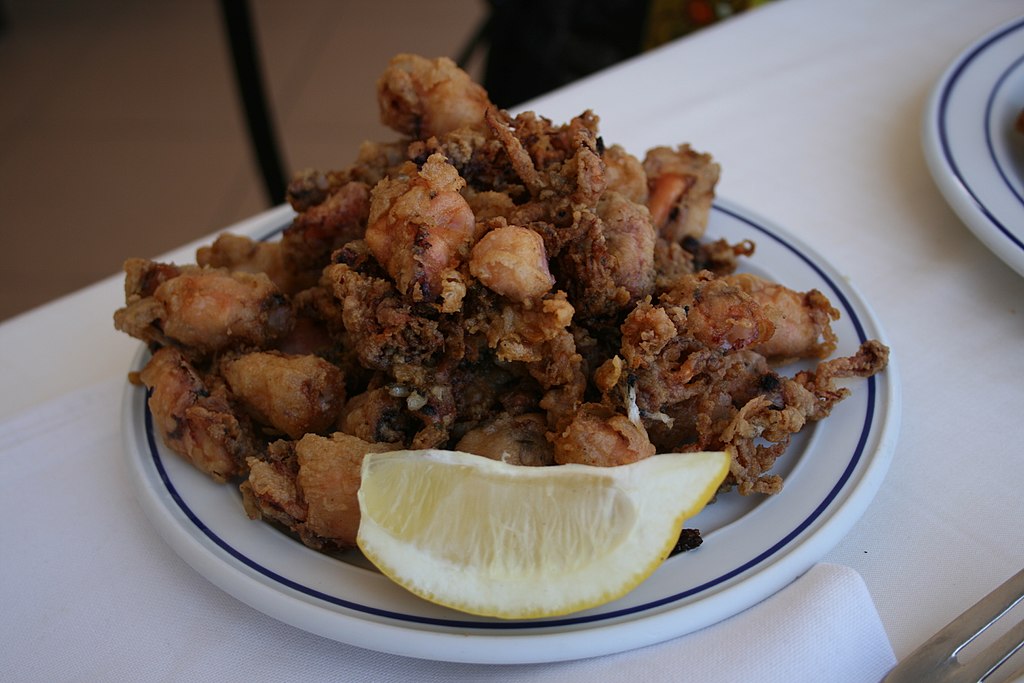 Another very popular dish is chopitos which are baby cuttlefish which have been salted and covered in flour before being deep fried in hot oil until they are golden brown then served immediately with a slice of lemon. The dish is particularly popular along the coast of southern Spain, especially around Malaga where it is known as calamaritos. Served fresh, they are light and crunchy. If they've been sitting around for a while in the kitchen, not so much. So make sure you ask that they are freshly cooked and served to get the full taste experience. And one important note: make sure you order chopitos and not chupitos; if you ask for the latter, you'll end up with a plate of shot glasses.
---
Pascaito Frito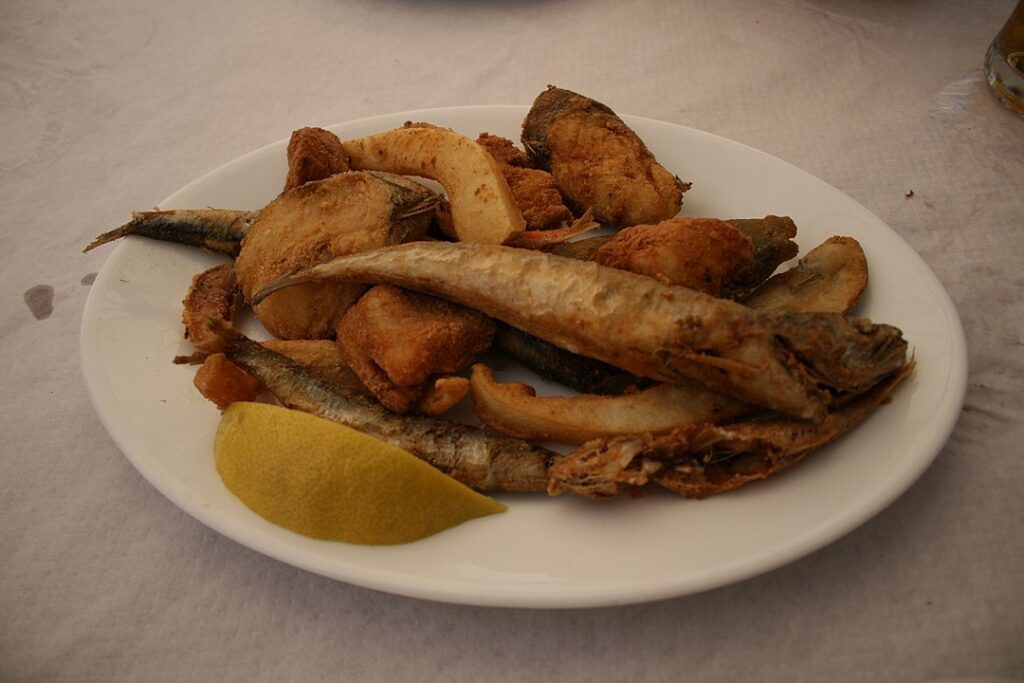 A plate piled up with small white fish which have been coated in flour and then deep-fried in olive oil, pescado frito has long been popular along the coast areas of Spain, such as that of Andalucia, Valencia and Catalunya as well as the Canary Islands and the Balearic Islands. Sprinkled with salt – the only seasoning required – and a squeeze of lemon, the fish are served immediately, freshly fried, for the maximum taste. It is said that this dish was the inspiration for the British fish and chips; some sources say that it was taken to England by Spanish Jews during the mid 17th century whilst others claim that fried fish was brought back by Englishmen working in the silver mines in Andalucia.
---
Chorizo a la Sidra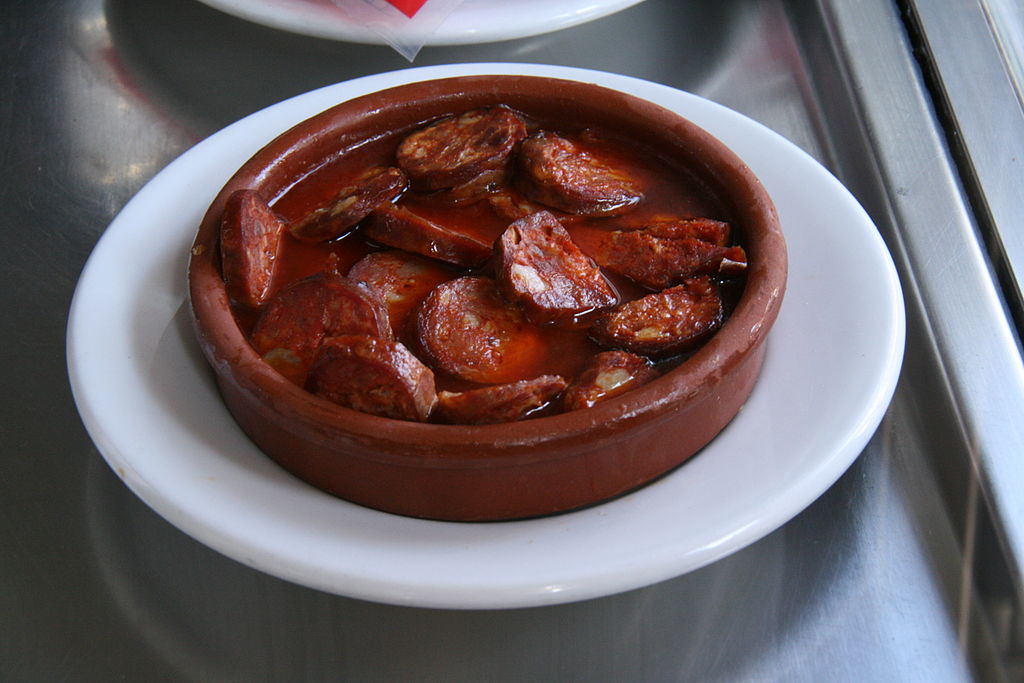 This dish originates in Asturias, which is renowned for producing good quality smoked cured chorizo. The pork is normally cut into slices about 5mm thick and cooked in natural Asturian cider until slightly soft, then served hot in a dish with some bread or a few cooked potatoes. Having just two ingredients, it is very easy to prepare and a very popular tapas across the country but purists will insist that the chorizo is cooked in the hard apple cider of Asturias, which is low in alcohol but strong in flavour.
---
Torreznos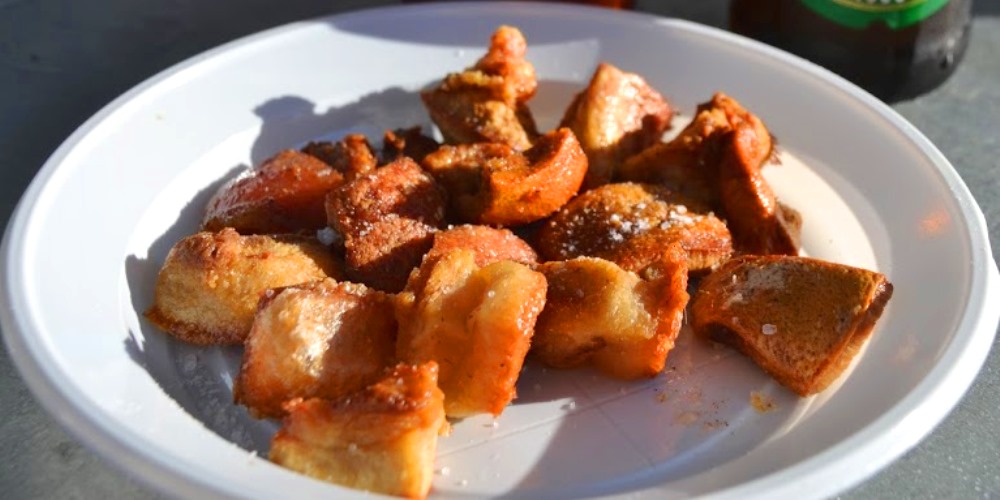 This is a type of fried pork snack very similar to the pork scratchings that were often on sale in British pubs. The strips of pork – usually pork belly with the skin – are deep-fried until they are crisp and golden on the skin side and served immediately. The name is derived from the verb torrar which means roasting something close to the fire so that it browns. In some regions of Spain, the strips are marinated first in paprika and oregano whilst in others they are sometimes served with migas. It is said that the best torreznos are made from the bacon of Soria. In Andalucia, the dish is also known as chicharrones.
Migas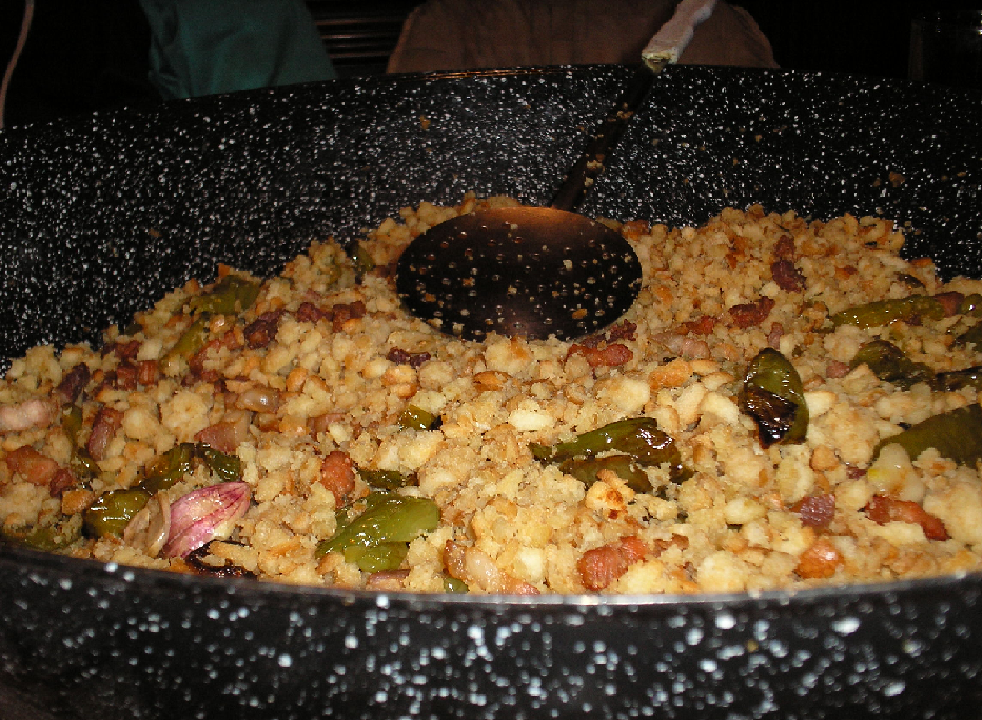 A very traditional dish in Spanish cuisine, the basic migas consists of toasted breadcrumbs often served with small pieces of fried pork and vegetables. Once a breakfast dish in rural areas, utilising stale bread and leftovers, it has become a popular tapas in bars, although there are annual competitions for the best migas in some areas of Spain. Possibly one of the oldest tapas in this list, one of the earliest references dates back to the time of the Roman occupation when breadcrumbs were sautéed with fat and bits of meat. However, it wasn't until the 16th century that the traditional migas de gato was first mentioned as a dish of shepherd's breadcrumbs cooked in venison fat which became the basic food in the rural areas. Now, there are several regional variations, although the most basic version is of stale bread, moistened in water, fried with garlic and olive oil until golden brown. In some areas, fried eggs are added, in others, the migas is served with sardines or fried fish, torrezones or chorizo.
Patatas a lo Pobre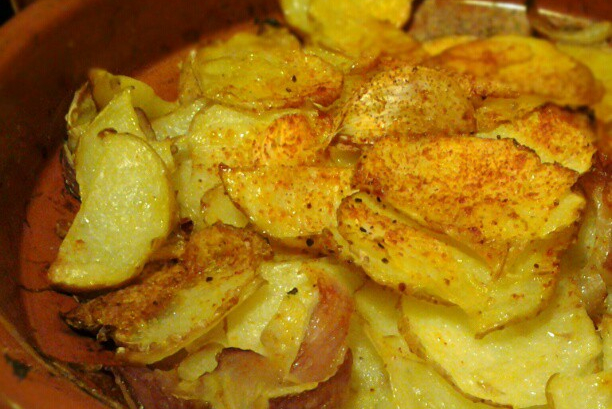 This is a simple dish that is most popular in the regions of Granada, Almería and Múrcia and is often fried with strips of green and red pepper or serves as the basis of other potato recipes such as huevos rotos, revueltos and even the tortilla española. In its basic form, it is a dish of thinly-sliced potatoes fried in olive oil until they are soft. The oil is drained and garlic, parsley and vinegar is often added to the hot pan to season it. Clearly the name – poor potatoes – is derived from the fact that the dish needs nothing more than potatoes and whatever is leftover in the pantry.
Croquetas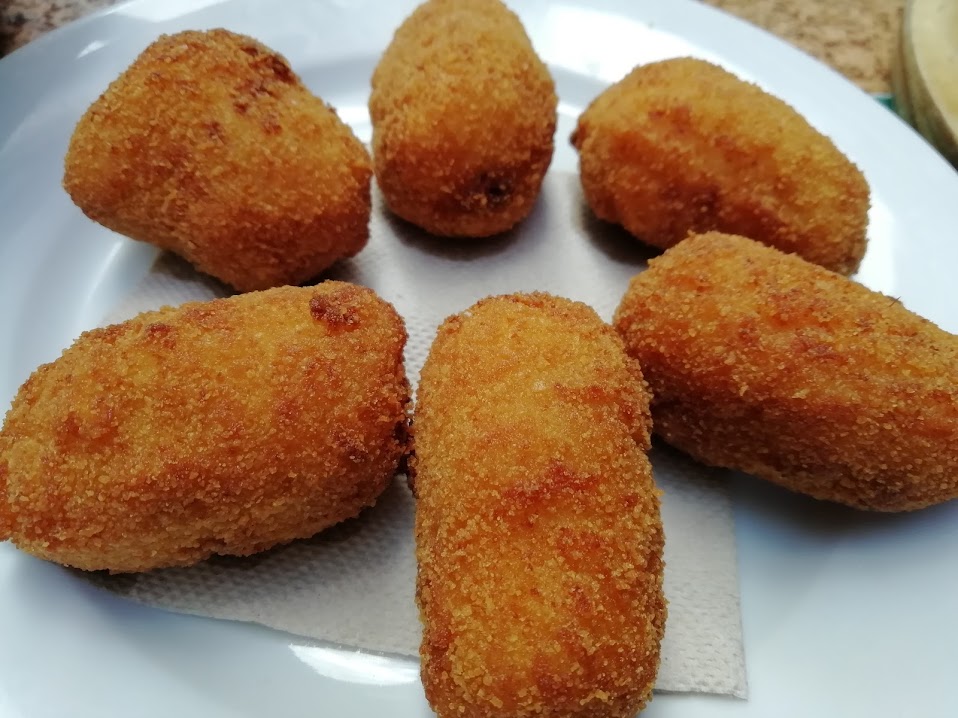 Although it's not a particularly Spanish dish – it can be found all over the world from the Far East to the Caribbean – it is a very popular one to order as a tapas. The fillings are usually ham, mushrooms, or other vegetables but many places have become more adventurous in recent years and you can often find croquetas filled with prawns and other seafood. The name comes from the French croquette which comes from the verb croquer which means 'to crunch'; add the -ette suffix and you get 'crunchy'. In the mid 17th century, the Spanish enjoyed a similar dish called 'aljafor' which was made with potatoes or rice, bearing little resemblance to modern day croquetas. The croquettes probably arrived in Spanish during the War of Independence (1808-1814) and their economic benefit in combining flour with leftovers soon won over the populace. Now you can find croqueterías across Spain, bars which specialise in them, always offering the most iconic of Spanish croqueta – one filled with minced Serrano ham.
---

---