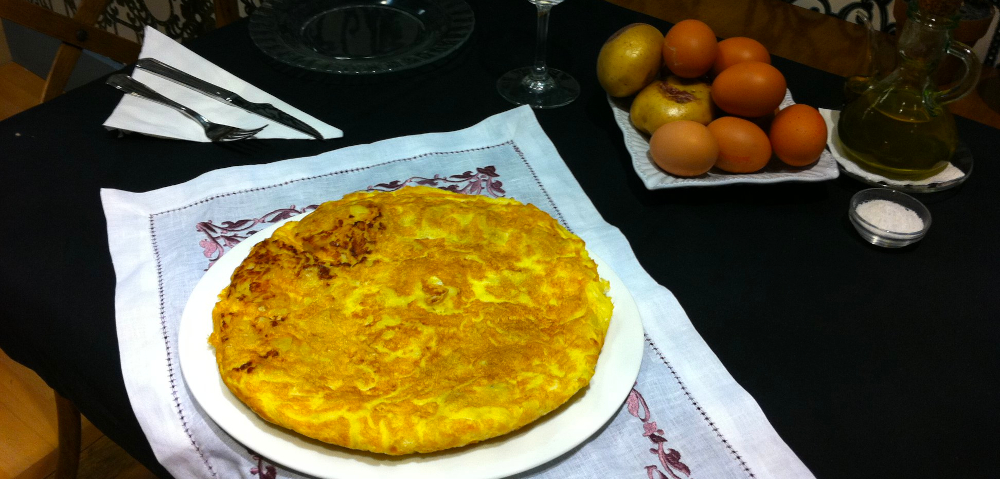 Chef Quique García of CASA GRAU provides another of a series of simple recipes for you to try at home – the iconic Spanish omelette.
Ingredients
8 Free-Range Eggs
1kg potatoes
Extra Virgin Olive Oil
1 large onion
Salt (to taste)
Don't be afraid to spend some money on a good quality olive oil so that it will give your tortilla a taste that will distinguish it from others. You can use many varieties such as Arbequina, Picual, Cornicabra, Hojiblanco, Royal, etc. Just select the one you like with a bit of quality.
---
Preparation
1. Peel the potatoes, wash them to remove traces of dirt and, most importantly, dry them.

2. Cut the potatoes into thin slices and tip them into a large bowl. The thickness of the potato slices is down to personal taste. Some people prefer very small pieces that break up during the cooking process whilst others prefer larger slices.
3. Using a large, non-stick pan, heat the extra virgen olive oil. Add the potatoes and cook for about 20 minutes over a low heat.
4. While the potatoes are frying, add the eggs to a bowl and beat. Reserve.
5. Peel the onion into thin slices. Heat some olive oil in another pan and add the onions. Cook until they turn a golden colour but don't let them burn. Drain and add to the egg mixture.
6. Once the potatoes are fried, add to the egg mixture and mix together to release all the flavours. Rest for about 15 minutes; the mixture will taste delicious.
7. In the same pan in which the potatoes were fried, add the mixture and cook for about four minutes on each side over a medium-high heat, depending on your preference. I like it undercooked so that when you cut into it with a fork a little liquid egg flows out. If you prefer it a little more done, increase the time for each side.
8. To turn it over, I use a large flat salad plate but you can use a smooth-edged lid or you can buy a special lid especially for turning over your tortilla. Use the most comfortable method which is easiest for you so that it doesn't spill out and take care. However, don't despair if you don't achieve the turning process; you will have a well-cooked omelette, just as rich.
9. This is perfect for a light dinner, a party or just because.
---
RELATED LINK: Restaurant Directory – Casa Grau
---