The Marina Alta joins with the campaign "The Sea Starts Here"
The initiative to raise awareness of the impact on the sea of dumping in sewers and ravines brings together 18 towns and the 4 Rotary Clubs in the region.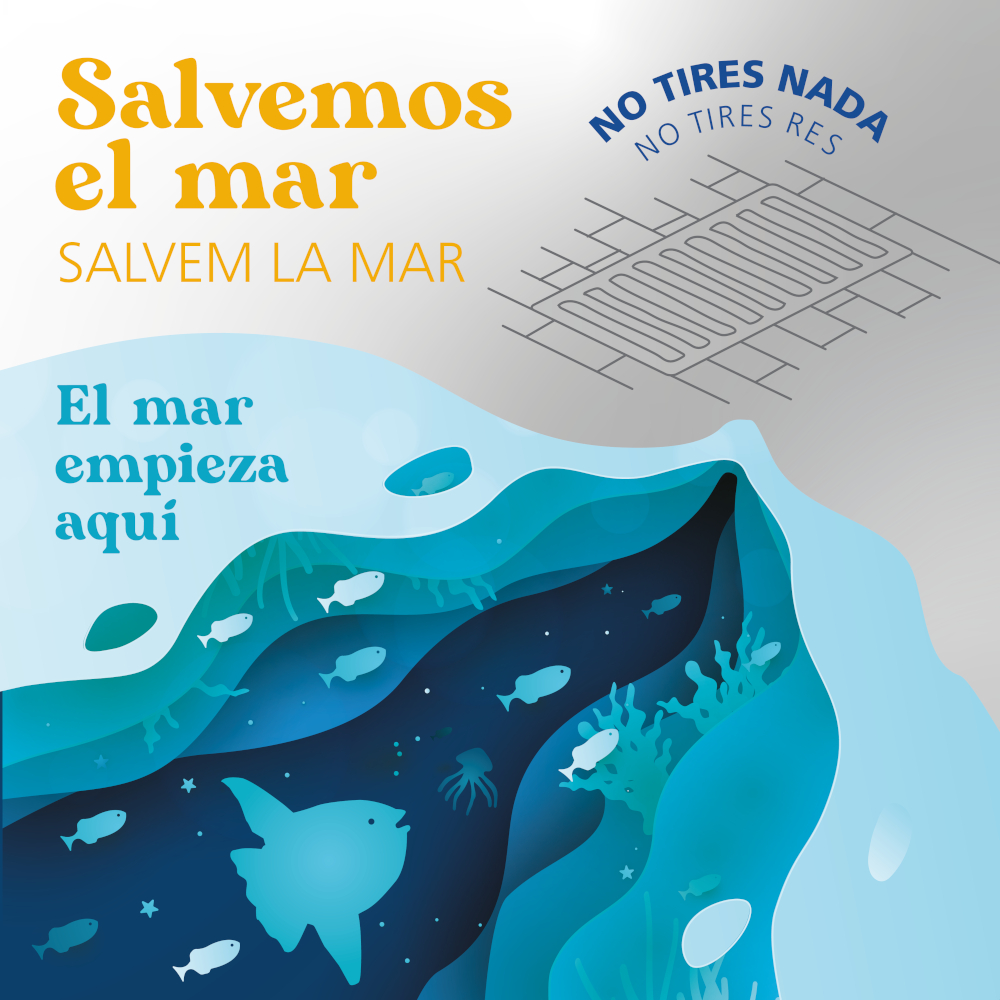 Wednesday 17th March 2021 | PRESS RELEASE
If there is an objective that deserves to join forces, it is protecting the environment. On 22 March, International Water Day, the Marina Alta will launch its first joint project to protect something as important as its natural environment. This is the awareness campaign "The Sea Starts Here" which will involve 18 towns as well as all the Rotary Clubs in the region and with which it is hoped to reduce the waste that ends up in the Mediterranean.
The joint action takes up the work initiated by the association of public water operators (AEOPAS) which, for some time now, has been trying to raise public awareness of the fact that what happens where there are gutters and sewers ends up having an impact on the sea.
The idea came from the Xàbia Rotary Club and the other three clubs in the region immediately joined in: Benissa-Teulada, Calpe and Dénia, as concern for the environment is one of Rotary International's main areas of interest.
At an institutional level, the proposal has also had a great reception not only in the coastal towns, which shows that local corporations are increasingly aware of the importance of dumping waste in the sewers, rivers and ravines.
Alcalalí, Beniarbeig, Benidoleig, Benissa, Calp, Dénia, El Verger, Gata de Gorgos, Lliber, Ondara, Pedreguer, Pego, Poble Nou de Benitatxell, Teulada-Moraira, Xàbia, Xaló and those of the AEATIM of La Xara and Jesús Pobre have signed up. In other words, it will have a minimum reach of 165,366 inhabitants. It also has sponsors such as AEOPAS, Amjasa, Club Náutico Jávea, La Marina de Denia, Sinma, Solgata, The Isbjorn Collective and Urbaser.
The campaign will take shape with the installation of plaques and paintings near the gutters of the areas with the most pedestrian traffic. The metal plaques are shaped like blowfish and designed by artist Toni Marí. They will be accompanied by a message in several languages: "Don't throw anything away, the sea starts here".
Other complementary actions will include the launch of an informative video, the distribution of posters and the involvement of the educational community by promoting awareness-raising activities in schools and colleges.
Furthermore, this joint project will continue over time and remains open to more towns and cities joining in, because The Sea Belongs to All of Us.
#LaMarcomençaaci
#LaMarempiezaaqui
#TheSeastartshere
#LaMercommenceici
#DasMeerbeginnthier
---
Information Source
Press Release – Ajuntament de Xàbia
---