The Gorgos flows again as heavy rains continue inland – and there's more to come
The weather station on the slopes of the Montgó has collected more than 435mm of rain during March, almost as much as would be recorded for an entire year.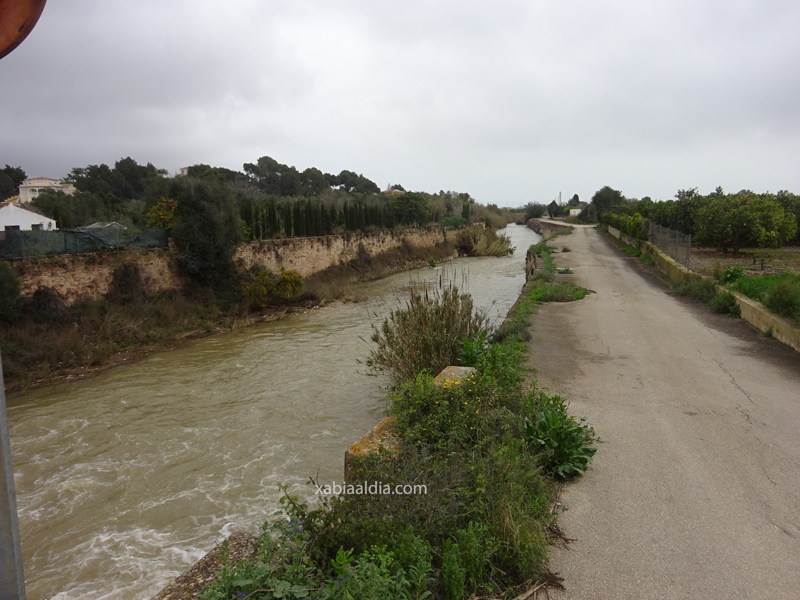 ---
Friday 25th March 2022 – Mike Smith
Source: original article – Carlos López (Xàbia AL DÍA)
---
The heavy rains recorded across the Marina Alta over the past few days, with records of up to 200 litres in the Vall de Laguar, have seen the river Gorgos flow again, especially in the past 24 hours to Thursday when that flow has increased considerably.
On Thursday, the rain paused for a few hours but this is a short-lived window for the state meteorological agency AEMET has issued another yellow risk warning for the potential of more heavy rain across the region, especially on Saturday.
As for the records in Xàbia, Toni Bolufer from MeteoXàbia published some interesting figures in a post on the Facebook page which show that the continuous rainfall of the last few days has shattered all records. For example, the Montgó station, located just off Carrer Piscis on the slopes of the massif, has recorded a total of 435.8 mm in March, almost all of the rainfall that is normally collected throughout the year.
And the weather station in Freginal, the official point that provides data to AEMET, has collected 195.0mm since the beginning of the year, of which 178.2mm (91.4%) has fallen in the past 24 days.
As for other areas of the town, the Port weather station has collected 196.2 mm during 2022, of which 182.6mm has fallen during this month, almost 95% of the annual total so far. The weather station in Xàbia Histórica, located just off the Plaza de la Marina Alta (Correos) has collected 220.8mm during this month, just over 93% of the total collected for the year so far (236.2mm) whilst that in the Arenal, located by Restaurante La Fontana, has collected 155.6mm so far this month, almost 94% of the annual total up to now (166.2mm).
Further out, the weather station at Cabo de la Nao-Balcón al Mar, which is located just off Carrer Cap Negre, has collected 151.6mm during March, just over 86% of the total for the whole of 2022 so far (175.7mm). At Club de Golf Jávea, the weather station has recorded 193.4mm on rainfall this month, almost 93% of the annual total up to now (208.2mm)
Finally, a visit to the Gorgos river as it passes by the Benitatxell road leaves us with this image of one of its arches. Who is Michel?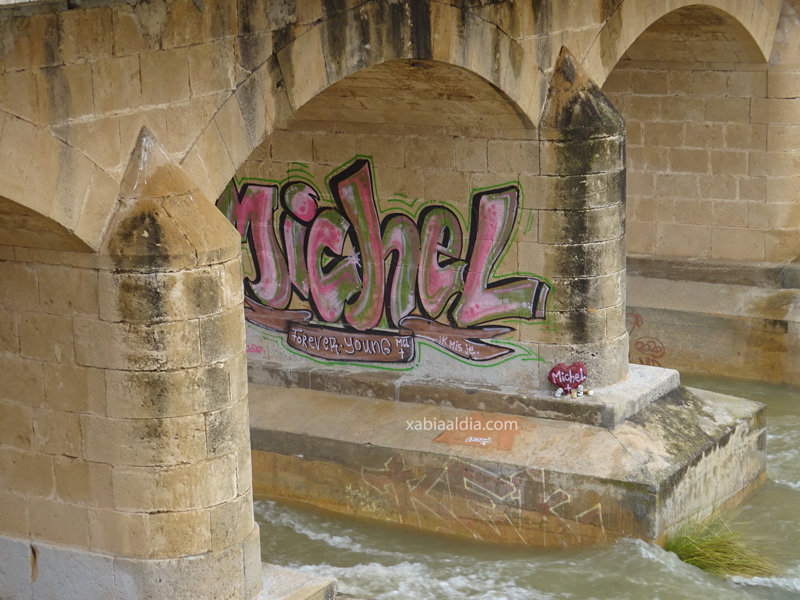 ---
---