Strict controls guarantee vaccine delivery to Comunidad Valenciana
Accountability is constant from the time the vaccines land in Madrid until they reach the Comunidad Valenciana.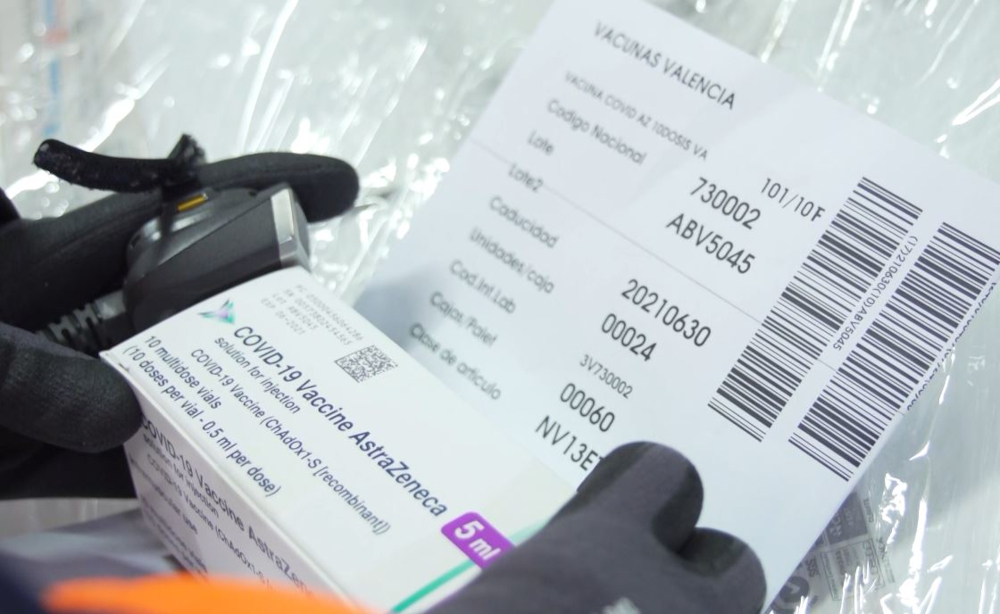 Sunday 28th February 2021 | MIKE SMITH
The path that the COVID19 vaccines travel from the laboratory to the patient's arm is dotted with controls that guarantee that they reach their destination in optimal conditions. The protocol defined by the Ministry of Health and the transport companies establishes, among other measures, monitoring the vials with temperature controls and photographing the packages in detail to prevent them from being tampered with.
As soon as the vaccines land in Madrid, it is verified that they have arrived in perfect condition at the storage temperature that the manufacturing company has prescribed and in unhandled containers. "We verify batches, expiration and quantity with the delivery note, and then accept the delivery," explains Logistapharma head Ana Belén García.
Upon receipt, thermal packaging is prepared for the order, checked by a second person: "We use a radio frequency terminal to 'pick' the goods; in this way, both the units and the batch are registered. In the area verification, a different person cuts the order label with a laser, and the system tells them how many units it should contain and from which batch. Thus, they can physically verify that everything is correct", details Silvia Solera, operator of the Receipt Department of Logistapharma.
The temperature of the package is monitored throughout the process using thermal strips and, as explained by Jorge Araújo, director of Network and Platforms at Nacex, detailed images are also taken at random to guarantee its integrity. Furthermore, the exact location of the vaccines is precisely known at all times.
As a security and custody measure, the boxes with the vials also travel bundled together with other goods that require the same conditions of storage and handling. By avoiding dedicated shipments, it is more difficult to identify the packages containing the vaccine and theft is prevented.
In any case, if during the transport from Madrid to the Communidad Valenciana attempts are detected (either on the journey to the warehouse and distribution centres, or to the vaccination point itself) or there is a problem with the temperature, alarms are triggered.
---
Information Source
Press Release – Generalitat Valenciana
---