Specsavers Ópticas Javea join the campaign to help Ukraine
A collection tin in the shop will allow customers to donate in return for eye tests and repairs.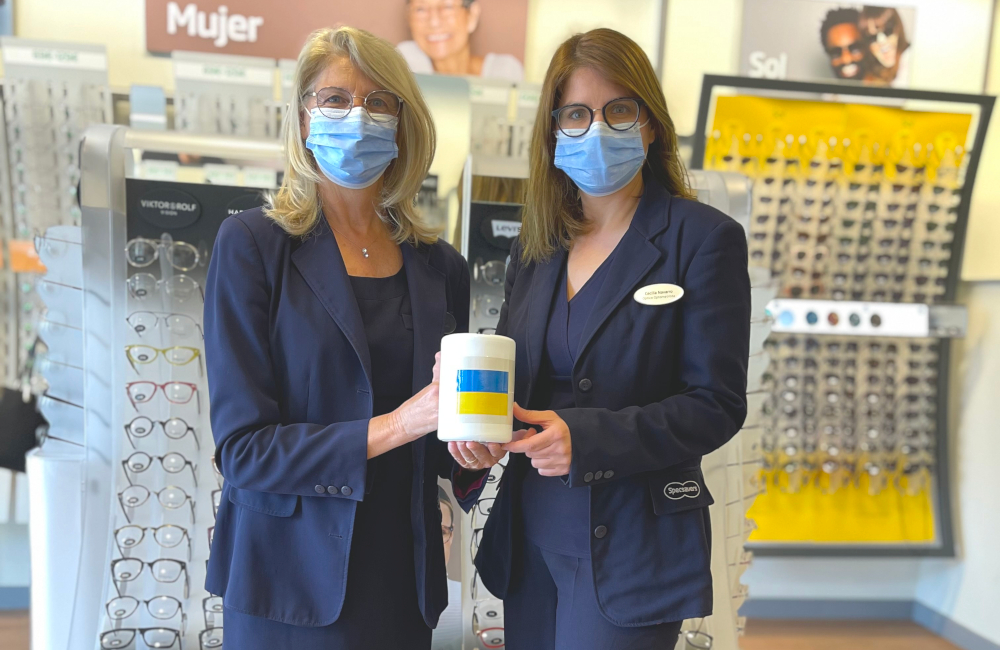 ---
Tuesday 19th April 2022 – Mike Smith
Source: press release – Specsavers Ópticas Jávea
---
The war in Ukraine is causing a humanitarian crisis for millions of people who have fled from the fighting, or are taking cover from the shelling and bombardment. The Red Cross has mobilised to provide critical care to those who need it most, but require funds to be able to continue to provide emergency support both inside Ukraine and in neighbouring countries who are receiving refugees. Funds are required to procure food, water, first aid, medicines, warm clothes and shelter.
The team at Specsavers Ópticas in Javea wanted to find out how they could best help and contacted Maica Aranda Vallés at their local branch of the Red Cross. Maica informed them that raising funds was their top priority and suggested that they collect donations from their customers. To make it as easy for people to donate to this important cause, they have had a collection tin at their shop since March 7th and are encouraging customers to donate for eye tests and repairs.
Anyone who wants to support the cause is welcome to pop in and make their donation. You can find Specsavers Ópticas Javea at Avenida Del Pla 125, Edificio Caribe, Local 6. They are located just off the Carretera Cabo la Nao-Pla, near Servicolor.
Donations can also be made on the Red Cross website www.cruzroja.es/colabora, via Bizum, or by SMS:
Send the word UCRANIA to 28092 to give €1.20
Send the word UCRANIA to 38088 to give €3.00
Send the word UCRANIA to 38092 to give €6.00
If other businesses in Javea want to also request collecting tins, they can call 965791961 or email javeaalicante@cruzroja.es.
---