Residents of the last section of Calle Atenas claim Council has forgotten to paint it
Residents have been suffering due to a massive increase of cars in the Cala Blanca region, some badly parked and blocking access to properties.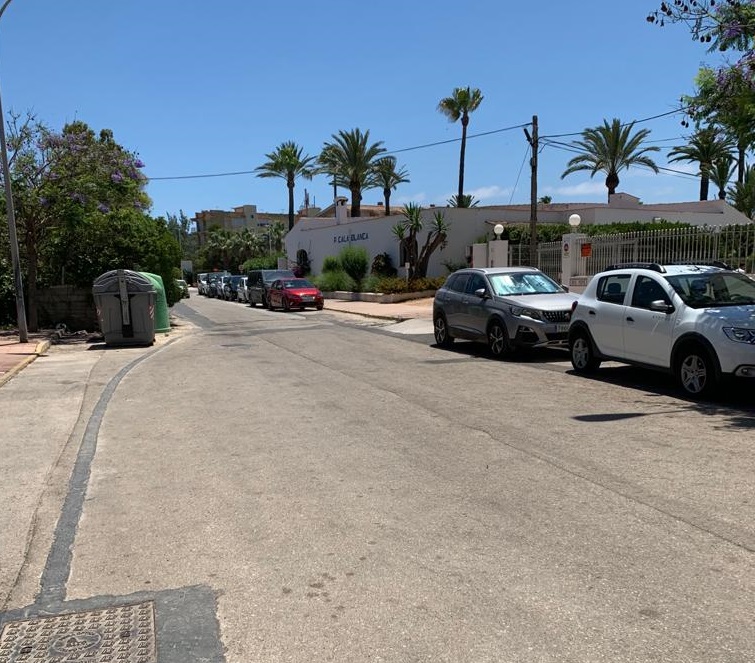 Tuesday 21st July 2021 – CARLOS LÓPEZ with Mike Smith
---
A group of residents in the last section of Calle Atenas, close to Plaza Guillermo Pons in Cala Blanca, has claimed that the Department of Services in Xàbia has forgotten to paint the road markings in their area, in a letter sent to Xàbia AL DÍA.
The residents say that they are suffering from the overcrowding of Cala Blanca where the two bathing areas have seen a considerable increase in the presence of tourists in recent years, due to the lack of access control such as that initiated for the popular coves of La Granadella and Portitxol/Barraca. This has resulted in a massive increase of cars that are badly parked and block entrances to properties.
A few weeks ago, XAD reported on the "maintenance work" in the area which was highlighted by the councillor responsible for the department, which involved the painting of new road markings in Calle Atenas, Avenida Ultramar and Calle Esparta, as well as the change of traffic flow in all of them. In the case of Calle Atenas, it was changed to one-way single direction towards the Arenal zone. Some areas had not seen road markings for some years, if at all.
After this report, the residents of the section between Calle Esparta and Plaza Guillermo Pons wanted to emphasize that:
Yellow lines prohibiting parking have not been painted and this access to homes is regularly blocked.
There is no regulation for parking and vehicle owners are parking on the banks leaving a "gap" for cars to pass.
There is no lighting between Calle Esparta and Plaza Guillermo Pons.
Given this, the residents claim that they are second-class citizens who are having to put up with all the vehicles and their occupants who are heading to the Cala Blanca stretch of Xàbia's coast to enjoy a swim in the sea.
---
Related Link
---

---