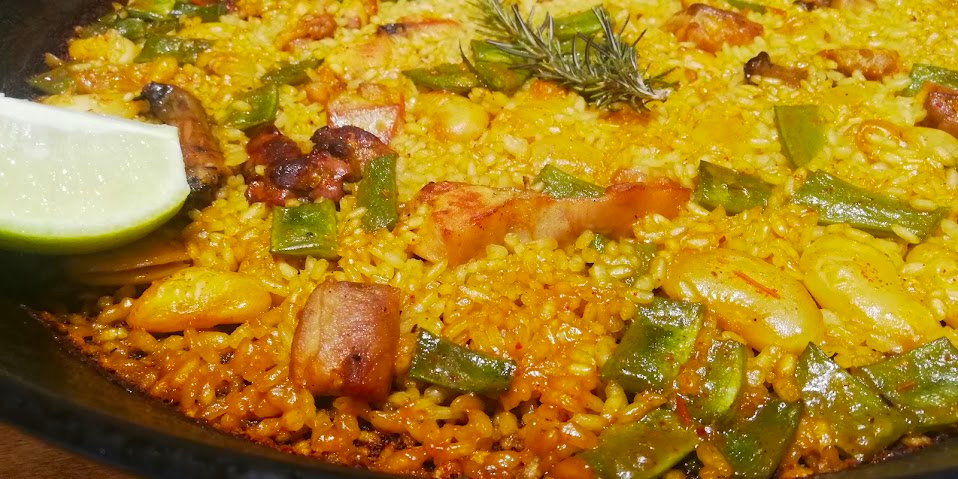 Chef Quique García of CASA GRAU provides another of a series of simple recipes for you to try at home – the iconic Paella Valenciana.
Ingredients
(for 4 people)
400g of rice
1/4 free-range chicken
1/4 rabbit
300g of flat green beans
300g of butter beans (soaked for 24 hours)
Extra Virgin Olive Oil
Paprika
1 tin of Chopped Tomatoes
1 garlic clove
4 stems of parsley (ground in mortar or processor)
Saffron
Salt
1300ml Chicken & Vegetable Stock
---
Preparation
1. Place the paella pan on the heat and add the oil and salt.
2. Add the chicken and rabbit to brown well.
3. When done, move the meat to the side of the pan and add the green beans and butter beans.
4. When the vegetables are almost golden, add the tomato, garlic and parsley then, after five minutes, add the paprika and saffron.
5. A minute later, add the hot stock, turn the heat to maximum and when it begins to boil, add the rice and spread it evenly across the pan. Check the stock for taste, adding more salt if necessary, and leave to boil for eight minutes before reducing the heat and cooking for another eight minutes until all the stock has been absorbed.
6. Let the paella rest for another eight minutes and then enjoy with family or friends for a perfect Sunday lunch!
---
RELATED LINK: Restaurant Directory – Casa Grau
---