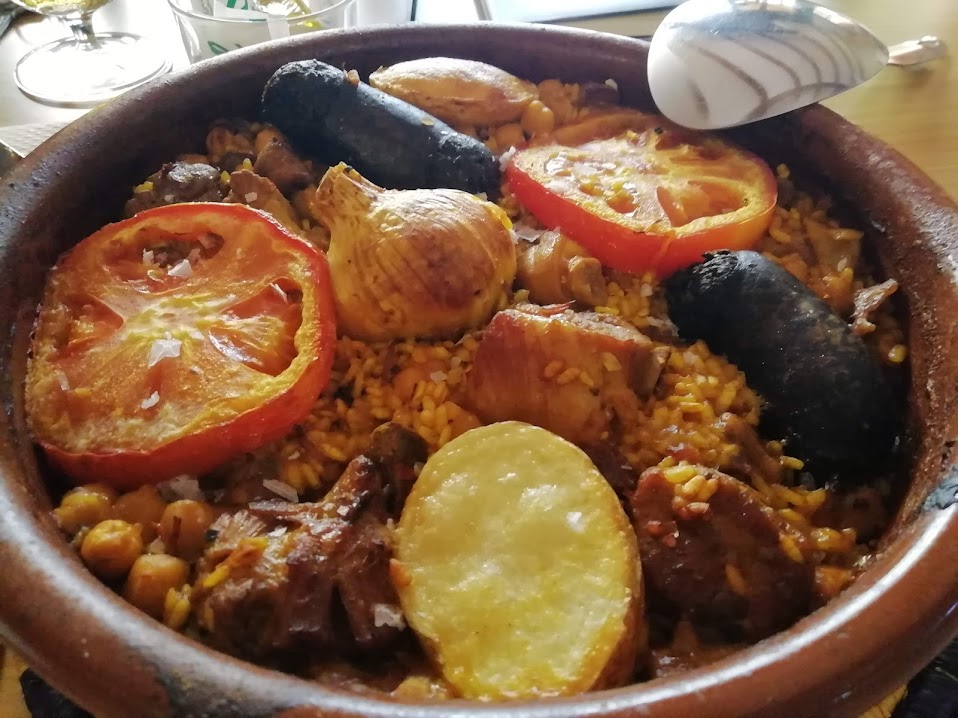 Chef Quique García of CASA GRAU provides another of a series of simple recipes for you to try at home – the tasty 'arroz al horno', oven-baked rice.
Making the Stock
Ingredients
1 chicken carcass
2 pork bones
2 beef marrowbones
1 carrot
1 leek
half a turnip
half a parsnip
some cabbage
225grams of chickpeas (previously soaked for 18-20 hours)
Preparation
1. Place the chicken carcass, the bones and the chickpeas in cold water. Heat up and, as it starts to boil, it is important that you skim the surface very well to remove all of the impurities.
2. Introduce the rest of the vegetable and let it cook for 2-2½ hours over a low heat.
3. Let it stand for an hour and then strain everything to produce the stock.
---
Arroz al Horno
Ingredients (4 people)
Stock (see above or you can buy a ready-made stock)
2 gloves of garlic
2 ripe tomatoes
250 grams of pancetta
300 grams of pork ribs
1 white sausage, cut into chunks
1 morcilla sausage, cut into chunks
1 x potato, sliced
1 x tomato, sliced
225 grams of chickpeas
360 grams of round rice
1 bulb of garlic
Extra Virgin Olive Oil
A few strands of saffrom
Salt
Preparation
1. Pre-heat the oven to 250°c and put a clay pot in to heat.
2. In a mortar, cruch the garlic and the ripe tomatoes with a pinch of salt.
3. In a large frying pan, introduce a splash of olive oil with the ribs and sliced pancetta, then add the mashed garlic and tomato and fry for about three minutes.
4. Add the rice and fry a little before introducing the chickpeas, Pour everything into the heated clay pot, stir a little and then add the hot stock (twice the amount of the rice) with saffron, salt, morcilla and white sausage, the sliced potato and tomato and finally place the whole garlic bulb on top in the centre.
5. Return the clay pot to the oven at 200°c for 20 minutes.
6. Enjoy with friends for a tasty Sunday lunch.
---
RELATED LINK: Restaurant Directory – Casa Grau
---