Police will carry out additional New Year's Eve surveillance
Officers will be checking for compliance with all health protocols in bars and restaurants as well as private homes.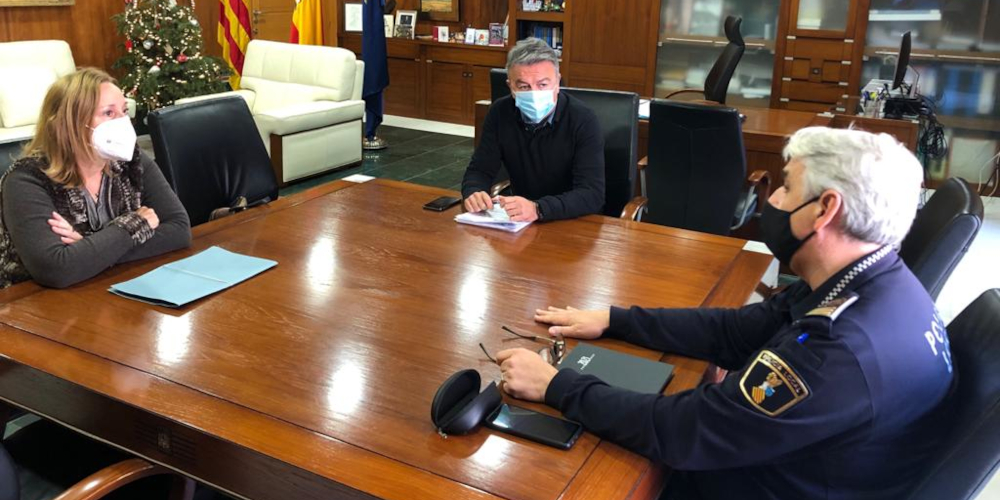 Tuesday 29th December 2020 | MIKE SMITH
Officers from the Policía Local de Xàbia will be strengthening its patrols this Thursday 31st December – New Year's Eve – to ensure continued compliance with all the necessary health protocols in the fight against the spread of COVID-19 in the municipality. They will be carrying out checks on the public highway as well as in bars and restaurants, whilst also working to prevent illegal parties in private homes and units, such as casals.
Mayor José Chulvi and councillor Pepa Gisbert (Citizen Security) met with chief superintendent José Antonio Monfort to discuss the plans for control and surveillance in the municipality on the last night of the year and anticipate that celebrations might be brought forward to midday due to the curfew imposed by the Generalitat Valenciana which starts at midnight.
The special New Year's Eve service will be activated during the morning of Thursday and progressively strengthened according to requirements. Municipal officials have appealed to residents of Xàbia to show common sense and make one last effort by reducing social gatherings at parties and complying with all social distancing measures.
The latest available COVID-19 figures for Xàbia are the highest ever recorded with 154 active cases and a cumulative incidence rate of 557.89 positive cases per 100,000 inhabitants, the worst of the entire crisis and double the rate at which the 'extreme risk' level of infection kicks in.
---