PHOTO GALLERY – Moros i Cristians 2023 Fiesta Music Concert
The port zone was filled with the sound of music on Sunday evening for the traditional festive music concert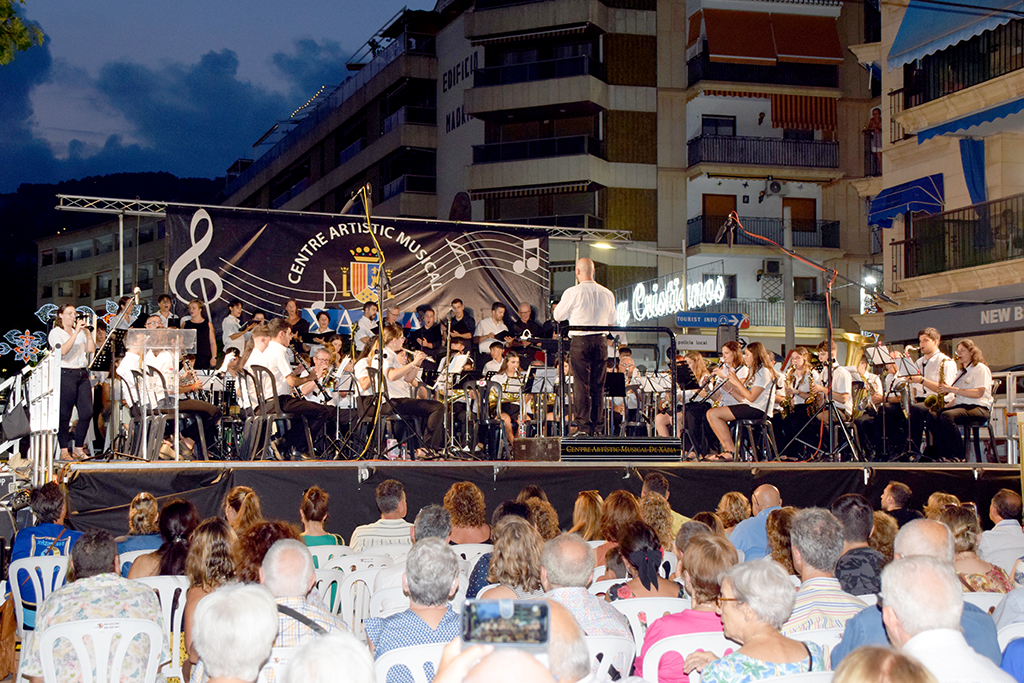 Monday 17th July 2023
Text: Mike Smith | Fotos: Fay Hughes
The talented musicians of the Centre Artístic Musical de Xàbia filled the streets of the port with music once again on Sunday evening as they performed popular marches for the Moors & Christians in the XVIII Fiesta Music Concert.
Music is an essential part of the Moors & Christians fiesta and this popular appointment in the festive programme offered some of the best marches and pasdobles under the direction of new conductor of CAM Xàbia, Gonzalo de la Guía and guest conductor David Doménech. In addition, the performance was enhanced by the singer of Grup Polifònic Ars Nova de Xàbia who accompanied the orchestra in two pieces.
In the first part of the concert, CAM Xàbia performed the pasodoble '21 Contrabandistes' (Enrique Alborch), the Christian march 'Xabea' and the Moorish march 'Exabeam' (both by J.R. Pascual Vilaplana), the pasodoble 'Al Cel' (Francisco Valor), the Christian march 'Templaris d'Albaida' (V. Pérez Esteban) and the Moorish march 'Kapytan' (Saül Gómez Soler).
The second part consisted of the pasodoble 'De Quiroga a Sèneca Autobusos' (Miguel Ángel Más Mataix), the Christian march 'Tabal i Saragüells' (Mario Roig Vila), the famous Moorish march 'Chimo' (J. María Ferrro), the Christian march 'Zaphirus' (Francisco Valor) and the Moorish march 'Santiago Capitán Abencerraje' (Saüll Gómez). These last two had the vocal accompaniment of Ars Nova that gave strength and a very cinematographic style to conclude the act.
The 2023 Standard Bearers, Indira Rosa Cardona and Natalia Moya, the Captains of Almoriscos, Vicente Montaner and Merche Llidó, the president of the Festival Board, Abel Moll and the councillor for Fiestas, Mavi Pérez awarded a commemorative plaque to Gonzalo de la Guía, Rubén Penadés (director of Ars Nova) and David Doménech (guest director) in gratitude for their work and predisposition.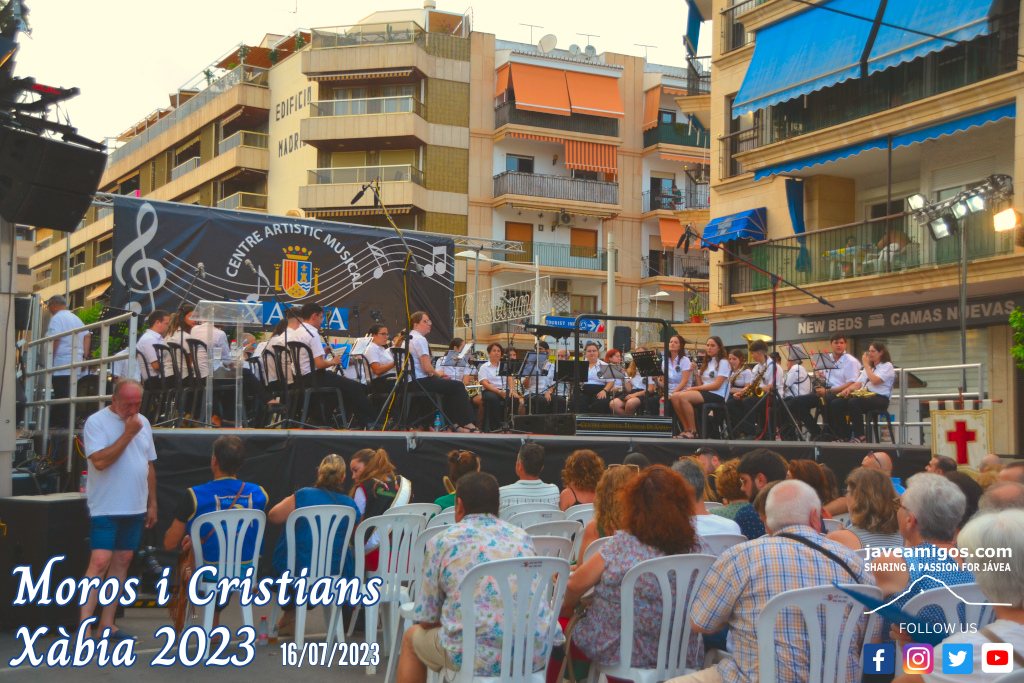 ---
---