Match Preview: CD Jávea v CD Contestano
CD Jávea faces Contestano without Ferrán, Paco and Cristian, the latter leaving the club due to work commitments.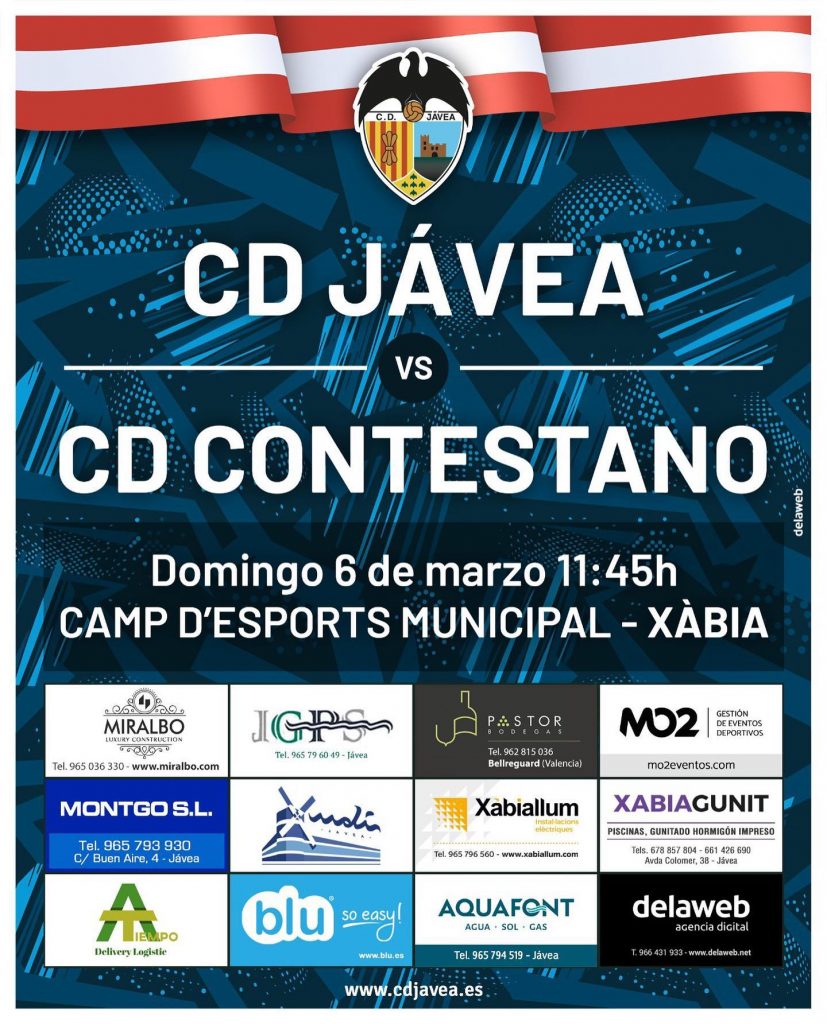 ---
Saturday 5th March 2022 – Mike Smith with Xàbia AL DÍA
---
CD Jávea

v CD Contestano

Campo d'Esport Municipal Xàbia

Referee: Alejandro Serna Vazquez

CD Jávea's hopes of lifting themselves back into the top half of the table have taken a huge blow after the loss of midfielder Paco Gazquez and the departure of influential defender Cristian Castells due to work commitments. In addition, the long-term absence of Ferrán Molina continues to worry the coaching staff.

Xàbia AL DÍA spoke with head coach Lauro Techeira this week as they prepared for the match:

The first win away from home for the new coach whose happiness was evident on his face.

The truth is that we are happy with the dynamics we have with three wins and one draw. The team is improving and in Ollería the team played a very serious game and the truth is we were happy.

This week we have learned that, for work reasons, Cristian Castells has left the team.

The player had already notified the club that he had found a job in a dental clinic and due to the schedule he could not train. The priority is work. We are not professionals and we have another loss to the team.

Will the club to cover this loss or you manage with the players you have?

Seeing how the squad is, now we are 19 players with three goalkeepers, it is true that we have to move to find a player since at some point due to any injury it can leave the team diminished. We have had the absences of Tali, Llamas, Cristian and now with Ferrán and Paco out, we are reduced and we are looking to try to incorporate a new player.

Is the team prepared for Sunday's game against Contestano?

Apart from the casualties already mentioned, we don't have any other worries. But Sunday's gane will not be easy, in this category there are no easy teams, we have had to do our best in the last two home games against rivals from the lower half of the table, in Ollería played a very serious game and Contestano is a team that is just above the relegation zone right now. They have signed a former Jávea player, Lucas Bou, they need to win and they are going to come with everything to try to add and we will have to work hard to achieve the three points.

The good news for Jávea is that two players, Cabo and Rubén, have scored decisive goals.

It is important for them to motivate themselves, you cannot depend on a single player to score goals for you, the important thing is when everyone scores. Against Algemesí, Héctor, Juli and Cabo scored and last weekend Rubén scored the first goal of this season , it is important that he gains confidence and makes the team stronger in the emotional aspect.

In principle, Techeria can call on goalkeepers, Edu and Josep, and outfield players, Corbalán, Víctor Caturla, Marcos, Paolo, Juli, David, Héctor, Elián, Javi, Fran, Rubén, Quintana, Roberto and Cabo. He will also be calling up two youth players.
Regional Preferente Grupo 4 – Jornada 22
Saturday 5th March 2022
16:00 – Muro CF v CD Dénia
17:00 – CF UE Tavernes v CF La Nucia 'B'
18:00 – Racing CF Benidorm v Racing d'Algemesi
Sunday 6th March 2022
11:45 – CD Jávea v CD Contestano
16:30 – CE Pedreguer v CF Atletico Benidorm
16:45 – CF UD Calpe v CE La Font d'Encarròs
17:00 – Ontinyent 1931 CF v SD Sueca
17:00 – CF Gandia v L'Ollería CF
Current League Table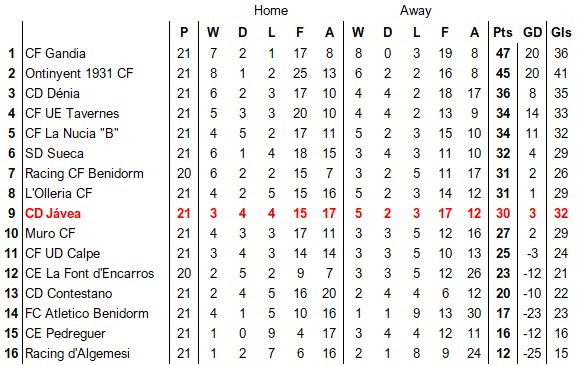 Related Link
---

---

---