María Isabel Ferrer, unstoppable, three out of three at the Circuit a Peu de la Marina Alta
The winner was Jordi Ripoll from Dénia Corre who completed the course in 30:43.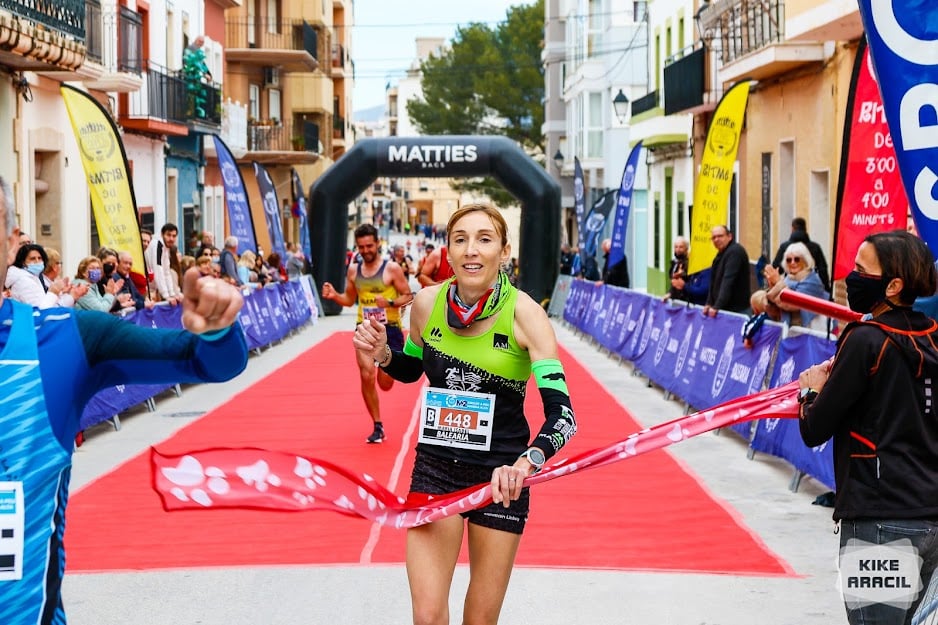 ---
Tuesday 15th March 2022 – Mike Smith
Source: original article – Carlos López (Xàbia AL DÍA)
---
The runner from Club Atletisme Llebeig de Xàbia, María Isabel Ferrer, continues in enviable form in the third round of the Circuit a Peu de la Marina Alta which was held last Sunday in Gata de Gorgos.
Ferrer finished with a time 36:16, in an average of 3:46 per kilometre, and thus completes the triplet of the three races: Xàbia, Calp and Gata, which put her at the top of the circuit classification.
In masculine discipline, Jordi Ripoll from Dénia Corre also repeated victory, having also won last week's event in Calp. Ripoll completed the route in a time of 30:43 at an average of 3:12 per kilometre.
The podium of the Volta a Peu a Gata in masculine category was completed by Juan Antonio Fernández from Club Atletismo Benidorm with a time of 32:18 and Alvaro Sabater from Club Atletismo Publidom who was third with 32:23.
In the feminine category, Ferrer was accompanied on the podium by Anna Berglind from Dénia Corre (38:20) and Jennifer Wood from Club Atletisme Publidom who completed the route in 39:33.
Club Atletisme Llebeig de Xàbia
0:32:30 – Ignacio Cardona Torres
0:32:53 – Antonio Soler Llido
0:36:16 – Maria Isabel Ferrer Castell
0:38:46 – Juan José Valles Sendín
0:39:01 – José Antonio Cecilia Lorite
0:39:14 – Ivan Bisquert Cardona
0:40:49 – Ricardo Pérez Vallino
0:42:50 – Jaume Costa Albi
0:42:50 – Jaime Escortell Bou
0:43:30 – Javi Segarra Escortell
0:43:49 – Ambrosio J. Soriana Salines
0:44:01 – Mark Langley
0:44:21 – Juan Bautista Tachó Ferrer
0:44:55 – Carlos Cordera Borja
0:45:24 – Juan Bolufer Cardona
0:46:55 – Irene Bolufer Cruañes
0:46:55 – Mar Cholbu Sellés
0:46:55 – Cristina Monfort Sart
0:47:25 – Raul Gasent Ballester
0:47:36 – Ana Bisquert Ribes
0:48:32 – Francisco José Moya García
0:49:04 – Clara Juan Villanueva
0:49:17 – Francisco Marí Miñana
0:49:27 – Victor Caserta Telechea
0:49:33 – Francisco Jesús Torres Albi
0:49:49 – Eduardo Crespo Moll
0:50:06 – Jaume Moll Morell
0:50:06 – Ana Gonzalez Duran
0:51:14 – Enrique Ángel Miralles Vela
0:51:36 – Blai Ferrer Bisquert
0:51:36 – Jose Ñuis Moragues Albi
0:51:44 – Bartolomé Valles Legay
0:51:48 – José Font Serrat
0:52:20 – José María Bisquert Cardona
0:52:49 – Toni Bas Moragues
0:53:42 – Fernando Serrat Santamaría
0:54:02 – Yunquiao Thompson
0:54:29 – Rafael López Gaya
0:54:40 – Rafael Galiano Requena
0:54:41 – Francisco Navas Ribes
0:58:18 – Alexandra Collinson
0:58:37 – Nerea Mata Gutiérrez
0:59:39 – José Antonio Cristóstomo Sapena
0:59:39 – Mariola Valero Esteve
1:00:08 – Jane Yang
1:04:05 – Mónica Cortés Femenía
1:04:31 – Bea Sellés Sánchez
1:04:31 – Verónica Sapena Devesa
1:04:32 – Angeles Llidó Espasa
1:04:32 – Marí Carmen Rosello Tacho
1:08:31 – Mavi Tercero Martínez
1:08:31 – Christian MonZo Huerta
Club Beer Runners Xàbia
0:47:36 – Pedro José Andrés Martín
0:47:56 – Manuel Álvarez López
0:48:15 – Pedro J. Martín Sánchez
0:51:21 – Niko Jutzi
0:53:44 – Sina Staub
0:55:52 – Sandro Staub
1:00:55 – Victor Vallés Cholbi
1:15:58 – Rafael Martínez Landete
---
---