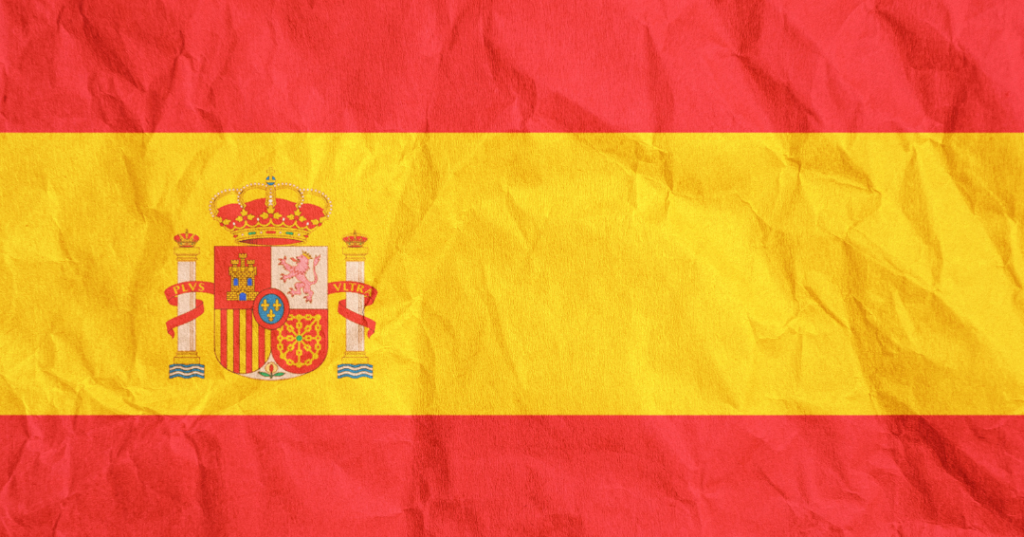 In Spain, you can apply for Spanish citizenship after ten years' of legal residency in the country through naturalisation. However, this requires taking two tests – the DELE A2 Spanish language test and the CCSE cultural test.
The Conocimientos Constitucionales y Socioculturales de España (CCSE) is a test to determine your knowledge of the Spanish Constitution and how much you know about Spanish culture, history, and society. It is a PASS or FAIL test in which you must answer 25 questions – in multiple-choice format – about Spanish Government, Law, and Citizenship (60% of the test) and about Spanish Culture, History, and Society (40%).
The Cervantes Institute provides a manual (in Spanish) to prepare for the CCSE test and we have used this document to create a special feature which we think might be of interest to people, regardless of whether or not they intend to apply for citizenship in Spain.
The manual is split into five parts and we will deal with each part in an individual manner.
Part 1 – Government, Legislation and Citizen Participation.
Part 2 – Fundamental Rights and Duties.
Part 3 – Territorial Organization of Spain. Geographical, Physical and Political.
Part 4 – Culture and History of Spain.
Part 5 – Spanish Society.
The third section is Territorial Organization of Spain. Geographical, Physical and Political. . We have highlighted certain information just as the Cervantes Institute has done which indicates that it is important to know. We have also kept a lot of organizations, government departments and other references in Spanish since the CCSE test will be taken in that language but have provided a translation where appropriate.
---
Part 3 – Territorial Organization of Spain. Geographical, Physical and Political
Physical and Political Geography
Spain is located in southern Europe and has borders with Andorra, France, Portugal and Morocco. It is the fourth largest country on the continent, with an area of 505,944 km². It is one of the most mountainous countries in Europe, with an average altitude of 650 meters. The official number of inhabitants is 47,351,567.
Spain is made up of:
most of the Iberian Peninsula (except Portugal);
the Balearic Islands, in the Mediterranean Sea;
the Canary Islands, in the Atlantic Ocean;
the cities of Ceuta and Melilla, located on the North African coast.
---
Most Important Geographical Features in Spain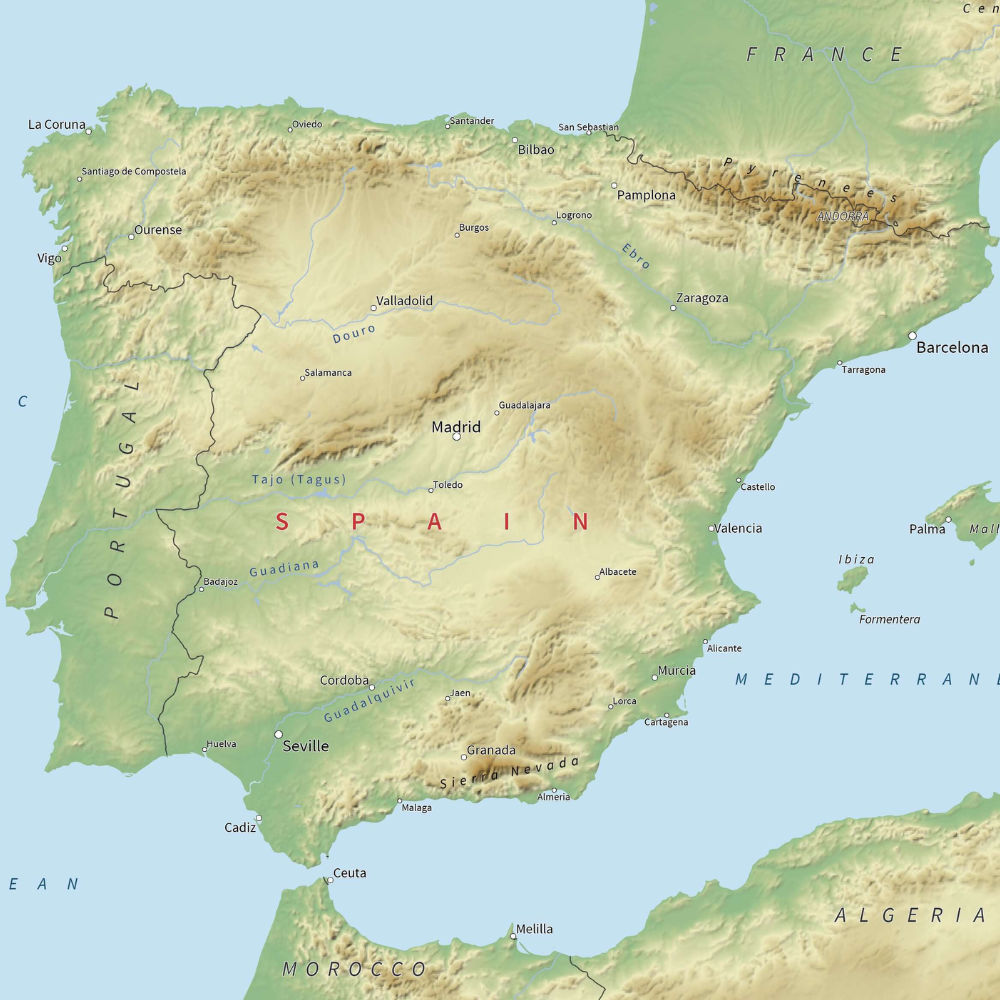 Rivers: the most important rivers in Spain that flow into the Atlantic Ocean are: Miño, Duero, Tajo, Guadiana and Guadalquivir. In the Mediterranean Sea the rivers that flow into it are the Ebro, Júcar, Segura and Turia.
Meseta: it is an extensive plain located in the centre of the Iberian Peninsula, with an average height of more than 600 meters above sea level, divided by the Sistema Central.
Mountain Systems: the most important in the Iberian Peninsula, from north to south, are the Pireneos (Pyrenees), where the third highest mountain in Spain, El Aneto, is located; the Sistema Central (Central System), in which the Sierra de Guadarrama is located, and the Sistemas Bético y Penibético (Baetic and Penibetic Systems), where the second highest peak in Spain is located, Mulhacén, in Sierra Nevada. The highest mountain in Spain is a volcano located on the island of Tenerife, el Teide.
Spain was one of the first countries in Europe to start protecting nature; the first National Parks Law was passed in 1916. It has 16 national parks; its management and protection is done through the National Parks Network (Red de Parques Nacionales).
The national parks of Spain are, at present, Islas Atlánticas de Galicia; Picos de Europa ((Asturias, Castilla y León and Cantabria); Ordesa y Monte Perdido (Aragón); Aigüestortes y Estany de Sant Maurici (Catalonia); Monfragüe (Extremadura); Sierra de Guadarrama (Madrid); Cabañeros y Tablas de Daimiel (Castilla-La Mancha); Sierra de las Nieves, Doñana y Sierra Nevada (Andalusia), Archipiélago de Cabrera (Balearic Islands) and Caldera de Taburiente, Teide, Timanfaya y Garajonay (Canary Islands).
---
The Weather
Spain has more than 3,000 hours of sunshine a year, making it one of the warmest countries in Europe. Due to its geographical location, Spain is characterized by its variety of climates:
Clima Oceánico (Oceanic Climate): it is that of the communities in the north of Spain that are next to the Cantabrian Sea and the Atlantic Ocean. It is characterized by mild temperatures throughout the year. It rains a lot.

Clima Mediterráneo (Mediterranean Climate): it is that of the territories located to the east with the Mediterranean Sea and to the south with the Atlantic Ocean. They have mild temperatures in winter and hot in summer. It rains little, although sometimes intensely.

Clima Continental (Continental Climate): it is that of the communities in the centre of the Iberian Peninsula. Temperatures are more extreme: cold winters, very hot summers, moderate rain and sometimes snow.

Clima Subtropical (Subtropical climate): it is that of the Canary Islands. It has mild temperatures all year round (with an average of 22 ˚C). It rains little, although sometimes intensely.
---
Political Division
Autonomous Communities
ANDALUCIA
Capital: Sevilla
Provinces & Provincial Capitals:
Almería (Almería)
Cádiz (Cádiz)
Córdoba (Córdoba)
Granada (Granada)
Huelva (Huelva)
Jaén (Jáen)
Málaga (Málaga)
Sevilla (Sevilla)
ARAGÓN
Capital: Zaragoza
Provinces and Provincial Capitals:
Huesca (Huesca)
Teruel (Teruel)
Zaragoza (Zaragoza)
PRINCIPE DE ASTURIAS
Capital: Oviedo
ISLAS BALEARES
Capital: Palma
CANARIAS
Capital: Shared
Provinces and Provincial Capitals:
Las Palmas (Las Palmas de Gran Canaria)
Santa Cruz de Tenerife (Santa Cruz de Tenerife)
CANTABRIA
Capital: Santander
CASTILLA-LA MANCHA
Capital: Toledo
Provinces and Provincial Capitals:
Albacete (Albacete)
Ciudad Real (Ciudad Real)
Cuenca (Cuenca)
Guadalajara (Guadalajara)
Toledo (Toledo)
CASTILLA Y LEÓN
Capital: Not declared. Head of the administration is in Valladolid.
Provinces and Provincial Capitals:
Àvila (Àvila)
Burgos (Burgos)
León (León)
Palencia (Palencia)
Salamanca (Salamanca)
Segovia (Segovia)
Soria (Soria)
Valladolid (Valladolid)
Zamora (Zamora)
CATALUÑA
Capital: Barcelona
Provinces and Provincial Capitals:
Barcelona (Barcelona)
Gerona (Gerona)
Lérida (Lérida)
Tarragona (Tarragona)
COMUNIDAD VALENCIANA
Capital: Valencia
Provinces and Provincial Capitals:
Alicante (Alicante)
Castellón (Castellón de la Plana)
Valencia (Valencia)
EXTREMADURA
Capital: Mérida
Provinces and Provincial Capitals:
Badajoz (Badajoz)
Cáceres (Cáceres)
GALICIA
Capital: Santiago de Compostela
Provinces and Provincial Capitals:
La Coruña (La Coruña)
Lugo (Lugo)
Orense (Orense)
Pontevedra (Pontevedra)
LA RIOJA
Capital: Logroño
COMUNIDAD DE MADRID
Capital: Madrid
REGIÓN DE MURCIA
Capital: Murcia
COMUNIDAD FORAL DE NAVARRA
Capital: Pamplona
PAÍS VASCO
Capital: Not declared. Head of the administration is in Vitoria.
Provinces and Provincial Capitals:
Álava (Vitoria)
Guipúzcoa (San Sebastián)
Vizcaya (Bilbao)
Autonomous Cities
CEUTA
MELILLA
---

---