Family donates piano that enlivened Xàbia nights in the 30s
The instrument used to accompany singers, cabaret and vaudeville shows at the family bar in what is now Plaça del Baix.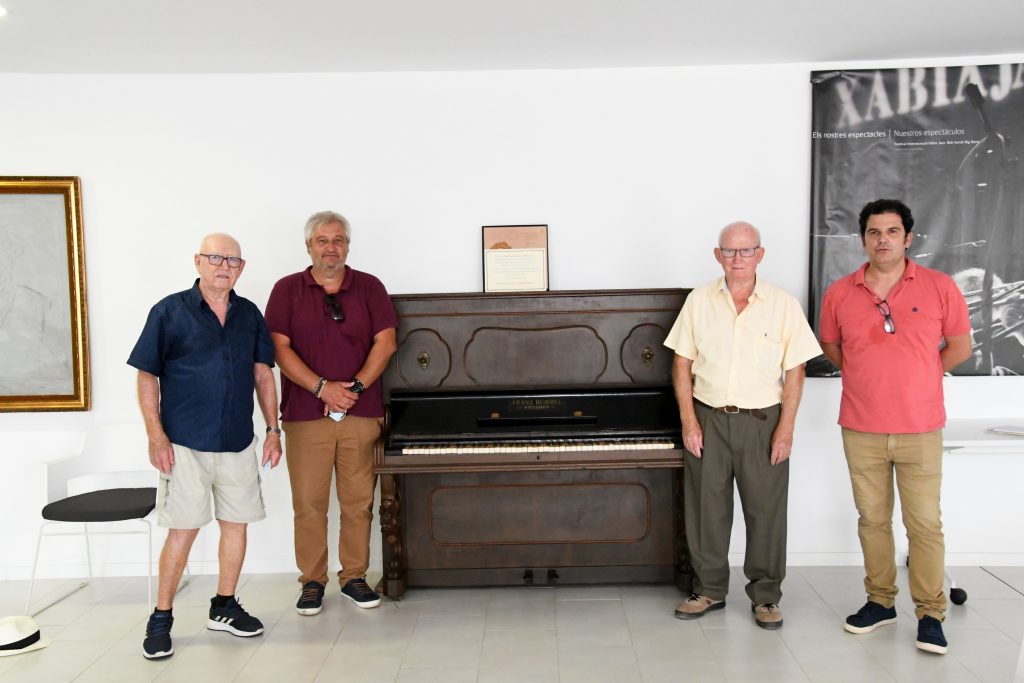 Friday 6th August 2021 – PRESS RELEASE with Mike Smith
---
Brothers José and Antonio Torres Buigues – best known for managing Bar Perol for many years – have donated an old upright piano to the council, an instrument that has been in the family for the past century.
The piano, a German brand Franz Hummel Dresden, was purchased second-hand by their grandfather, José Torres Segarra, a few years before the Second Republic was proclaimed, but it is thought to be more than 150 years old and still has two hooks for candle holders which illuminated the sheet music at a time when electric light was practically non-existent.
He installed it in his bar in what is now called Plaça del Baix but was then known as Plaça del Mercat, located between Bar Imperial and the Jaumet store. It was a very spacious venue with a stage from which singers, cabaret and vaudeville shows were performed which enlivened the nights of Xàbia almost a century ago.
The piano continued to provide the music for a few years until the political situation in Spain deteriorated and the country slid into a devastating civil war which forces the closure of the Torres premises.
The piano was taken to the family home in the Ravalet neighbourhood but no-one knew how to play it, although it did help young people in the town with musical interest to learn, such as Miguel Benavent, a well-known merchant in the town.
In the 1950s, "Uncle Torres' piano" returned to become a key in the cultural life of Xàbia, used in the "Fiestas en el Aire" that were held in the Cine Espinós (what is now the Central Cinema) to raise funds for the Fogueres, or to accompany popular dances throughout the town, especially in the Placeta del Convent. The brothers remember that the piano was transported to and from their grandfather's house on a car and then a three-wheeled vehicle especially bought for the purpose.
Now, "Franz Hummel" will once again be in a place where dances are held and there is social life – the room on the ground floor of the Port library where the local retired residents and pensioner's association meets, and they are delighted to welcome an instrument with so much history.
Councillor Quico Moragues (Culture) thanked the Torres Buigues family for donating the piano – which will be restored – and for having shared its interesting history, which is so closely linked to the Xàbia of the 19th century.
---