Cruz Roja carry out two more rescues in the coves of Xàbia
A 19-year old man was evacuated by boat after suffering a concussion whilst a 28-year-old woman was airlifted out of a cove to be taken to hospital.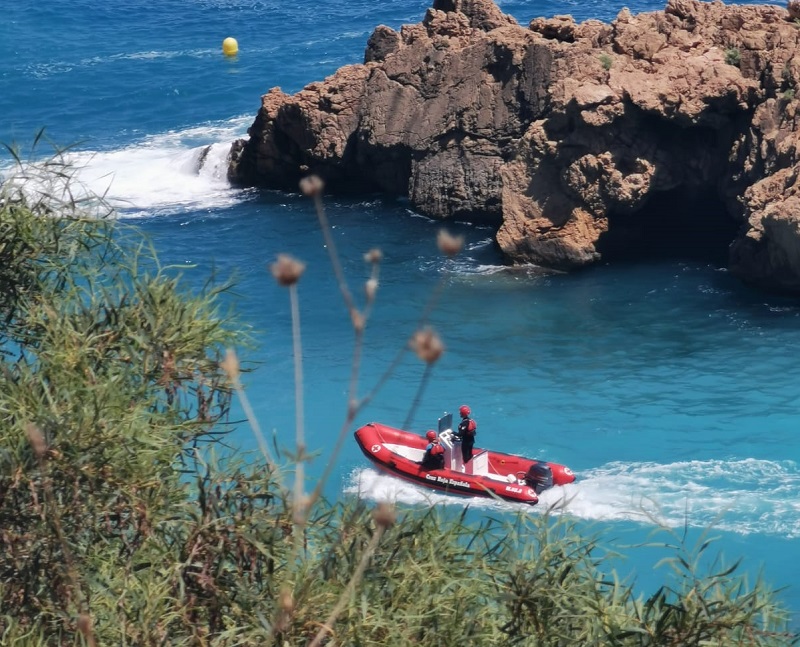 Friday 23rd July 2021 – XÀBIA AL DÍA with Mike Smith
---
Summer has definitely arrived. Lifeguards from Cruz Roja Xàbia have had to be deployed again on Thursday afternoon for two rescues in coves in the southern area of the municipality, one of which required the assistance of a helicopter from the Provincial Fire Brigade to help with the evacuation of a young woman.
According to municipal sources, the Cruz Roja was first activated at 1.30pm to attend to a concussion in the area of En Caló. A rescue launch from Granadella was mobilized as well as a land rescue team that accessed the zone through the Sol de Barranc fishing platform. After locating the wounded, a 19-year-old man, they gave first aid and evacuated him by sea to Granadella.
The second incident happened almost at the same time and in the same area and involved a 28-year-old woman who suffered a serious cut on one of her feet. The severity of the injury forced the mobilization of the Alpha 1 helicopter from the Provincial Fire Brigade (see video below) who evacuated her to the Dénia station where she has transferred to Dénia hospital.
This video shows the moment of the evacuation of the women from one of the coves after suffering a serious cut to one of her feet, an injury which, according the Fire Department, could mean the loss of one of her toes.
---

---