Council equips Protección Civil with new rapid response vehicle
The vehicle has been fitted out with a large water tank and powerful water pump as well as a steel winch.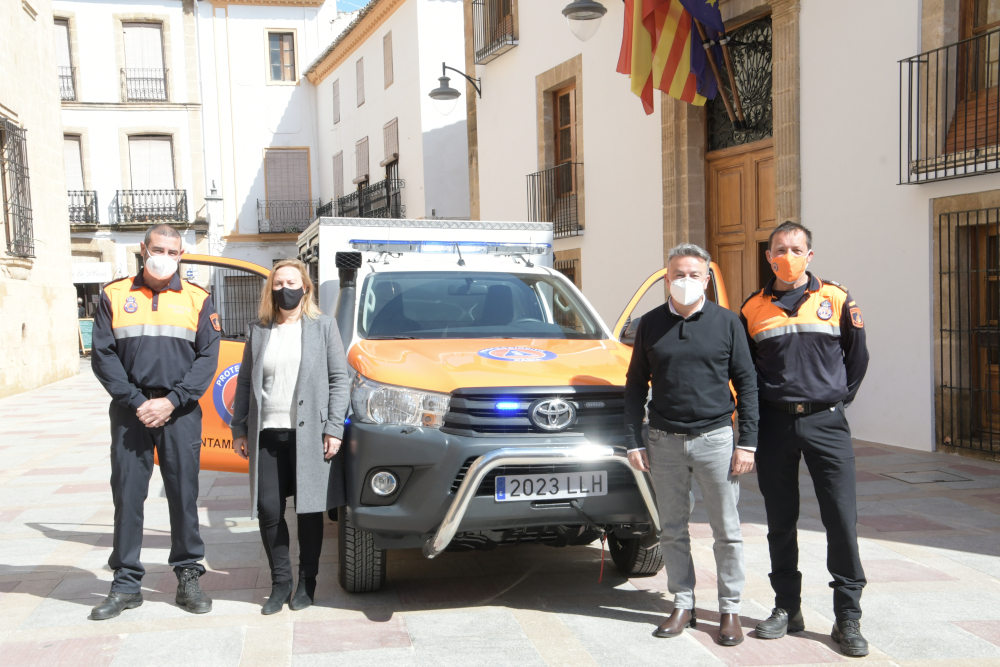 Wednesday 10th March 2021 | translated by MIKE SMITH
Xàbia Council has delivered a new emergency response vehicle worth 72,600 euros to Protección Civil, a truck which has all the necessary equipment for a quick and safe action in the event of any emergency, from fires to floods.
The vehicle, which is the sixth in the fleet available to the local volunteer group, has a subsidy from the Alicante Provincial Council within a line of funding aimed at preventing fires in municipalities and which the local council has also allocated to forestry work in Capsades-Rebaldí.
Pick-up type and with off-road traction, the vehicle has been completely transformed to become an emergency vehicle. It has been fitted out with a 600-litre tank and an additional tank for foam, a very powerful 30HP pumping system to improve flow from hydrants, a steel winch for crane functions and a "snorkel" air intake system that reduces damage to the engine in case of fording or crossing of flooded areas.
The vehicle is also equipped with a transmitter connected to the COMDES emergency network and is fitted on all sides to allow the storage of hoses, chainsaws, bilge pumps and other materials.
The head of the Protección Civil in Xàbia, José Vicente Serra, has called the vehicle as very useful to strengthen the rapid response of the group, which is to avoid complicating emergencies and in which it has always been a key means.
With this addition to their fleet, the local volunteer body becomes one of the best equipped. It is also one of the first to have the official accreditation to be able to participate in extinction tasks. With about 50 volunteers, it is a very important asset in all local emergencies, highlighted the mayor, José Chulvi, who together with Councillor Pepa Gisbert (Security), wanted to thank all the work of the group in fire prevention, emergency response and now also in this health crisis.
---
Information Source
Press Release – Ajuntament de Xàbia
---