Charity swim raises 2,500 euros and counting …
The money is still trickling in, donations that will support the Cruz Roja and people suffering from Alzheimer's / Dementia.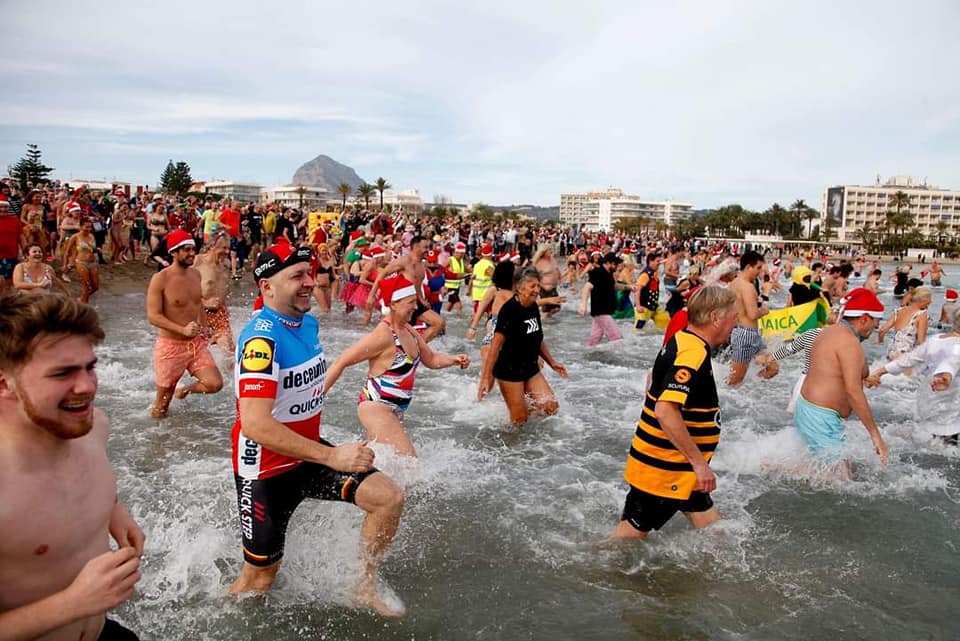 Tuesday 3rd January 2023
Mike Smith
---
The annual New Year's Day Swim, organised by the Lancashire Bruja bar, has already raised some 2,500 euros for charity, according to a message posted on their Facenook account this morning. A great number of swimmers braved the chilly sea watch by an extraordinary number of spectators who lined the water's edge almost from one end of the Arenal beach to another.
The two charities which are being supported this year are the Cruz Roja de Xàbia and that supporting patients suffering from Alzheimer's / Dementia. The money was raised by the bar's sponsored swimmers – Stephen, Adam "Mr Tumble", Emma "Mimis Hairdressers", Rick, Mal, Lisa F., Becky and Maria, Helen B, Jean W. and Lisa C – Humpty Dumpty newsagents, the 'Swear Jar' at the Lancashire Bruja as well as a group of Santa's Elves – Sue, Tina, Mary, Jane, Claire and Ann – who walked along the beach on the day collecting loose change from those watching the dip.
In addition, there were other sponsored swimmers doing their part: Digbys Bar (Tina, Biff, Bob, Alan, Mick, Toni, Callum, Kate and Sharon) for the Balcón al Mar Voluntario Bomberos, Nicola Michelle for Sanju Sanctuary for kittens, some ladies for the Cancer Care Charity, and many more dotted around the beach.
A wide variety of costumes were spotted this year, including lots of Santa's, the Aguiles Javea rugby team, a shark, pirates, a Jamaican bobsleigh team, seaside costumes, Batwoman, Mario, Beerman, Queen of Hearts, a mermaid and even SpongeBob made a comeback.
The organisers Stephen and Christine, from the Lancashire Bruja bar, would like to thank everyone for the participation in the swim and for the kind donations to the charities. They added that the money is still trickling in due to the many people who couldn't find the elves and decided to pop into the bar instead. A final total will no doubt follow in the coming weeks.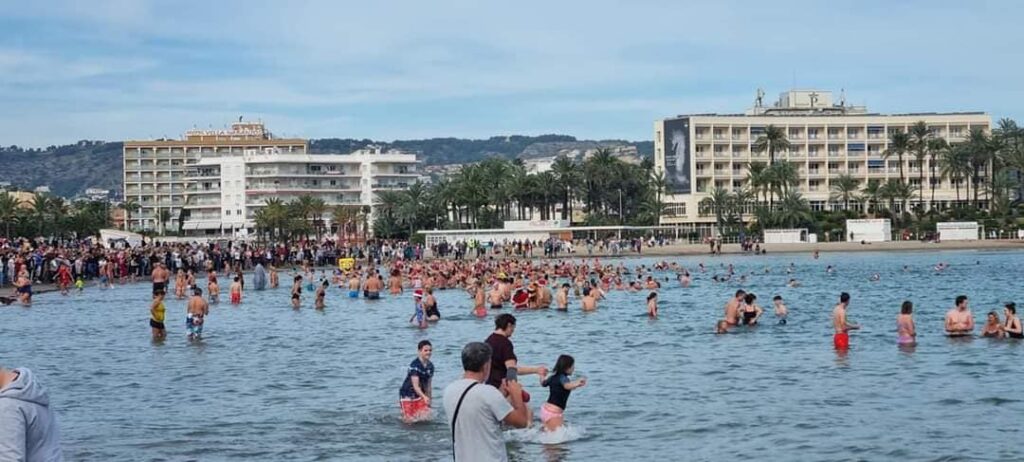 ---
---