CD Jávea have been part of the community of Javea for 80 years. Very much a provincial club, the rojiblancos have rarely breathed the purer air of the upper echelons of the Spanish league pyramid but have established themselves as one of the more progressive lower league clubs in the region. Occasional spells in the Third Division have interrupted an otherwise solid presence in the Valencian Regional Preferente, one of the best regional set-ups in Spain. In 2012 it created its first ever women's team which won the league and won promotion in the first season as a competitive football team.  The club has had a modest ex-pat following for some years, many of whom follow the team home and away during the season, and in 2008 the club featured in a Sky Sports special on the impact of ex-pats in local football in Spain.
Season 2019-2020
The COVID-19 health crisis brought the 2019/20 season to a premature close after 26 games when it became clear that the remaining eight games could not be played.
CD Jávea finished in 5th spot, four points off the top three play-off spots.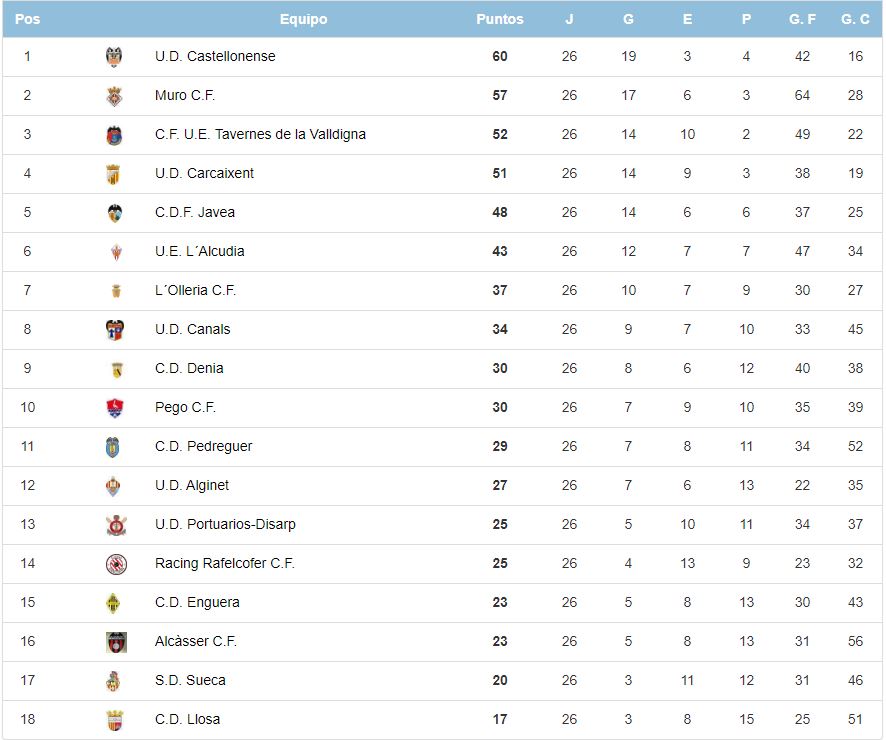 Goalscorers
16 – Juan Manuel Guerrero
4 – Álvaro López; Adrián Ramis
3 – Francisco "Paco" Gazquez
2 – Álvaro Bernaldez; César Ortiz
1 – Ayoze Espinar; Roberto Fernandez; Cristian "Panucci" Gonzalez; Renzo Ridao; Pablo "Pau" Soliveres