CD Jávea suffer setback in promotion push
CD Jávea loses in the first game in front of fans; some 200 people attended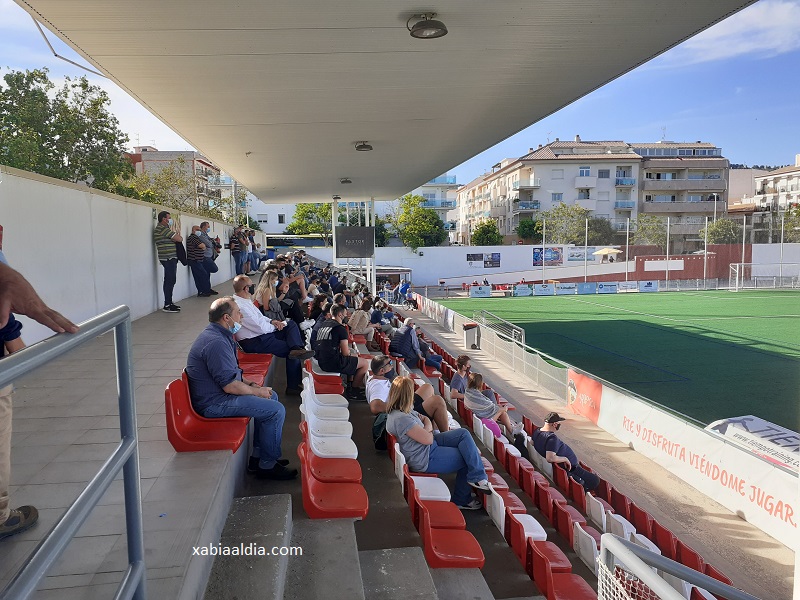 Sunday 9th May 2021 – XÀBIA AL DÍA with Mike Smith
---
CD Jávea 0-1 CF La Nucia "B"
Some 200 fans turned out on a sunny Saturday evening to cheer on their heroes on the pitch to another three points towards promotion but the fate had not read the script and the visitors – CF La Nucia "B" – opened the game with great enthusiasm and might have opened the scoring after just five minutes but Maiky's shot was too high.
Jávea responded through recent signing Palau but his effort was well-blocked by Tomás. The home side applied the pressure and minutes later Luis Carlos had a great opportunity to open the scoring for the rojiblancos but his shot went wide with the keeper beaten.
Just before half-time, there was a moment of drama in the centre of the field when Jávea's Obele jumped for the ball with La Nucía's Germán with resulted in a brutal clash of heads that left both players lying on the ground without moving. Parademics from the Cruz Roja and SAMU attended and the players were taken to hospital to spend the night under observation.
The second half began with both sides forced to make changes and once again La Nucia "B" took the game to the the hosts and opened the scoring on 59 minutes with a great goal from Hugo. Jávea responded quickly and Palau might have done better after meeting a great cross from Luis Carlos but his chance went wide with the keeper beaten once again.
Jávea intensified the pressure and dominated the final third of the game but it was a day when the ball simply wouldn't go into the net with Palau going close once again and a free-kick from Javi in the final minutes well-saved by the keeper to keep his goal intact and secure all three points for CF La Nucia "B".
CD Jávea: Edu, Marcos (Campayo, 82m), Paolo, Paco (Javi, 49m), Aldo, Molina (Jorrín, 71m), Soler, Palau, Carlos, Luis Carlos, Obele (Álvaro, 46m).
CF La Nucía. "B": Tomás, Zazo, Román, Dani Marín, Willy, Germán (Muro, 46m), Maiki, Villena, Hugo (Lalo, 66m), Yujin, Callun (Patrick, 75m).
Goals: 0-1. 59m Hugo.
Referee: Rubén Gómez. Cautions for Obele, Paco and Aldo (CD Jávea) and Hugo, Maiky and Yuyin (CF La Nucia "B") with Willy (CF La Nucia "B") sent off on 86 minutes.
---
---

---