CD Jávea drop two points in injury time
Two first-half goals from Luis Carlos were not enough as Universitat d'Alacant force a share of the spoils in second-half comeback.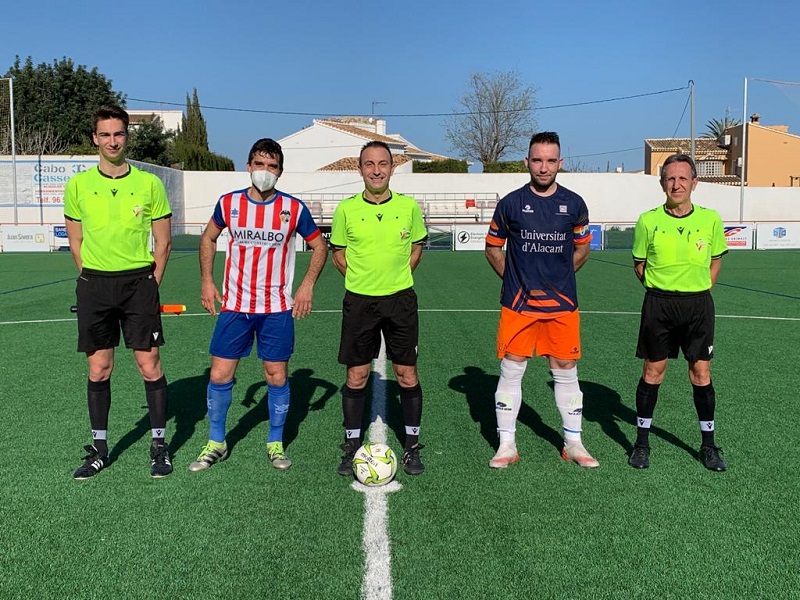 Sunday 14th March 2021 | Xàbia AL DÍA translated by MIKE SMITH
CD Jávea 2-2 Universitat d'Alacant
League competition was back in Group V of the Regional Preferente with an attractive game between CD Jávea and Universitat d'Alacant that began with a minutes' silence for the victims of COVID-19 followed by a brief sit-down protest by the CD Jávea players and staff as well as the referee and his assistants against the Generalitat Valenciana for not allowing lower level competition to resume.
The match itself was a game of two halves. The first 45 minutes saw a total domination of Jávea who scored two goals and it could have been more with Ferrán going close twice with headers. The first came after just 9 minutes when Luis Carlos comfortably diverted a pass from Obele into the net; the second arrived 6 minutes later when Luis Carlos pounced on a partially-clearer corner at the far side and slid the ball between the keeper and the left upright to give the home side a commanding lead. At the other end, the opposition did little to threaten Edu's goal.
The second half was totally different, the visitors went on the attack and were soon rewarded when a header by Daniel couldn't be stopped by Edu who could only push the ball into his own net. A few minutes' later, Edu had to be a his best to stop a shot from Iván before the home side recovered its confidence and swept forward to look for a third goal. And it might have arrived through an attempted lob over the keeper from Obele but the advancing keeper crashed into the striker and the home side called for a penalty which was not given by the referee.
Obele was once again in the thick of the action and he struck the crossbar with a thunderous shot, although had the ball gone in, it wouldn't have counted as he was adjudged to have been offside when he took his chance.
The first game back after over three months – and with little time for training – was clearly evident as the home side struggled to contain an opposition pushing for that equaliser and a share of the spoils. In the dying minutes. both Ayoze and Paolo, key defenders, were injured and cramp was affecting several players.
With five minutes added by the referee at the end of the second-half, Universitat d'Alacant pushed for a second goal and it arrived seconds before the final whistle when Universitat's Andrés ceased on an attempted clearance from Marcos who then beat Edu with a deflected shot to make it 2-2 at the end.
Teamsheets
C.D. JÁVEA. Edu, Ayoze (Soler, 82´), Paolo (Marcos, 82´), Paco, Aldo, Luis Carlos, Ferrán, Javi, Jorrín, Obele y Guerrero (Álvaro, 65´).
UNIVERSITAT D'ALACANT. Luis, Elvis, Andrés, Ales (Kiko, 60´), Carlos, Kerl (Pablo, 87´), Jorge (Borja, 27´), Iván, Jonathan, Sergio (Blaise, 87´) y Daniel (Ayub, 60´).
GOALS: 1-0, 10m, Luis Carlos; 2-0, 14m, Luis Carlos; 2-1. 50m, Edu (own goal); 2-2; 90m, Andrés.
REFEREE: Emilio López Herrero, booked Guerrero (CD Jávea).
---

---