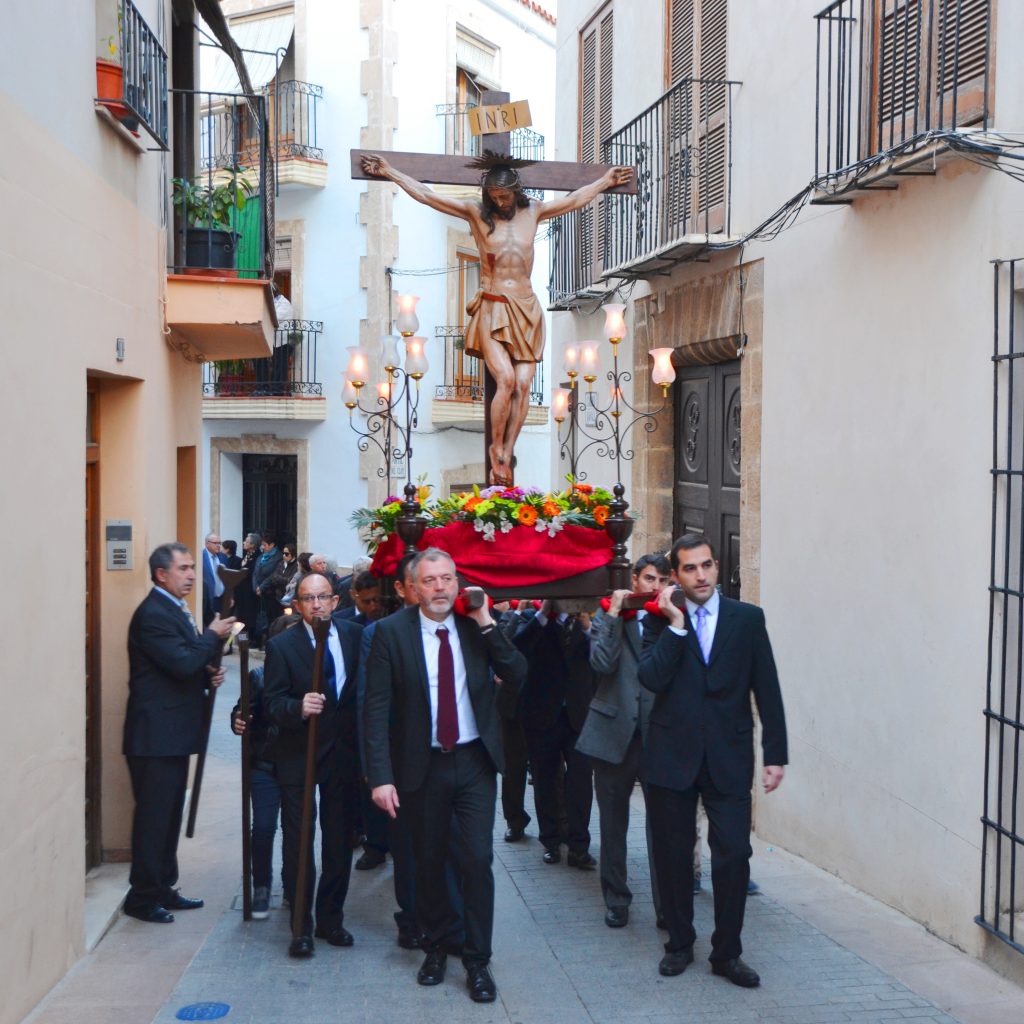 Easter – Pascua – is a major religious celebration in Spain and Xàbia has a full devotional programme to mark this special event.
The festival commemorates the resurrection of Jesus from the dead after his crucifixion, the cornerstone of the Christian faith on which much of its religious doctrine and theology is based. Christians believe this event to be the most important in history, demonstrating a power over life and death which leads to eternal life, and is the most important to be celebrated during the year.
SEMANA SANTA XÀBIA 2022
Religious Programme for Easter
Semana Santa
Palm Sunday kicks off Semana Santa – Holy Week – during which Christians remember the Passion of the Christ, the final few days in the life of Jesus which began with his triumphal entry into Jerusalem (Palm Sunday) and ended with his crucifixion and death (Good Friday).
As it's the biggest religious celebration of the year – much bigger than Christmas – it's a popular week for the Spanish to take a holiday so resorts such as Xàbia will become livelier and it's always best to reserve tables to eat in bars and restaurants throughout the week and especially over the Easter weekend.
Domingo de Ramas (Palm Sunday)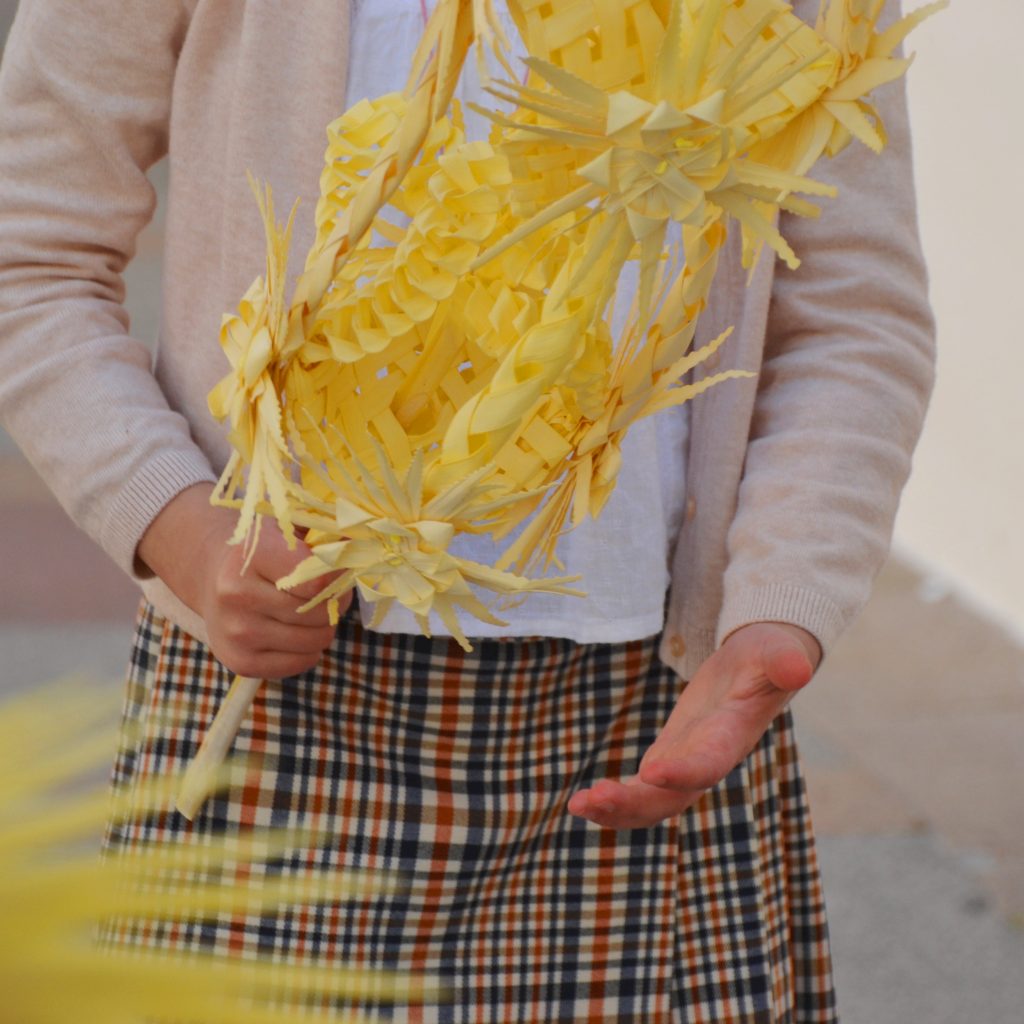 Palm Sunday takes place on the Sunday before Easter Sunday. Families get dressed up in their 'Sunday Best' and attend a special mass. There is a short parade, the young girls carrying intricate sculptures made from palm leaves, the boys holding simpler designs whilst the adults carry tall single branches. These white palm leaves are natural but are the result of selected palm trees being covered in black bags earlier in the year to exclude all light and thus their leaves turn the white colour.
The Easter Craft Market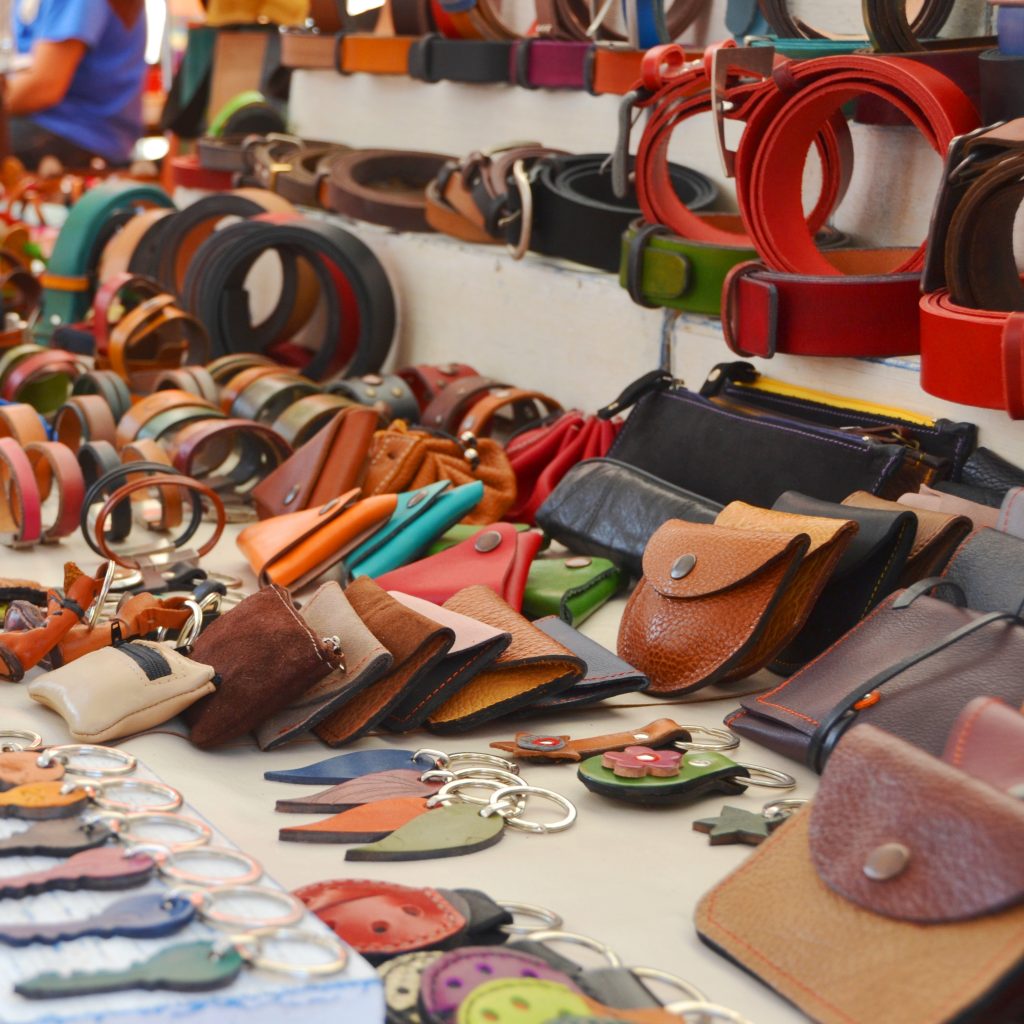 The craft market is one of the oldest in the Comunidad Valenciana and fills the streets with great colour and fantastic aromas from Good Friday until Easter Monday. There are many stalls offering hand-crafted items including decorations, toys and souvenirs as well as tasty sweets and chocolate and marvellous spices. In the Placeta del Convent there are a number of food stalls offering hams, cheeses, olives as well as snacks such as kebabs, sausages, pizzas and much more.
With the family entertainment on offer throughout the weekend, including children's shows, traditional music and dancing, workshops and theatre, it's a great option for all the family to enjoy over the Easter period.
FIRA D'ARTISANIA DE XÀBIA 2022
The Full Programme
Viernes Santos (Good Friday)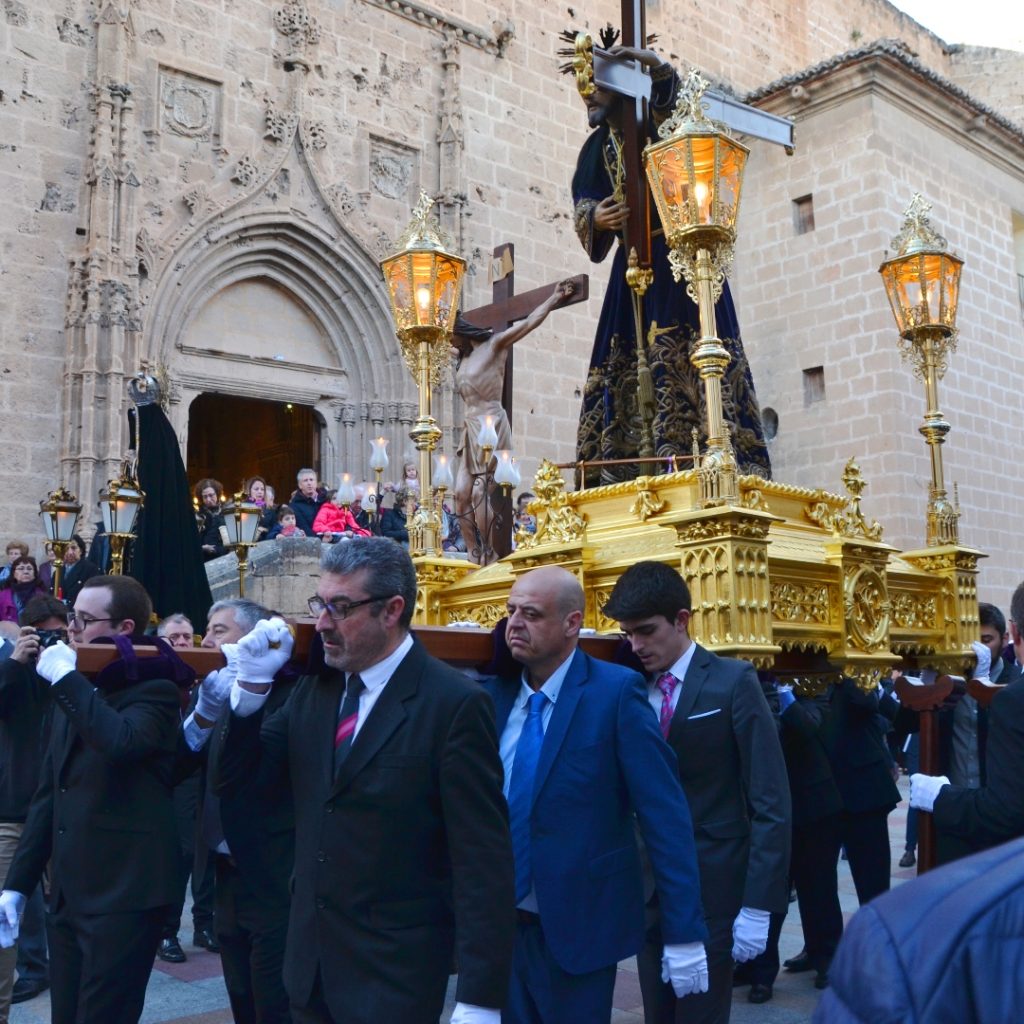 In Xàbia there is a very special and rather emotional procession on the evening of Good Friday. Four sacred images are carried along a short route around the historic centre, a solemn affair accompanied by slow music from the town's band and emotional singing by an all-male choir. There is a brief clash of culture as the slow procession crosses the colourful Easter market stalls which line the Carrer Major over the long holiday weekend.
El Domingo de Resurrección (Easter Sunday)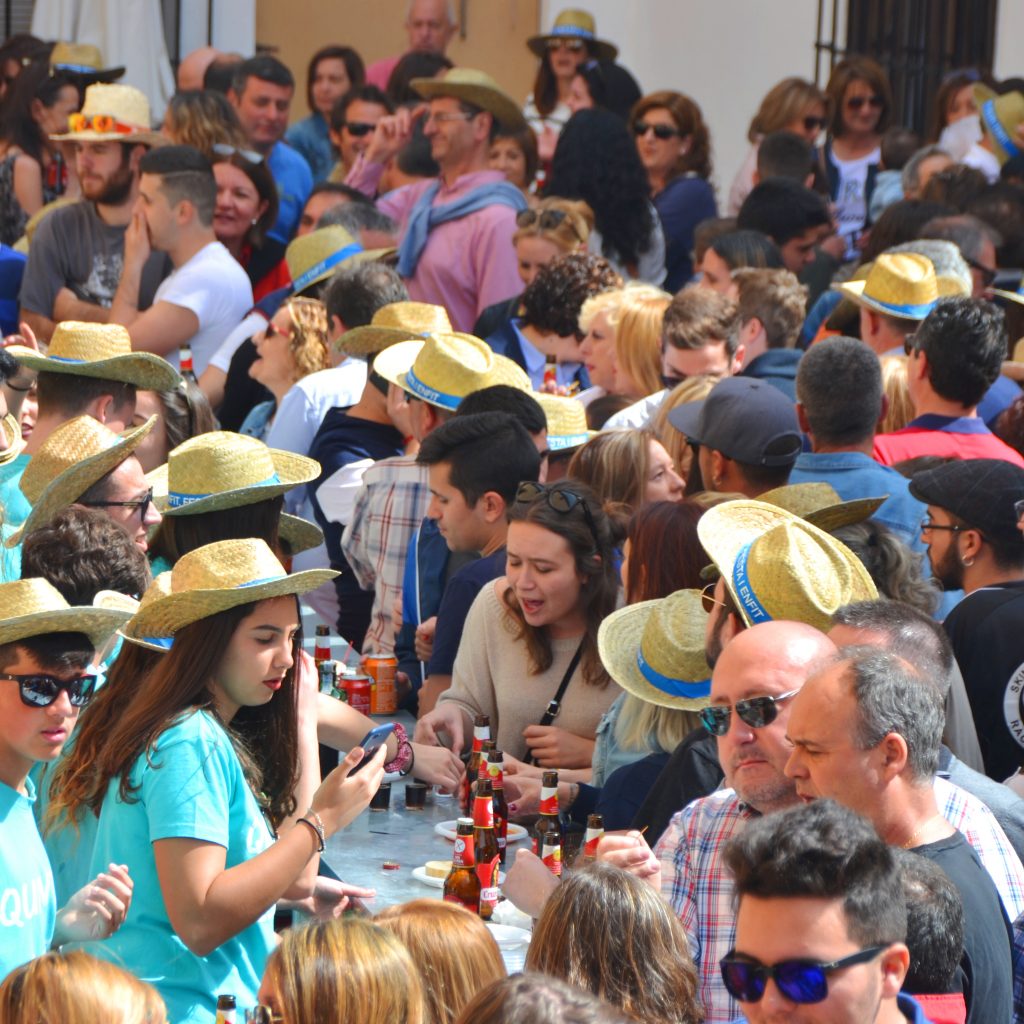 There are a number of Eucharist services throughout the day at the churches of San Bartolomé in the town and Loreto in the port.
But one of the popular acts of the day is the traditional gathering of the penyas and associations in the square around the church in the heart of the historic centre, a noisy and sometimes boisterous couple of hours in the early afternoon during which a number of temporary bars offer food and drink whilst hats, cakes and other home-made items can be bought at several stalls. It's a great occasion to bring the people of Xàbia together as the groups boost their funds for participating in the town's fiestas or to provide help and assistance to others. It's all over by mid-afternoon and everyone drifts off to enjoy a lunch together in one of the surrounding bars and restaurants.
Traditional Easter Food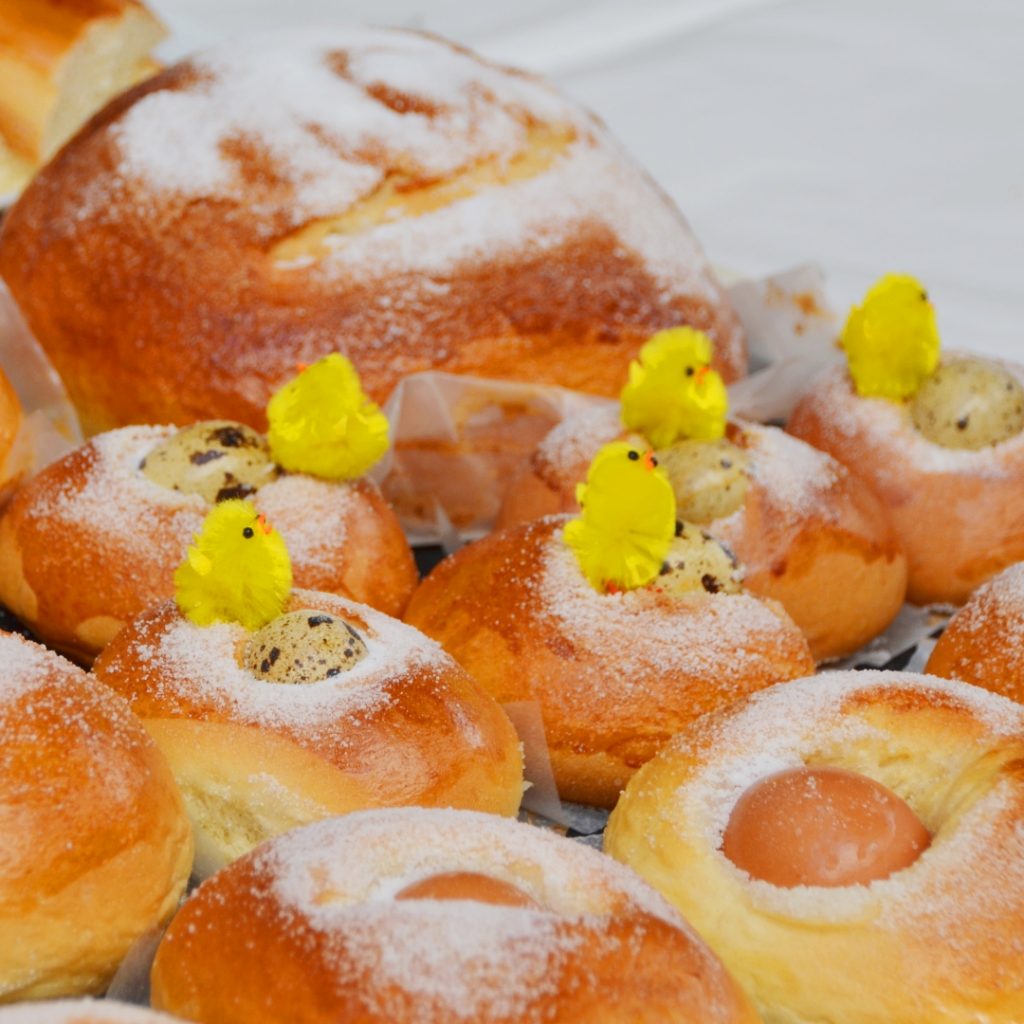 Mona de Pascua is popular in Valencia and Catalunya, a cake traditionally given to children which is topped with either a boiled egg or a chocolate equivalent.
Torrijas are thick pieces of bread soaked in a mixture of milk and egg before being fried with olive oil and served with honey and sugar.
Pestiños are pieces of dough, often flavoured with sesame, which are fried in olive oil and served with honey or sugar; it's very popular in southern Spain.
Hornazo is a meat pie often filled with pork loin, chorizo and hard-boiled eggs which is popular in Salamanca and Ávila.
Flores de Semana Santa are sweet, fried pastries which come in different shapes; they are also known as flores manchegas.
Potaje de Vigilia is a dish traditionally served on Good Friday which is made of cod, chickpeas, spinach and garlic.
Buñuelos are fried doughnuts made from the simple ingredients of water, milk, egg or yeast and can be sweet or savoury.
Leche Frita is a sweet popular in northern Spain made by cooking flour with milk and sugar until it becomes firm and then topped with cinnamon and a sugar glaze.
Bartolillos are dumplings of thin dough fried with a custard filling and traditionally served in Madrid.
Sopa de Ajo is a soup often made with garlic, chicken broth, egg and sherry which is traditionally served during Semana Santa.
---
STRANGE EASTER TRADITIONS

On the evening of Maundy Thursday the village of Verges in Catalunya witnesses five skeletons dancing through its streets to the rhythm of drums, a 'danse macabre' which has been common across most of Europe since medieval times as a reminder that the "Dance of Death" claims everyone, rich and poor.

In the city of León, a grand bar crawl of many thousands of people each Maundy Thursday marks the anniversary of the death of a well-known local man called Genaro Blanco who was run over by a rubbish lorry in 1929 whilst relieving himself against the city walls.

Jailed Catholics might find themselves freed at Easter, a tradition that stretches back to 1759 when a riot broke out in a prison in Málaga after inmates found out that the Easter procession was to be cancelled due to an outbreak of plague. They forced their way out of the prison and carried the image of Jesus through the streets before returning to life behind bars. Carlos III was so impressed that he decided to pardon two dozen prisoners every Easter; it's a tradition that continues to this day.

In Cuenca people known as 'las turbos' jostle the nazarenos to try and prevent them from carrying the image of Jesus through the streets; they are said to represent the mob of Jews who ridiculed Jesus on his journey to his crucifixion.
---