Alicante allocates some 1.7 million euros for investment in the Marina Alta
The funding will assist local councils in the province to improve water supply and sanitation infrastructures.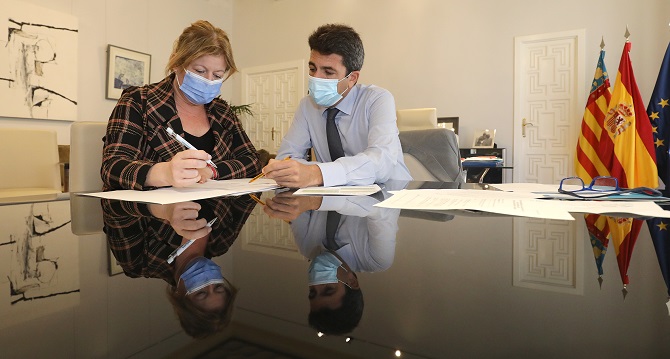 ---
Wednesday 23rd March 2022 – Mike Smith
Source: original article – Carlos López (Xàbia AL DÍA)
---
The Alicante Provincial Council is strengthening the Plan +Agua with another 4.6 million euros with the aim of covering all the applications submitted by local councils to participate in this initiative. The Finance Committee plans to approve a credit modification this week to incorporate this item, paid for with surpluses, into the budget, which will raise the investment in this extraordinary plan to 14.1 million euros.
"The government team of the Alicante Provincial Council is very clear that the main mission of this institution is to help the municipalities and we will not leave anyone behind," said president Carlos Mazón, who added that the good financial situation of the provincial council "allows us to strengthen our investments to ensure adequate services and infrastructure in our municipalities".
For her part, the vice president and deputy of the Department of Water, Ana Serna, explained that "thanks to this extraordinary contribution we will be able to attend to all the supply and sanitation infrastructures requested by the municipalities through line 3 of the Plan +Agua 2021 which could not be covered due to lack of budget".
In the Marina Alta region, the following municipalities are included: Benidoleig, Benimeli, Benissa, Castell de Castells, Murla, Ondara, Parcent, Alcalalí, Els Poblets, Llíber, Senija, Xaló, Gata de Gorgos, Teulada, El Ràfol d'Almúnia, Benitachell, Vall de Gallinera, Sanet y Negrals, Pego, Pedreguer and Tormos, a total investment of 1.7 million euros.
The Alicante Provincial Council's Plan +Agua started in 2021 with a total contribution of 9.5 million euros and included three lines of action. The first, allocated with 5.1 million euros, aimed at supply and sanitation infrastructures to be executed by the provincial council rejected in the ordinary call of 2021. In this case, the 50 municipalities that were left out for lack money.
The second line of action, allocated with 1,670,800 euros for hydraulic infrastructure works rejected in Line B of the 2021 call – works of first establishment, reform or major repair of supply and sanitation works carried out by the municipalities. Also included in this section were the 42 applications that could not be completed initially.
Finally, the third line was opened to all municipalities in the province with an investment of 2,729,200 euros, which will now be expanded by another 4.6 million euros "so as not to leave any municipality behind," as Mazón insisted. In this case, the subsidies to local councils for works in hydraulic infrastructures and facilities are determined by the number of inhabitants of the municipality, being 100% in those of less than 2,000.
---
---