AEMET issues warning for potential for heavy rain on Sunday
There is a risk of heavy rain with an accumulation rate of 60mm / 12 hours across the Marina Alta.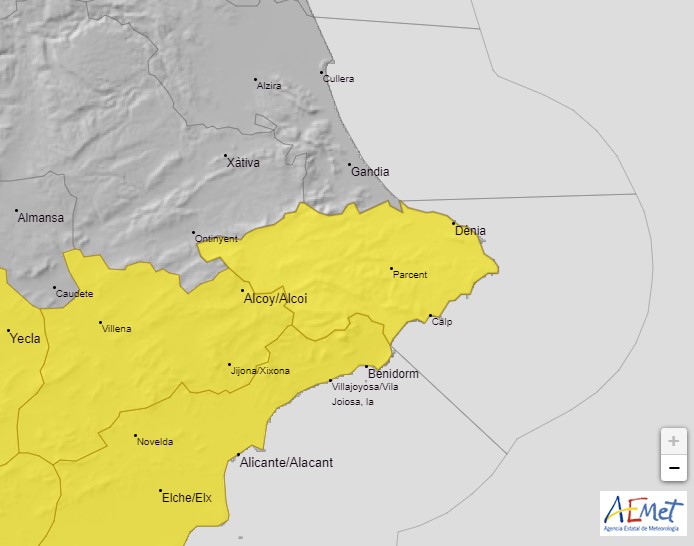 Friday 21st May 2021 – Compiled by MIKE SMITH
---
The state meteorological agency AEMET has issued a YELLOW risk warning for the potential of heavy rain on Sunday 23rd May. Forecast models are suggesting that the province of Alicante could be affected as a block of cold air passes across the Iberian Peninsula from west to east which, coinciding with the arrival of lifting winds, could cause local intense downpours and storms. Thus, the agency has issued a warning of a 40%-70% probability of accumulated precipitation of 60 litres in 12 hours, valid from 8.00am Sunday morning until the early hours of Monday.
The University of Alicante's Climatology Laboratory confirmed that storms could produce heavy rain and even hail in some areas, which is not entirely unusual for late spring. Much of the south-east of Spain is likely to be most affected by this period of instability during Sunday afternoon and into the early hours of Monday. Whilst large accumulations are not expected, it is the intensity of the rain which may cause some problems in several areas, severe downpours which could change the rainfall total for a whole month in just a short period of time.
It should be remembered that these warnings are issued for probability, not certainty. They do not mean that they will happen but that there is a good chance that they may do. They are issued because, quite simply, it is better to be prepared than not.
---
Information Sources
AEMET – Avisos Meteorológicos
Laboratorio de Climatología – Universidad de Alicante
---