AEMET issues warning for heavy rain on Friday
Potential for heavy rain up to 60mm/12hrs throughout Friday 27th November.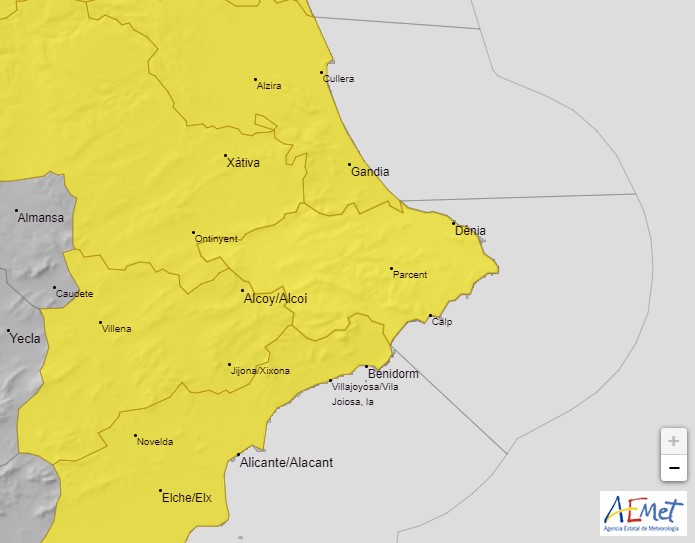 The state meteorological agency AEMET has issued a YELLOW risk warning for the potential of heavy rain on Friday 27th November. Forecast models are reporting that it will be a fairly unstable day with a probability of the largest accumulation of rainfall affecting the coast and northern areas of the province of Alicante.
The warning advises that there is a 40%-70% probability that our region will experience heavy rainfall with possible accumulation rates of up to 60mm in 12 hours and 30mm in one hour at any time from midnight on Thursday 26th November to midnight on Friday 27th November. There is also a chance of thunderstorms throughout the day.
Showers are also expected on Thursday and more consolidated rainfall is forecast for Saturday. However, in all cases, meteorologists have warned that the evolution of the weather system may change the forecast over the coming day or so and that, as always with our part of the world, we will have to wait and see what arrives; it could be more, it could be less.
Be prepared!
Home-owners are recommended to take a walk outside their property and take a look at the roof for missing tiles, the guttering and drains to make sure that they are clear of debris to allow rainwater to funnel away, and all doors and windows for proper seals. In addition, it is recommended that outside furniture, particularly soft furnishings, are brought inside the house, and barbecues, gardening tools, lawn mowers, etc. are stored away.
---
Wednesday 25th November 2020, 12.00pm – MGS
---