Abandoned house on corner of Carrer Roques and Ronda Sur demolished
The demolition was carried out with all the necessary permits after an inspection by the Department of Heritage.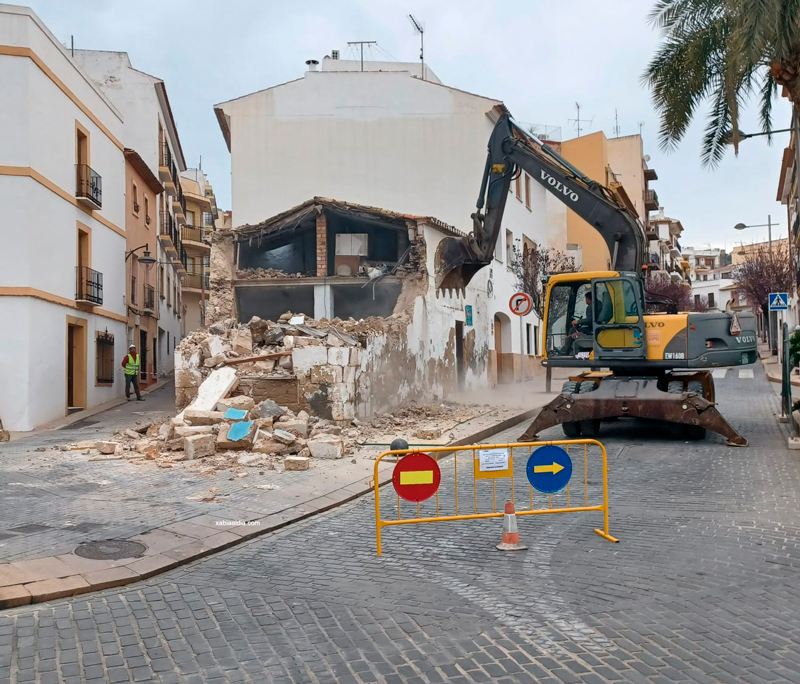 ---
Friday 11th March 2022 – Mike Smith
Source: original article – Carlos López (Xàbia AL DÍA)
---
The owners of a house that stood at the end of Carrer Roques, at the junction with the Ronda Sur, have demolished the building. Long abandoned, it had become a danger to the public as parts of the crumbling building occasionally fell onto the public highway, both on the side facing the main road as well as Carrer Roques.
Xàbia AL Día has confirmed with the local council that the demolition has been carried out with all the necessary municipal permits and that, prior to the work, an inspection was made by the Department of Heritage to check whether there were any protected elements and subsequently it identified a small niche in one of the walls.
However, it could not be confirmed whether a new construction would be built on the site or whether it will remain an empty plot, although other sources suggest that a two-story home might be proposed for the site.
In April 2018, Xàbia AL DÍA reported that the Department of Town Planning had opened 26 files against owners of buildings in the historic centre that were in a state of disrepair, a list on which the house which has now been demolished appeared. Other properties whose crumbling facades which might have proved to be a danger to the public were identified on Carrer Roques, Avenida de Asturias, Carrer Mayor, Carrer L'Estret, and Plaza del Portal del Clot.
---
---