8-M Manifesto of the Marina Alta Women's Network
The Xarxa de Dones de la Marina Alta has released a statement to mark International Women's Day.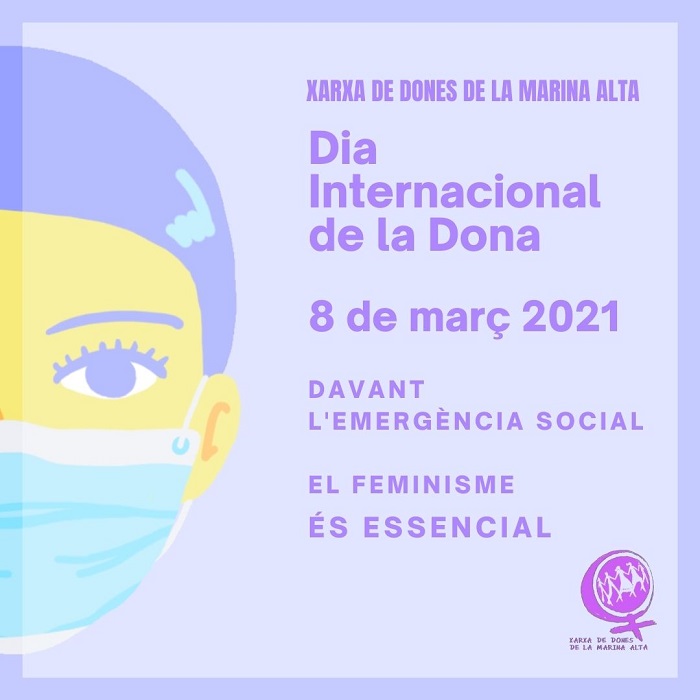 Monday 8th March 2021 | XARXA DE DONES DE LA MARINA ALTA
Faced with the social emergency, feminism is essential.
Although we have to do it in other ways due to the pandemic, feminists are once again ready to continue celebrating each of our advances, and remembering those women who more than one hundred and ten years ago began the commemoration of the International Women's Day.
We are currently going through the social, health and economic crisis of COVID-19, which affects us especially because job insecurity has the face of a woman, and because care tasks fall mainly on us and, consequently, we are more exposed to all dangers inherent in this crisis. The pandemic has aggravated the situation: women have a higher risk of contagion due to continuous exposure to the virus, since we work in many of the sectors considered essential, which are highly feminized, such as health and social services, as well as cleaners, supermarkets workers, etc.
It is time to put care at the centre of society. Women do not want to continue with this burden alone and we demand co-responsibility and the right to care and to be cared for.
In addition, the violence generated by the conditions of confinement has meant that women have suffered abuse and our children have been forced to be more isolated, locked up with our aggressors, as well as prostituted women, who bear extreme risks to our lives.
However, here we are strengthened by feminism, convinced that we will overcome the pandemic in the same way that we will defeat the patriarchal offensive that tries to take away our rights and freedoms again, now trying to blur us as a political subject of our own struggle: feminism. We demand that all attempts and initiatives that promote the disappearance of women be rejected in legal, medical, and educational terms and in other spaces.
Women from all walks of life, regions and cultures share the fight for the rights of all. And, all together we say NO to this type of patriarchal, sexist, fascist, racist, capitalist and colonialist society that creates the structural inequalities that women suffer for the fact of being, feminizing poverty and the exclusion of half of the world's population.
Women suffer discrimination and violence at work. Gender gaps in wages and pensions. There are sectors in inadmissible conditions: hotel cleaning workers or home and care workers, and many others.
We demand decent pensions and that the time spent on care is recognized in its calculation.
We demand jobs with decent hours and wages; the repeal of the current Labour Reforms and that of internal work, which enslaves migrant women; an effective equal pay law; the ratification of ILO Conventions 189 and 190; measures to eradicate sexual and gender-based harassment and that women with disabilities have a real and effective treatment of social and labour insertion.
We demand compliance with current legislation to protect access to public employment for women who are victims of sexist violence and those of us with disabilities.
It is essential to have universal and quality public services to have the right of access under conditions of equality and equity. Therefore, we demand the return of the privatized services to the public sector and with direct management.
We demand an education that does not make us invisible, an education in values, where coeducation and emotional and sexual education in schools form a society for a world of equal rights and mutual respect, without gender stereotypes. A public, secular and feminist education, free from patriarchal values.
Enough of violating our bodies with neoliberal businesses that put a price on us and violate our human rights. We demand an abolitionist legislation of the Prostitutional System, Pornography and Uterus for Rent!!!
Faced with a state that systematically prioritizes sanction over fundamental rights such as the strike and demonstration, we denounce the Gag Law of 2015, and we demand its repeal.
Enough of patriarchal, misogynistic and reactionary justice!!! Colleagues, let us remember that March 8 is every day! The road is long and the mobilizations continue!
Let's get together, defend ourselves, fight for our rights and take care of ourselves!!!
United and organized we are INVINCIBLE!
FEMINISM, THE STRENGTH OF WOMEN
Long live the feminist struggle !!!
---
Click below to read the original article in Spanish on Xàbia AL DÍA

---