580 fines handed out daily during December for non-compliance
Ximo Puig calls for "maximum responsibility" as new infections continue to rise significantly in the Comunidad Valenciana.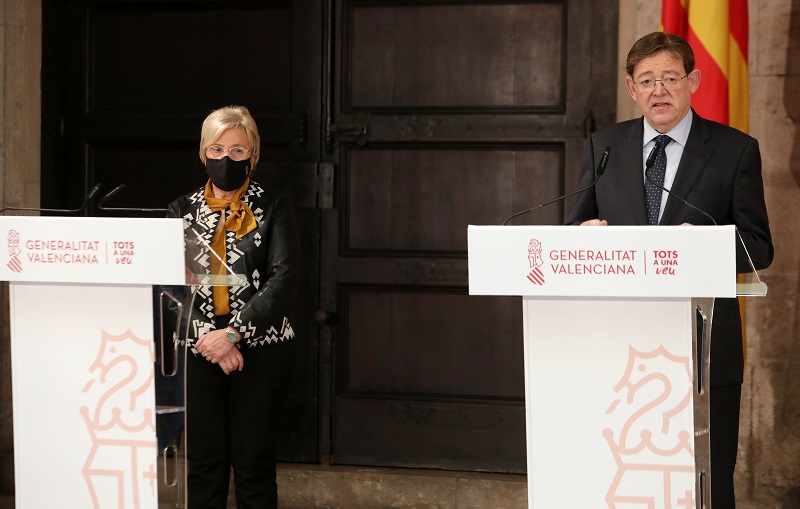 Tuesday 19th January 2020 | CARLOS LÓPEZ (Xàbia AL DIA)
Non-compliance with restrictions put in place to try and halt the spread of the coronavirus infection saw 580 penalties issued by the security forces during the month of December in the Comunidad Valenciana, a significant rise on the summer when 150 fines were handed out each day. In total, some 70,000 fines have been issued for non-compliance since the start of the pandemic ten months ago.
Ximo Puig, president of the Generalitat Valenciana, has insisted on asking again for "prudence" and "maximum responsibility" from the citizens of the region as the new cases continue to rise significantly, despite the fact that the vast majority of Valencians have been complying with the measures.
He has expressed "enormous concern" at the "high levels of incidence" in the Comunidad Valenciana that "required new and immediate action". Thus, he pointed that "the increase in the infection curve and the pressure being felt by the Valencian health service has forced us to act now", with the aim of reducing social interaction, "which has become the main cause of infection spread".
He has also confirmed that the Generalitat Valenciana will request the right to be able to bring forward the start of the curfew to 8.00pm when regional leaders meet at the Interterritorial Council tomorrow Wednesday. Currently, citizens in the region have to be off the street at 10.00pm, the earliest time that can be declared under the current 'state of alarm' declared by the Spanish Government last October.
Ana Barceló, the Health Minister, outlined the differences between the situation now and that of the first wave in April 2020, as follows:
On April 3rd 2020, there were 386 COVID patients in the ICU wards of Valencian hospitals; on January 18th, there were 505.
On April 3rd 2020, there were 2,189 COVID patients in acute care wards; on January 18th, there were 3,829.
The new measures, announced today Tuesday and which take effect on Thursday 21st January for at least 14 days, are:
Bars and restaurants must close but they can offer take-away and home delivery services.

Cafeterías in hotels can remain open for clients only and with reduced capacity.

Non-essential shops and businesses must close at 6.00pm. The exceptions are food, such as supermarkets, pharmacies, orthopedics, opticians, hairdressers, and vets.

Sports facilities must close, except for professional athletes and official state competitions.

Sports centres, clubs, gymnasiums, training centres and sports complexes are closed.

Casinos, gambling and bingo venues and betting shops must be closed.

The curfew remains at 10.00pm, but is subject to an agreement to bring it forward being passed at the Interterritorial Council tomorrow Wednesday.
Click below to read the original transcript from Xàbia AL DIA

---