Xàbia Council reacts to significant rise in infections with new measures
Cultural and sporting events have been suspended, including the Volta a la Marina and Granadella Trail.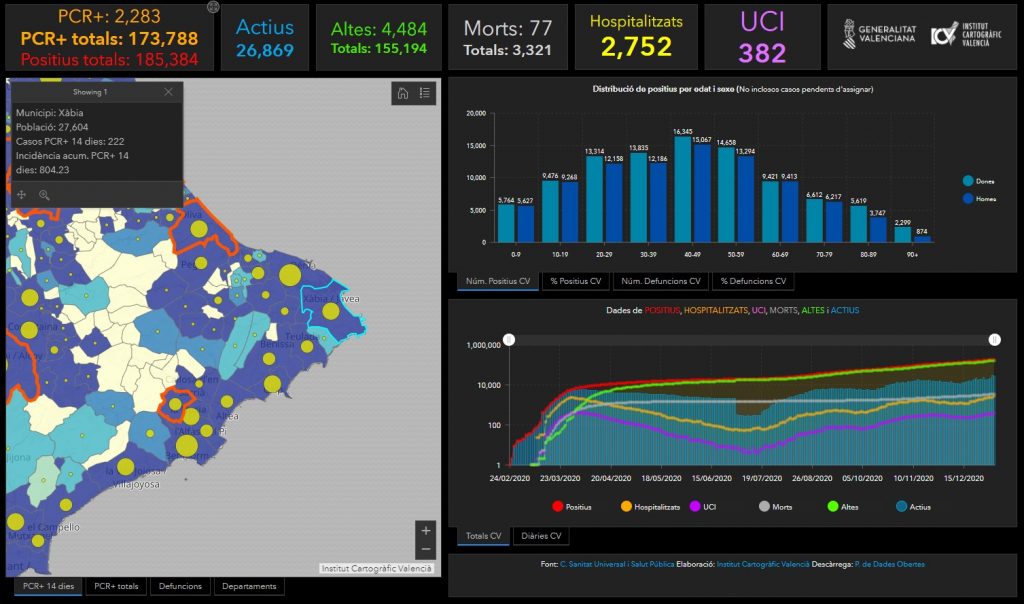 Tuesday 12th January 2021 | MIKE SMITH
Xàbia Council has reacted to the significant increase of positive cases of COVID-19 in Xàbia, as well as the increase in the number of people in isolation, by issuing a number of new measures.
A press release by the Council is warning that the town has reached a "critical moment" which is the worst – by far – since the start of the pandemic last March. The number of active cases has doubled since last Friday and the cumulative rate (the number of new cases of COVID-19 per 100,000 inhabitants over the past 14 days) has surpassed the 800 mark.
The situation in the Marina Alta region is also at a critical time with the regional hospital in Dénia in a very complicated position, having been forced to expand its ICU beds from 14 to 34 as well as the number of beds in its general wards just to treat COVID-19 patients.
The new municipal measures announced are:
The municipal cultural programme (concerts, theatre performance and book presentations) has been suspended until at least February.
All municipal sports facilities will be closed, except for federated athletes and those who have active competitions.
The Volta a la Marina and Granadella Trail sporting events are suspended until further notice.
All municipal spaces are closed to the use by associations.
The Council will be cleaning and disinfecting public spaces with greater frequency of use.
Face masks will continue to be distributed to essential groups and social associations that serve vulnerable groups.
These measures are in addition to those that have been put in force across the region by the Generalitat Valenciana.
The Council calls on citizens of Xàbia to work on reducing social contacts, keeping them to a minimum, and issued the following message:
"It is ESSENTIAL that we all commit ourselves to comply with hygienic measures (put on a mask, respect distances and wash our hands) and, above all, to reduce social contacts to a minimum to stop this worrying rate of spread.

Think of the great economic sacrifice that many people are making, including those who work in one of the most important sectors of our population: the hospitality industry.

It is irresponsible to transfer social interaction that is not allowed in a restaurant or bar to private spaces, where no one is around to ensure compliance with health and social distance measures.

Protect your health and thus you will protect that of your family and friends."
---