Work to replace mooring piers in the port of Xàbia has been completed
The regional government carried out the project at a cost of some 760,000 euros.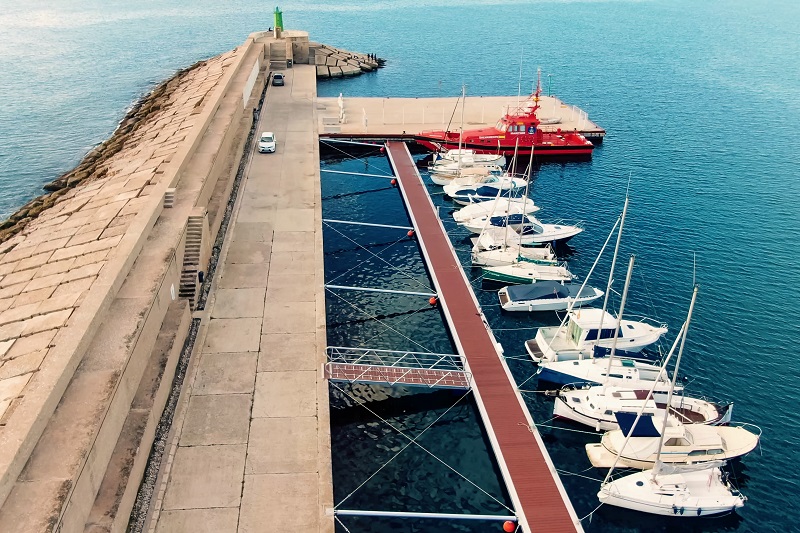 Monday 18th October 2021 – XÀBIA AL DÍA with Mike Smith
---
The Department of Territorial Policy, Public Works and Mobility at the Generalitat Valenciana has completed the work to install new piers along the eastern harbour wall in the port of Xàbia (the green lighthouse), a project which had an investment of 760,000 euros.
Past storms caused significant damage in the port of Jávea, specifically in the area of ​​directly managed moorings located on the eastern harbour wall, so the regional government had to undertake emergency works on this mooring area to guarantee the normality and safety in the port.
In a statement, the responsible regional secretary Arcadi Spain stressed that "safety is a fundamental aspect in the management of the Generalitat's ports" adding that "lost time is being recovered after many years in which it had not been invested in the ports of the Comunidad Valenciana or for their normal maintenance".
In this sense, the secretary highlighted that the budget of 1.7 million euros that the regional government has invested to rebuild and stabilize a section of slope between Calle La Caleta and the Port of Xàbia that presented a risk for pedestrians and vehicles also due to the damage suffered during the storms.
She pointed out that this work "involves its integration into the environment, with a green space in the upper area and with the cladding with a vertical garden plant facade combined with the use of the masonry of the place to avoid impact of the anchored concrete plates on the landscape".
On its Twitter account, the Department published a small video showcasing the finished project. They forgot to show what it looked like before the work began …
⛵ La Conselleria d'Obres Públiques finalitza la reposició dels pantalans del port de Xàbia

ℹ Els passats temporals van ocasionar danys d'entitat en la zona d'amarraments de gestió directa situats en el dic de Llevant

📋 https://t.co/BbsBop4UiM @generalitat @ArcadiSD @malui_mm pic.twitter.com/UIrn8bIX3B

— GVA Política Territorial Obres Públiques Mobilitat (@GVAterritori) October 16, 2021
---
Related Links
---

---