Woman evacuated by helicopter after breaking her leg when she slipped in Cova Tallada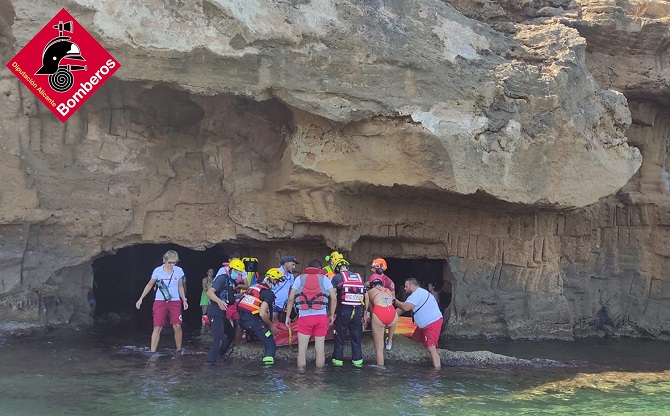 Friday 27th August 2021 – XÀBIA AL DIA with Mike Smith
---
A 33-year-old female kayaker was evacuated from Cova Tallada after breaking her leg when she slipped on one of the rocks at the entrance to the famous sea cave.
Medics from the Cruz Roja de Dénia were deployed to treat the woman, accompanied by the Policía Local de Dénia, and they made an initial analysis which confirmed that injuries had been suffered to the woman's tibia and fibula as well as low blood pressure and showing signs of hypothermia.
The rescuers first considered evacuating the woman by sea, but her poor condition meant that it was decided to do so by air. The Alpha 1 helicopter from the Provincial Fire Brigade was mobilized and once it has arrived at Cova Tallada, the paramedics were able to administer painkillers to the woman before she was airlifted to the helicopter and taken to the hospital in Dénia.
At the time of writing, no further details of her health has been revealed.
---

---