Vox will stand in the municipal elections in Xàbia in May 2023
Vox: "We have a group which is willing to help" the residents of Xàbia.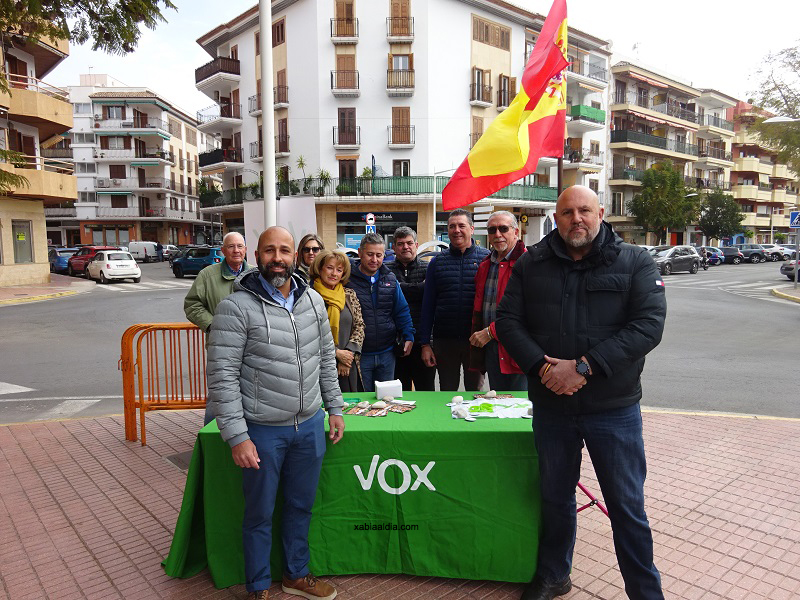 ---
Monday 28th February 2022 – Mike Smith
Translated from an original article by Carlos López in Xàbia AL DÍA
---
There will be a new party in the next municipal elections. Vox, the conservative nationalist party, considered right-wing to far right in its policies, made its first public appearance in Xàbia last Saturday when it mounted an information table in the port zone of the town.
Pedro Amat, the VOX coordinator for Xàbia, and Félix Redondo, the party regional coordinator, were joined by several party members to present their policies to the public, which, Amat explained, had the intention to create "a direct contact with residents" and let them know that "we have a group that is willing to help them". He also confirmed that Vox will stand in the municipal elections in May 2023 and will be promoting "a change that Jávea deserves", explaining that the party will be presented its list of candidates which will be filled the trained and committed people who can offer that change.
Félix Redondo explained that Vox intends to make their presence known in the most important town in the Marina Alta and had already visited Dénia, Calp, Benissa and Pedreguer and stressed that the growth of the party in the region will be "little by little".
Vox and Xàbia – The Data
In the last general election in November 2019, Vox claimed third place in Xàbia, attracting 1,483 votes (17.86%) behind the PSPV (2,201 votes) and the PP (1,975 votes). This was a significant increase in support on the general election of April 2019 in which Vox received 958 votes.
At the provincial level, Vox has three representatives in Alicante and a total of 52 in Congress.
In the regional elections for the Generalitat Valenciana, held in April 2019, Vox obtained 795 votes in Xàbia, the sixth most popular party behind the PSPV (2,474 votes), the PP (1,599 votes), Cs (1,481 votes), Compromís (1,329 votes) and Unides Podem (809 votes).
---
---

---