Unemployment in the Marina Alta is at its worst level for ten years
Almost 15,000 people are registered as unemployment in the Marina Alta, 383 more than January.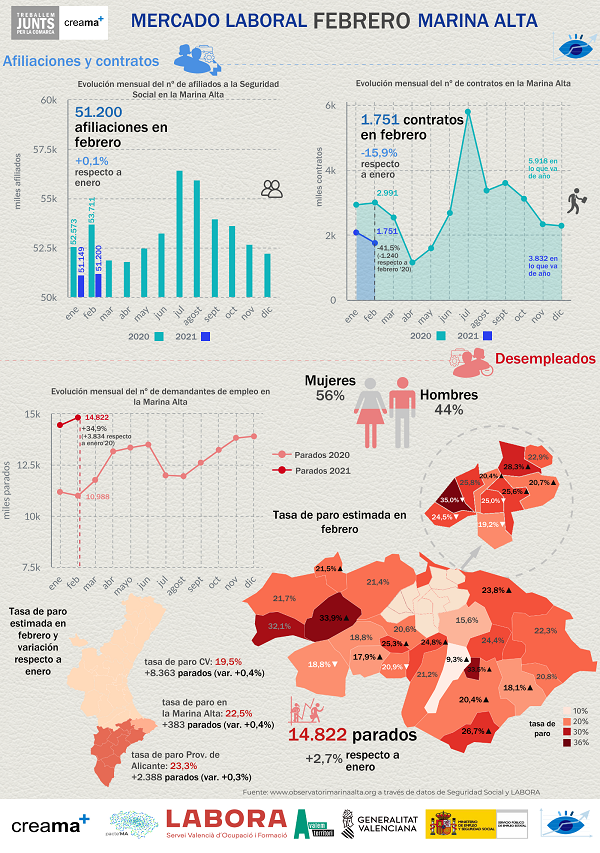 Wednesday 17th March 2021 | ALVARO MONFORT translated by MIKE SMITH
The analysis of CREAMA is conclusive: "It is difficult to find positive data for the month of February. There is bad news in social security registration, registered unemployment, hiring and ERTE." In a month traditionally characterized by an increase in registration to Social Security and a relatively neutral behaviour in unemployment, it has been characterized by stagnation and an increase in unemployment.
Last month recorded 14,822 unemployed in La Marina Alta, 383 more people than in January. It is the highest figure in the last five years and, in relative terms, the blackest February in the last ten years.
Despite the fact that unemployment has affected more women (a common trend), the economic crisis of COVID-19 has increased unemployment among men as well. In both population groups there are increases: 37.22% in the case of men and 33.11% in the case of women, compared to a year ago. But if the comparison is made between February and January, the number of unemployed women is higher with 8,297 unemployed (55.98%) than that of men with 6,525 unemployed (44.02%).
Unemployment by Sectors
The Services sector, the main economic engine of the region, is the most affected with 155 more unemployed people from the hospitality industry and 85 more from the commerce sector. This represents an increase of 3.17% compared to January of this year, whilst unemployment in the Industry sector also suffered a rise of 2.27%. Construction is still afloat and has experienced a slight decline with 14 fewer unemployed people. Paradoxically, the traditional agriculture sector has also seen a decrease with 4 fewer unemployed compared to January.
However, according to CREAMA: "if we compare the figures for February 2021 with February 2020, the numbers are much more alarming." The Services sector has increased its number of unemployed people by 2,992 more, Industry and Construction 492 more, and Agriculture and Fisheries by 53.
Social Security Registrations
The increase in registrations in February compared to January was 0.1% (51 more people throughout La Marina Alta). This, added to everything that has already happened in the last twelve months, represents a total of 2,511 registrations in one year, a negligible figure for a region like the Marina Alta.
And it is a pity, because in February of last year, before the maelstrom that followed, the region was experiencing an unusual growth in employment (2.2% more than in February 2019) as it was the middle of the low season and that, in four months, fell by 8.15% according to data from CREAMA. The lukewarm recovery that has been taking place in recent months has been truncated in the last month.
The General Regime (to which the majority of employed persons contribute) lost 167 registrations and added a total of 31,867 taxpayers in February, 7.95% less than in 2020. Meanwhile, the self-employed increased again with respect to as of January, reaching 17,035 registrations.
The ERTE Situation in La Marina Alta
The second month of the year has added 206 new ERTE admissions, which represents an increase of approximately 686 workers affected. Since the beginning of the economic crisis, 3,716 ERTE have been requested in the region, affecting almost 15,582 people registered with Social Security. An indication of the type of convulsive situation that the residents of La Marina Alta are going through.
The great weight of concessions is maintained in the activities of the Services sector (90%). Specifically in restaurants and food stalls (26%), drinking establishments (13%), hairdressers and beauty treatments (5%) and vehicle workshops (3%) among others.
Contracts
In February, the negative trend in contracts continued. There is a global drop of 1,240 contracts less than in the same month last year and a decrease of 330 less than in January 2021.
---
Click below to read the original article in Spanish on Xàbia AL DÍA

---
---