The difference between an early and late diagnosis for glaucoma
As part of its support for World Glaucoma Week (12-18 March), Specsavers Ópticas is urging people to get their eyes tested regularly and are explaining why it is important.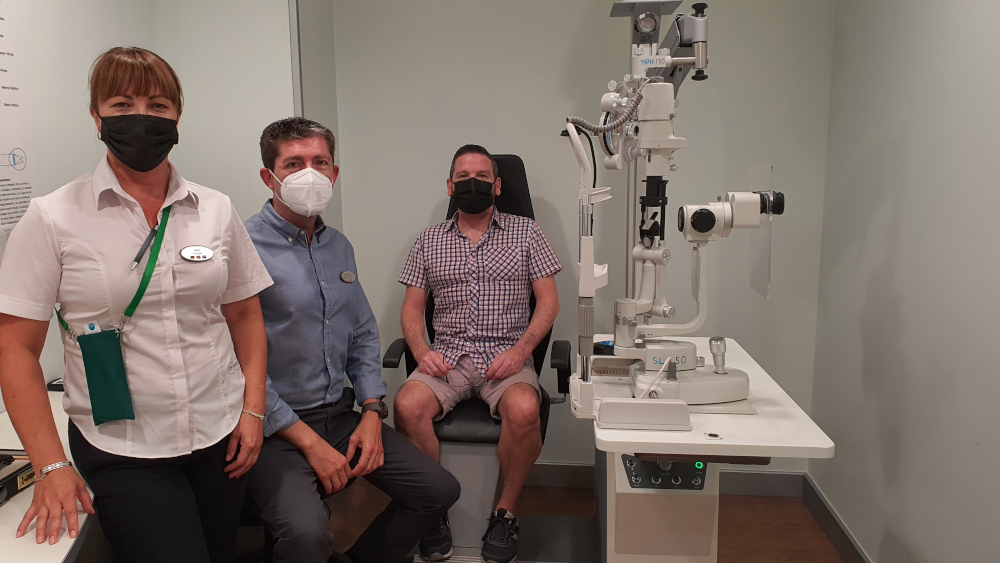 Monday 13th March 2023
Mike Smith
Glaucoma is the world's leading cause of irreversible blindness. As part of its support for World Glaucoma Week (12-18 March), Specsavers Ópticas is urging people to get their eyes tested regularly and are explaining why it is important. They are sharing three stories of glaucoma and showing what a difference the speed of diagnosis can make to the outcome.
Glaucoma is a common eye condition where the optic nerve, which connects the eye to the brain, becomes damaged. It is usually caused by fluid building up in the front part of the eye, which increases the pressure inside.
It can be treated but early detection is important. If left untreated, glaucoma can cause visual impairment and damage that cannot be reversed. But if it's detected and treated early enough, further damage to vision can be minimised or prevented.
In 2022 Specsavers Ópticas stores in Javea, La Zenia and Fuengirola all shared stories of signs of glaucoma being discovered during routine eye tests, which show the importance of early diagnosis.
Early diagnosis = damage minimised
At Specsavers Ópticas Fuengirola, Ian Elsby went to check whether he could wear contact lenses, just six months after his last eye test. He had no symptoms, his vision was normal and there was no sign of damage to the optic nerve, yet he had high pressure in his eye – also known as intraocular pressure.
Optometrist and store director, Judith Borland explains: 'High pressure in the eye is one of the symptoms of glaucoma, so we gave Ian a letter to take to his doctor and request a referral to an ophthalmologist at his local hospital. He was diagnosed with glaucoma and given drops to use at night to control his eye pressure. Fortunately, he was diagnosed at an early stage and still maintains very good vision.'
Ian adds: 'I had no symptoms and my vision was fine as far as I was aware, I had no family history of glaucoma. So, I was shocked to be told that I could be suffering from it! I didn't really know what it was, or what the outcome could be, until the Specsavers Ópticas team explained the severity of the condition. Once I knew it could cause blindness, I was so happy that they identified it at such an early stage.'
Later diagnosis = Some peripheral vision loss
In Specsavers Ópticas Javea, Willem Koopmans had been experiencing headaches and noticed that his eyesight was getting worse, but put it down to just needing new glasses. However, during a comprehensive eye test, the team noticed signs of glaucoma, including a deep excavation of the optic nerve in his left eye, which had damaged his peripheral vision. They gave him an urgent referral to San Carlos private hospital, who diagnosed the glaucoma and started Mr Koopmans on treatment.
Optometrist and store director, Cecilia Navarro explains: 'Thankfully now that he is on treatment the optic nerve excavation will not get any worse and overall, his vision remains good. However, he would have lost a lot more vision if he hadn't had his eyes tested and urgently sought medical attention.
'Vision loss from glaucoma is irreversible, which is why we encourage people to have their eyes tested every two years and come in as soon as they notice changes to their vision or headaches. Early diagnosis is key to saving sight!'
Leaving glaucoma too long = Significant permanent vision loss
Unfortunately, if left too late, severe and permanent damage can be caused, as was shown in the case of Douglas Addison. Mr Addison had a family history of glaucoma and was first diagnosed with it 10 years ago, but thought it was under control. In 2021 he noticed he was losing his peripheral vision, a common sign that the glaucoma is permanently damaging sight, and booked an eye test at Specsavers Ópticas in La Zenia. During the test the optometrist found that his eye pressure was extremely high, they urgently referred Mr Addison to hospital where they confirmed his diagnosis and performed a surgical procedure to stop the glaucoma getting worse.
Unfortunately, he lost 75% of the vision in his right eye. But Mr Addison remains very grateful to the team at the La Zenia store for the referral, and the surgical team who stopped him losing vision in both eyes.
'I have lost 75% of my vision in my right eye and am left with permanently hazy vision. I would say to anyone who hasn't had their eyes tested before, or hasn't had their eyes tested for a while, please do it. It is very, very important. Vision loss can happen to anyone, so don't take your sight for granted.
'I'd also like to say a big thank you to the team. If their optometrist hadn't sent me to A&E, I would be blind. While I did lose sight in one eye, I can lead a full life and am so grateful that with the operation and treatment my vision won't get worse.'
The experts at Specsavers Ópticas hope that by sharing these three cases, people will be encouraged to get their eyes tested in March, as part of World Glaucoma Week.
Regular check-ups with Specsavers Ópticas can help you to maintain clear and comfortable vision. For most people, it's advisable to have an eye test every two years, but it's best to attend earlier if any eye problems occur or if advised by your optometrist. Visit www.specsavers.es to find your nearest store and book an eye test.
---
---