The 30th anniversary of ARS NOVA starts with its Choral Festival
The festival will feature two concerts inside the church of San Bartolomé in the heart of the historic centre of town.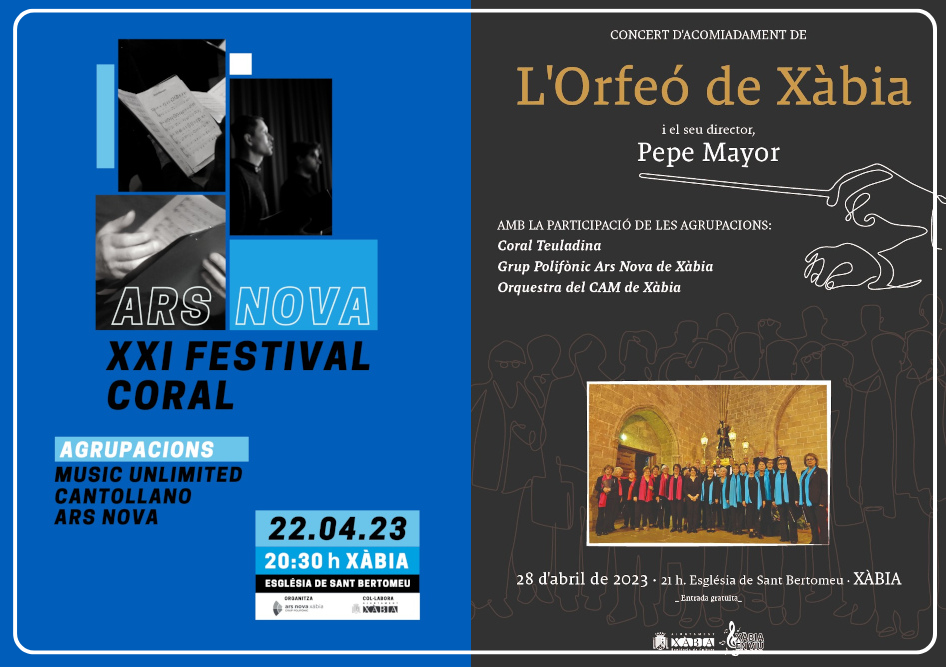 Wednesday 19th April 2023
Mike Smith
Source: Ajuntament de Xàbia
The ARS NOVA choral group kicks off its 30th anniversary with the 21st edition of the Choral Festival that bears its name, one of the key musical events in the town which will have two choral groups performing that stand out for their quality and professionalism.
Saturday 22nd April, 8.30pm · Iglesia de San Bartolomé
ARS NOVA will join with Music Unlimited and Cantollano for the opening concert of the festival inside the church of San Bartolomé in the heart of the historic centre of town. Music Unlimited were formed in 2012 and, as it names suggests, the choral group performs all kind of styles from renaissance to folk music to modern compositions. Chamber Group Cantollano was founded in 1992 and have performed a number of ambitious repertoires featuring a capella as well as chamber and symphonic-choral compositions.
The performance, entitled "Sons de la Terra", features works including "Sator" by Norwegian Bodvar D Moe, written in response to the New York terrorist attacks of September 11th 2001; "Tres Epitafios" by Rodolfo Halffter which reflects how the figure of Don Quixote was very present in the memories that the exiled Spanish carried to Mexico; "Cançó de Renaixença" by Manuel Palau, highlighting the patriotic feeling of being Valencian; and, finally, "Canto Negro" by Xavier Montsalvatge" which focises on songs from the Spanish colonies.
Friday 28th April, 9.00pm · Iglesia de San Bartolomé
The following week, there will be a special Farewell Concert to the Orfeón de Xàbia, performed by ARS NOVA with the collaboration of Coral Teuladina and the orchestra of CAM Xàbia. The performance features "Neguan Orbela" by Xabier Sarasola, based on a poem by Mikel Sarriegi that talks about the end of winter and the beginning of spring and how bad and negative things will also pass and be overcome again. There will also be a performance of "Ave Maria" by Josu Elberdin, a piece of great beauty with long and dense melodic lines and colourful harmony, which is presented as a tribute to the Virgin Mary for caring and educating her son, the Saviour of the World.
---
---