For a few brief hours on the morning of December 22nd many Spanish eyes and ears will be glued to the nearest television set or radio, whether they be at home, in a bar or even sitting at work. On that day, as has been the case every December 22nd for years, the biggest lottery in the world will be drawn. By the end of the day, someone's life will have been changed, a perfect start to Christmas. This is 'El Gordo' – the famous Christmas National Lottery.
---
What is it?
The Lotería Nacional de Navidad is the second longest continuously running lottery in the world (behind the Netherland's 'Staatsloterij'), having been organised every year since 1812, but in terms of prize money, it is considered the biggest in the world with a prize fund of some 2.5 billion euros to be claimed each year (if all tickets are sold).
Tickets are not cheap but the odds of just getting your money back are 1 in 10 whilst those for winning the top prize 'El Gordo' are 1 in 100,000. (The odds of winning the top prize in EuroMillions are now 1 in 5 million.) So you can see why much of the population prefers to play the national lottery in Spain and it estimated that 98% of adults in the country participate each year, whether it be with full tickets or shares in those tickets.
---
The Tickets and The Shares
The lottery is based on a maximum of 100,000 uniquely-numbered tickets known as 'billetes' in the range 00.000 to 99.999. Each ticket is printed multiple times and divided into individually-numbered 'series'. For the 2023 draw there will be 180 'series' per ticket number which means that 18 million tickets were available to buy. They are normally available from mid-July.
Each ticket costs 200 euros. This can be quite restrictive to many people so each ticket is divided into ten shares known as 'décimos' which are available to buy at 20 euros each. Thus, the buyer effectively joins a simple syndicate in which they are entitled to 10% of any prize won by that ticket series. Some people buy more shares whilst others choose to buy shares in different ticket numbers to improve their odds of winning. Consequently, for the 2022 draw, there will be 180 million 'décimos' in circulation.
Members of many associations, fiesta commissions, penyas, filas and football clubs will be offering 'décimos', often with a three-euro surcharge on top to raise funds for their particular organisation. Some offer even smaller portions of tickets series known as 'participaciones' which is a share in one 20 euro 'décimo'; if it is a winner then the holder of a 'participación' is entitled to a pre-determined share of the prize, normally 20% of the 'décimo', which has been won by that ticket. It is a common form of fundraising by these associations and commissions.
We have a limited number of décimos available for 23 euros, the 3 euro contribution benefiting Filà Baharis. Please send us a message if you would like to buy one.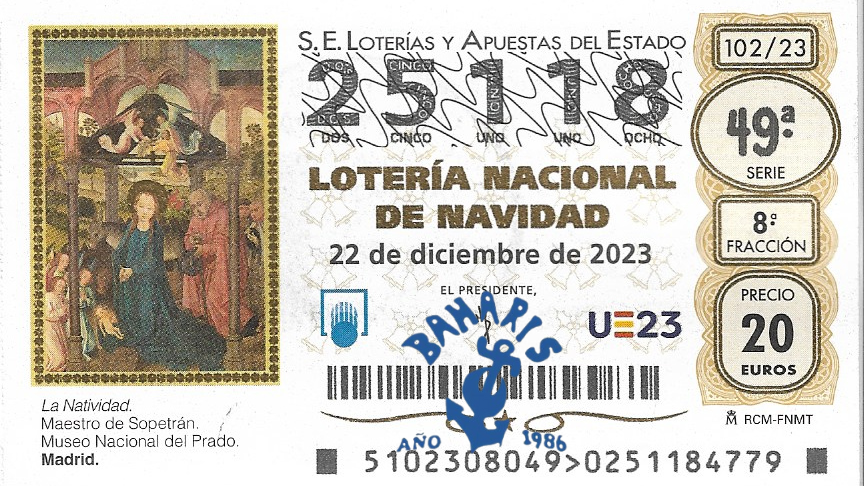 ---
The Prizes (2023)
The prize fund for 2023 will be 2.5 billion euros. There are over 15,300 prizes available. The single top prize – "El Gordo" – is 4 million euros so a décimo bearing the winning ticket number will win 400,000 euros. There is a single second prize of 1.25 million euros (125,000 euros per décimo) and a single third prize worth 500,000 euros (50,000 euros per décimo). There are two fourth prizes of 200,000 euros (20,000 euros) and eight fifth prizes worth 60,000 euros (6,000 euros).
However if your décimo doesn't match any of these winning numbers, there are many other ways to win something in the Christmas lottery. The draw is not a short process. Numbers are constantly drawn which will claim one of 1,794 'pedreas' – literally 'stones' – which are worth 1,000 euros per ticket (100 euros per décimo).
If your ticket number is one below or one above the winning numbers for first, second and third prizes then you'll be able to claim 20,000 euros (2,000 euros), 12,500 euros (1,250 euros) and 9,600 euros (960 euros) respectively.
There are other prizes for matching the last two numbers of the top three prizes and you'll get your money back if you match the last number of the ticket which wins the big one – 'El Gordo'.
You'll even win if your ticket number falls within the same 100 of the top four prizes; for example if the winning number is 25,362, all tickets which end 300-399 will win 1,000 euros (100 euros per décimo).
So you can see why so many people want to be involved in the biggest lottery in the world.
Be aware though that, if you do win one of the big prizes, the government will take its share of your winnings in tax, which is 72,000 euros for the big one, so you'll actually receive 328,000 euros. If you claim second prize, Hacienda will take 17,000 euros and if you win the third prize, it'll take 2,000 euros. Prizes of 20,000 euros (per décimo) are tax-free.
---
The Draw
The draw is held on the morning of December 22nd inside the Teatro Real in Madrid. Two large spherical cages are used, one large and one small. Into the bigger cage are placed 100,000 small wooden balls, each with a unique five-digit number on it from 00.000 to 99.999, representing each of the 100,000 tickets sold. The smaller cage contains 1,807 small wooden balls, each one with a prize in Euros written onto it.
The draw begins at 8.30am in the morning in front of an excited audience, some dressed in lucky fancy dress. Schoolchildren from CEIP San Ildefenso, the second oldest school in Madrid, have drawn the numbers for more than two centuries and they do so by singing. They work in pairs, one singing the winning number and their partner singing the corresponding prize. It's a hypnotic experience and people spend hours staring at the TV screens in bars and restaurants across the country, often clutching their ticket in the hope that they may win 'El Gordo', the big one.
As each number and corresponding prize is drawn, the balls are slid onto wires in frames as pairs (number and prize). Each frame holds 200 pairs of balls and once they are full, they are removed for later presentation and the schoolchildren are replaced by another pair.
When one of the top prizes are drawn, the pair repeat the number and corresponding several times at the front of the stage in front of an excited audience before presenting the balls to a committee at the side of the stage. The balls are placed on revolving stands and mini-cameras confirm the two values to the watching audience before being placed into the frames with the other pairs. It's often an emotional moment for the children as well for it is an honour to draw out the big winners.
Because lottery outlets tend to sell tickets for just one or two numbers, winners of the largest prizes tend to live in the same town or area or even work for the same company. It's a real community experience and almost everyone knows someone who has won something.
The day after, all the main newspapers will run a list of the winning numbers in numerical order with the corresponding prizes alongside the number. You can also check your ticket in one of the lottery shops. And somewhere in Spain, someone will have a little something special for Christmas.
---