Javier de Benito: Sorolla has become a source of inspiration
Last Saturday, a life-sized statue of the famous painter Joaquin Sorolla was unveiled on the promenade that has been renamed in his honour.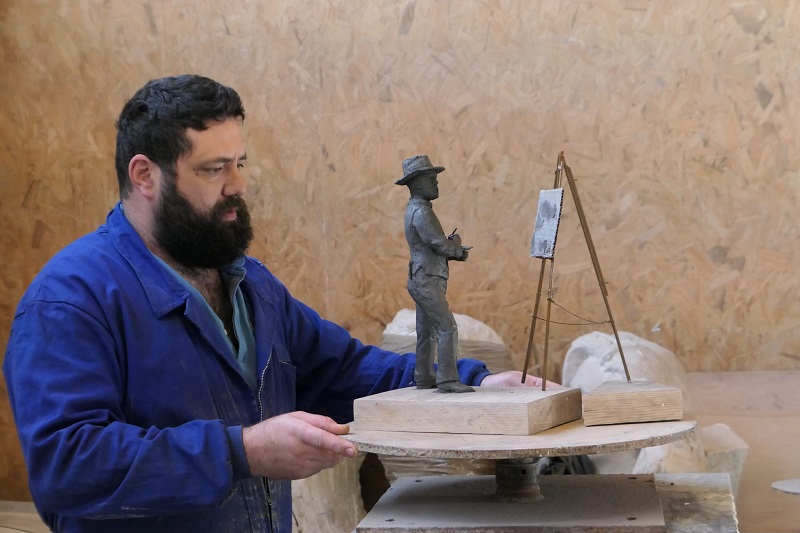 ---
Monday 11th April 2022 – Mike Smith
Source: original article – David Gutiérrez (Xàbia AL DÍA)
---
Xabia AL DÍA collaborator, David Gutiérrez Pulido, interviews Javier de Benito, artist of Joaquín Sorolla's sculpture in Xàbia, accompanied by photographs courtesy of @keilamphotography.
---
Joaquín Sorolla returns to what he considered his paradise to paint, Xàbia, and this time he does so to stay permanently through a sculpture created by the artist Javier de Benito to be remembered on the occasion of the 125th anniversary of his arrival in Xàbia . The work is made in bronze, life-size, and shows the painter in a standing position, with a haughty pose, concentrated, the palette in hand and his characteristic hat on the ground. The work captures a moment when he is looking towards Cape San Antonio, the one he admired so much upon his arrival in 1896, and reflects the moment in which he is capturing it on a canvas on the easel, executing his first landscape painting in Xàbia, El Cabo de San Antonio (1896. Private Collection. BPS 1071).
In the creation of the sculpture, the sculptor wanted to move away from any contemporary monument of abstract lines or personalized versions and instead chose to show a more realistic work, trying to reflect an age of the painter that ranges between 33 and 42 years, when he made his four main visits to the town. In this way, Xàbia Council opted for the tradition that links sculpture with the time in which Sorolla lived, where the great sculptors, such as Mariano Benlliure, created works in stone or bronze to embellish the streets and squares thus paying tribute to their representatives.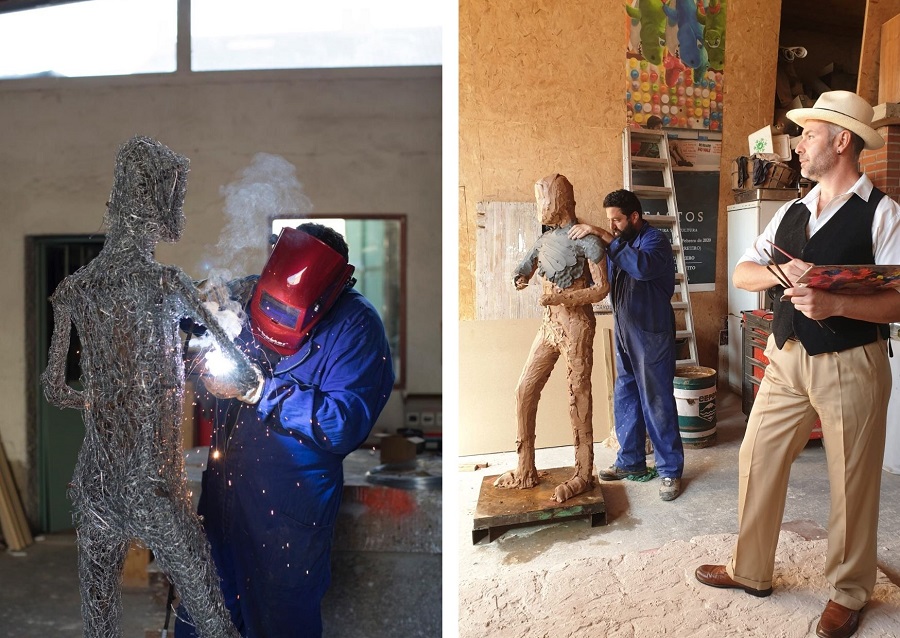 But let Javier de Benito himself be the one who brings us closer to explaining how he created the work and some personal impressions:
Xàbia AL DÍA (XAD): Javier, you are an artist of recognized prestige, with a career that was born in a self-taught way and that you have later developed knowing perfectly the sculptural techniques, but who is Javier de Benito and where does that passion for sculpting come from?
Javier de Benito (JB): Well, someone normal who loves his job where he is always learning, discovering new things and looking for his own sculptural language.
As for the passion for sculpture, I don't know very well when it was born. Since I was a child, I was very interested in architecture since it was the artistic branch that was most within reach linked to my father's company. I was very restless, curious, I really liked drawing, manual work and interacted with all kinds of machinery that I found around me. When my wife started her Fine Arts degree, I realized that the figure of the sculptor was still very present and that is where I discovered my vocation.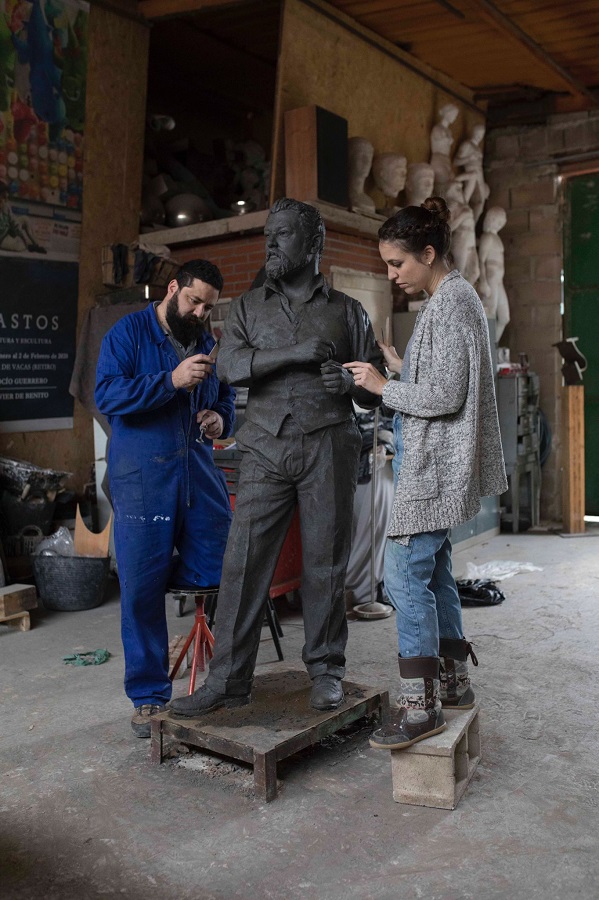 XAD: You trained with the realist sculptor Francisco López Hernández, who in turn follows the realistic sculptural tradition of Mariano Benlliure and José Capuz, both great friends of Joaquín Sorolla. How has it been to face realist work by someone so famous and well-known as Joaquín Sorolla?
JB: The first, of course, has been an honour. It's a very exciting project and at the same time a very important challenge for me. There have been moments of vertigo but they have been solved as the process progressed in the work. Being an artist of such magnitude adds extra pressure that until you face it you are not able to visualize it.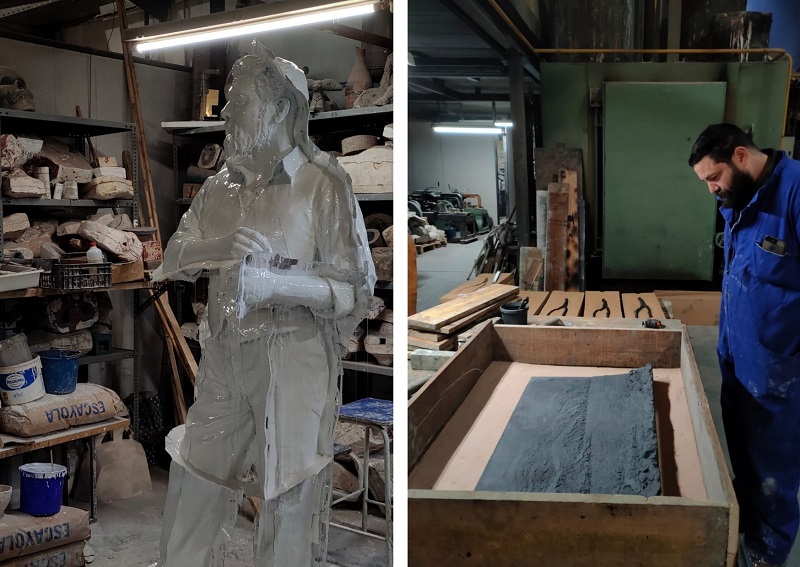 XAD: In the terms of the contract, the creation of a realistic effigy of Joaquín Sorolla was requested between the ages of 33 and 42, which is the period when he visited Xàbia. How has the process been for inspire you to recreate his effigy?
JB: It has been a very laborious process. I have documented myself in a very complete photographic archive of Sorolla where I have found many points of view, inspiration for the pose, clothing, gesture, etc. It has also been a challenge since the best known image of Sorolla is from a more mature age and of which there are many more photographs of him; I, however, have had to create the image of a younger Sorolla and in a stage of life where many physical changes take place.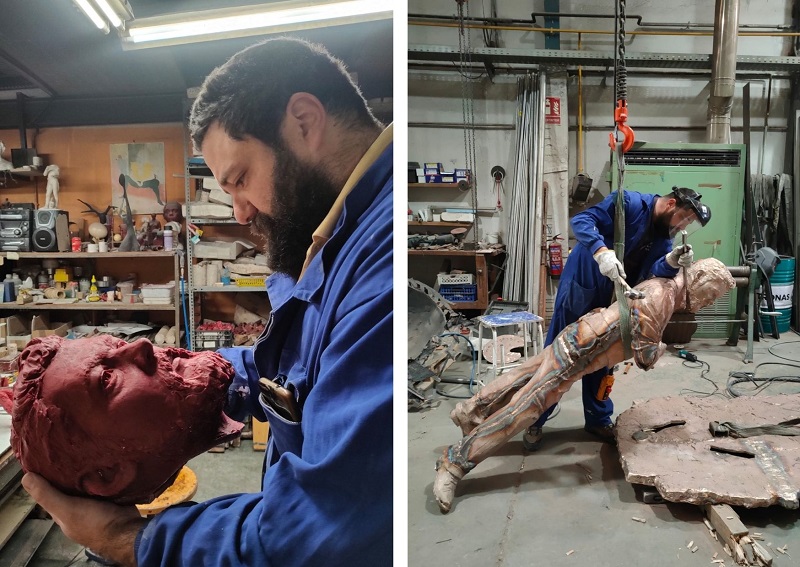 XAD: For the execution of the work, can you summarize for us the process for its creation and what has been the most complicated thing for you?
JB: The process has consisted first of obtaining all the necessary documentation to see the different composition options of the work according to the terms and conditions of the project. Then the sculpture is modeled in clay and, once finished, different molds are made that are positive in wax to later cast in bronze with the lost wax technique. Next, all the pieces are welded and reviewed and the patina is given with the final tone.
In summary, the sculpture is made three times: one in clay, another in wax and the final one in bronze. The most complicated, perhaps, has been the execution of the sculpture in clay, which is where the fine work is defined.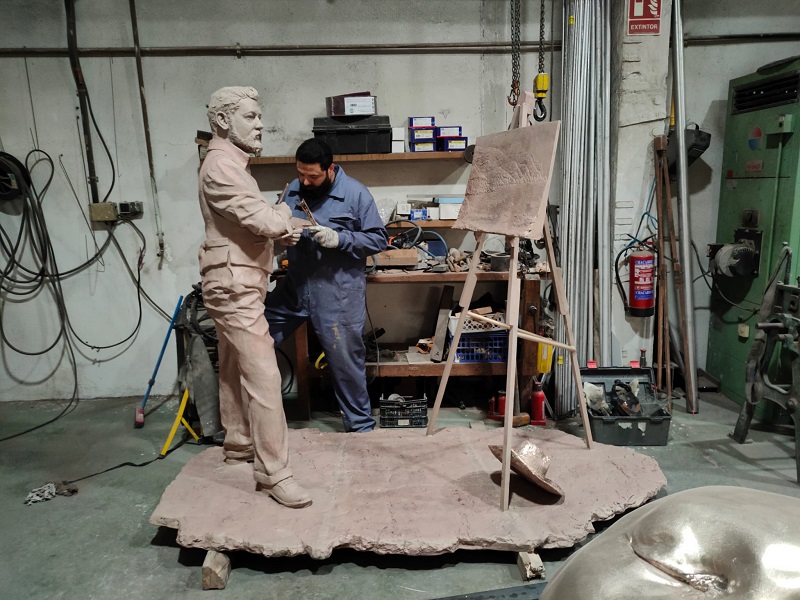 XAD: And lastly, has anything changed in your image of Sorolla after giving him life through clay and bronze?
JB: Of course. Only the documentation work already brings you much closer to the figure of him. When you analyze his portrait you realize the strength he had in his gaze; and by spending so many hours in front of him, you ask yourself questions that you manage to answer by learning more about his life and artistic career. If I liked Sorolla before, now, with a work linked to his figure, it becomes a strong admiration.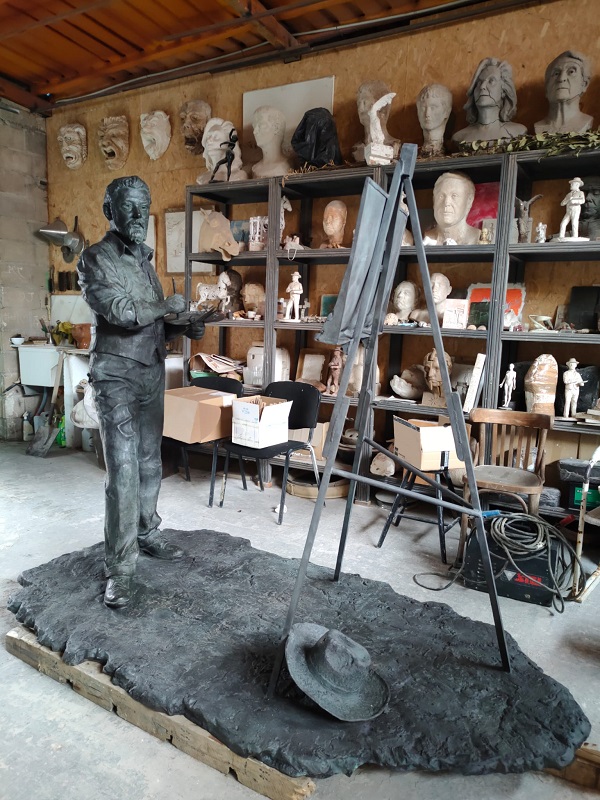 David Gutiérrez Pulido
(Art Historian)
www.sorollajavea.wordpress.com
---
---