Javea Players announce their spring production "Bazaar and Rummage"
Box office now open for this hilarious comedy written by Sue Townsend.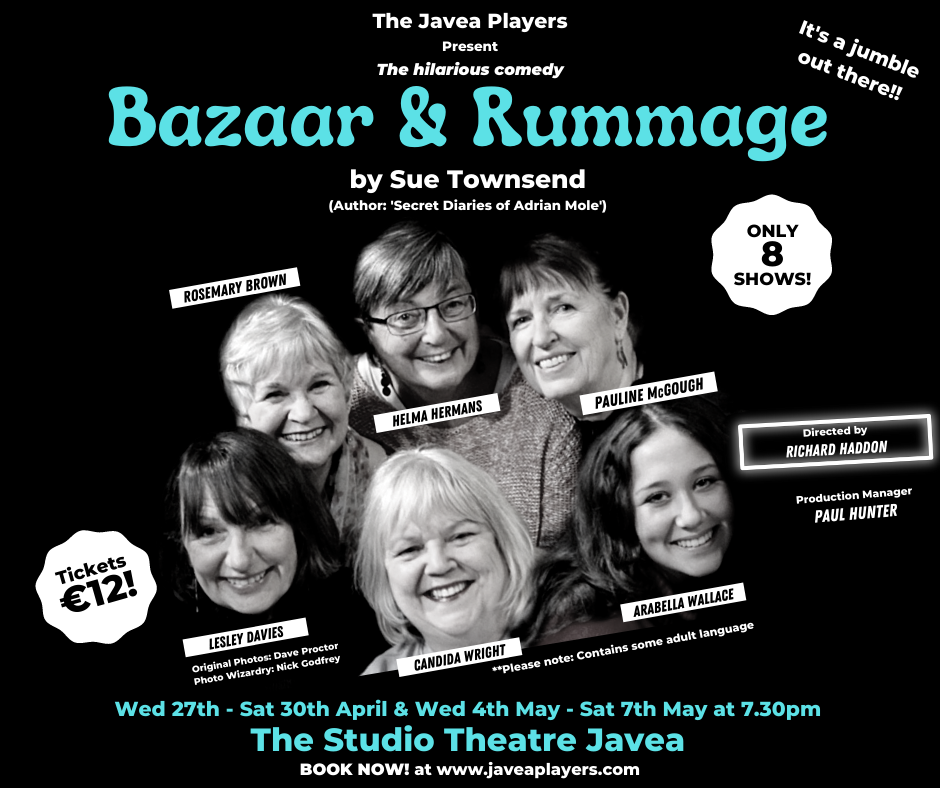 ---
Friday 1st April 2022 – Mike Smith
Source: press release – The Jávea Players
---
Bazaar and Rummage is a hysterical comedy by Sue Townsend (author of The Secret Diary of Adrian Mole Aged 13 and 3/4 and The Queen and I) set in a multi-purpose church hall in Acton, West London. Gwenda, a neurotic do-gooder and trainee social worker Fliss, manage to persuade three agoraphobic women: Katrina, an ex-variety songstress, Margaret, a working-class vulgarian and Bell Bell, a women obsessed by cleaning, to venture out of their homes after several years to run a jumble sale.
Performance Dates at The Javea Players Studio
Wednesday 27th April, 7.30pm
Thursday 28th April, 7.30pm
Friday 29th April, 7.30pm
Saturday 30th April, 7.30pm
Wednesday 4th May, 7.30pm
Thursday 5th May, 7.30pm
Friday 6th May, 7.30pm
Saturday 7th May, 7.30pm
Tickets are priced at 12.00 euros and can be purchased online using this link.
Please note that this play contains some adult language and themes.
Masks will be required.
Seating available for disabled patrons.
The director is Richard Haddon. After 5 years with the National Youth Theatre of Great Britain & drama school, Richard started out as a 'jobbing' actor undertaking numerous minor TV & film roles appearing in Eastenders, The Chief, Last Evensong, Allo, Allo! & The Bill, as well as several films including Kenneth Branagh's Henry V & Provoked. He worked as a letter reader on BBC's Points of View for nearly two years with Anne Robinson.
As a producer, he has produced national tours of the farce When Did You Last See Your Trousers? with Linda Lusardi, Home Truths with Christopher Cazenove (as executive co-producer), and the premier national tour of The Hitchhiker's Guide to the Galaxy Radio Show Live! featuring the original Radio 4 cast.
Extensive work in London's West End in stage management & production including Les Miserables (Queens), The Phantom of the Opera (Her Majesty's), The King & I (Palladium), Grease (Cambridge), Tommy Steele – What a Show! (Prince of Wales), Royal Variety (Palladium) & Oklahoma! (Lyceum).
---