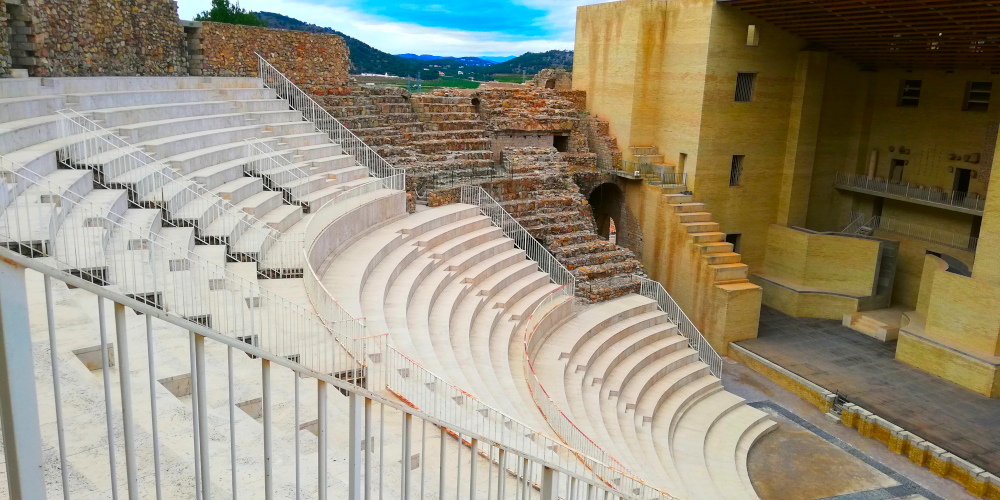 SAGUNTO: AN INTRODUCTION
Sagunto lies some 25 kilometres north of Valencia, a historic town with origins stretching way back to the Iberian period – perhaps further – and one that boasts a fascinating history, with links to Hannibal and the war between Carthage and Rome as well as the Spain's national hero El Cid. Sights to explore and enjoy include the sprawling remains of the castle on top of the hill above the town, the partly-restored Roman theatre, the Gothic architecture and the old Jewish quarter. A visit could be combined with an afternoon on the long sandy beach of Canet d'en Berenguer.
How to get to Sagunto
Sagunto is a 90 minute drive from Xàbia, using the AP-7 north to skirt around Valencia, and then the A-23 / N-340 to the town. Parking is difficult right inside the town – indeed the historic quarter is closed off to traffic – so we recommend parking in Avenida Pianista Mario Monreal near the school, where there are plenty of spaces and it's just a short walk into the town.
WHERE WE STAYED
Domus Amablis – Espai Gaeta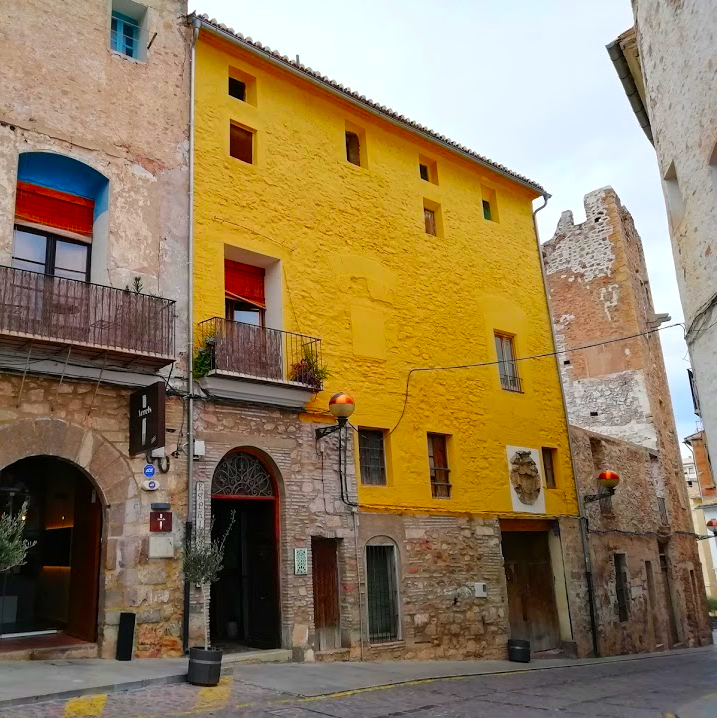 We chose a one-bedroom apartment inside a delightful classic house right in the middle of the historic centre, coloured bright yellow so there's no danger of getting lost on the way home.
The wonderfully Bohemian apartment was very spacious with plenty of facilities, including air-conditioning (hot and cold), fridge, kettle, toastie machine and microwave in the comfortable living room, while the bedroom had a very comfortable bed and a rather small but perfectly adequate bathroom. There are two other apartments in the house so a family or group could have the house to themselves but with a little privacy from each other, if that's desired.
LINK: Domus Amablis – Espai Gaeta (Booking.com)
---
WHAT WE SAW
The Roman Theatre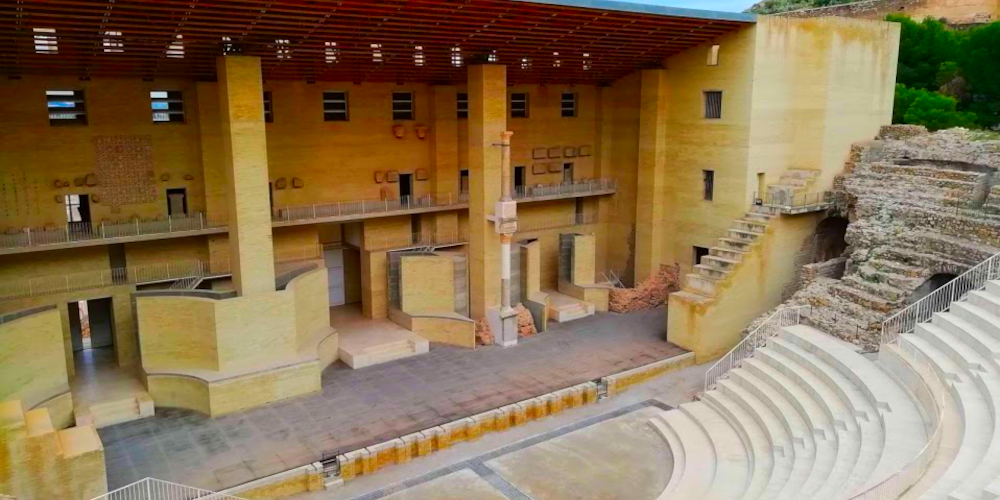 OPENING HOURS
Tuesday to Saturday: 10.00am to 8.00pm (6.00pm October to March)
Sunday and Fiestas: 10.00am to 2.00pm
Closed Mondays, New Year's Day and Christmas Day
ADMISSION
Free
The Roman Theatre was the first historic site to be declared a national monument in Spain back in 1896. Built into a dip in the land, it was constructed in the 1st century CE, suffered damage when blocks were removed to build the castle that sits on the hill above it, but partly restored at the end of the 20th century to become a prime venue for theatre and cultural events.
Entry is free and you can spend some time exploring the site, including the ancient corridors behind the seating area and take a moment to sit down and imagine what it must have been like to have some 8,000 people listening intently to a skilled orator or watching in delight as actors play out the latest dramas.
There are toilets here. If you heading up to the castle, use them, for there are no such facilities on top of the hill.
The Castle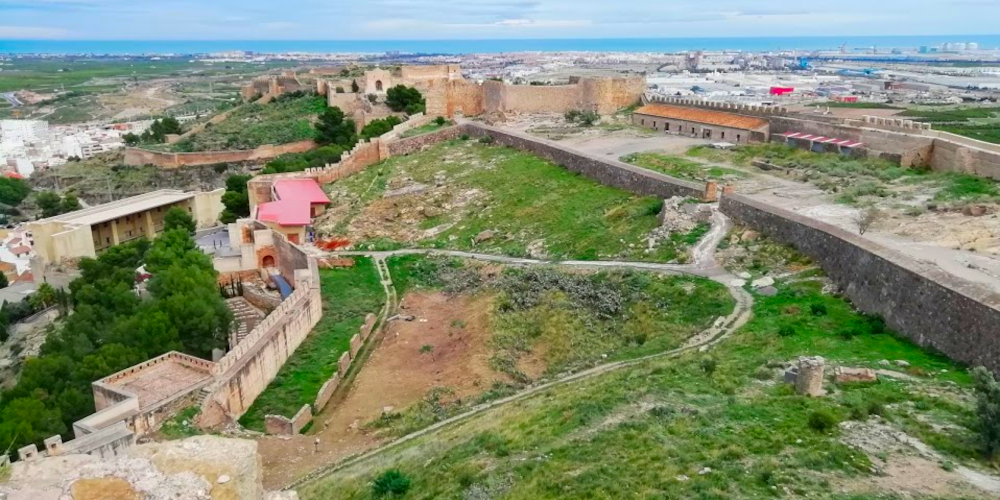 OPENING HOURS
Tuesday to Saturday: 10.00am to 8.00pm (6.00pm October to March)
Sunday and Fiestas: 10.00am to 2.00pm
Closed Mondays
ADMISSION PRICE
Free
Sagunto is probably most famous for its castle, which stretches for some 800m along the top of the hill above the town. The history of the fortress stretches back more than 2,000 years and includes Iberian, Roman and Muslim sections. In 1931 it was declared a National Monument.
There's no charge to get in (although there is a cabin with council officials who simply want to know where you've come from, etc. for reporting purposes) and you could easily spend a couple of hours exploring the complex. In addition, the views are stunning in all directions and, on a clear day, you will be able to spot our mountain of Montgó in the very far distance.
The Sagunto Museum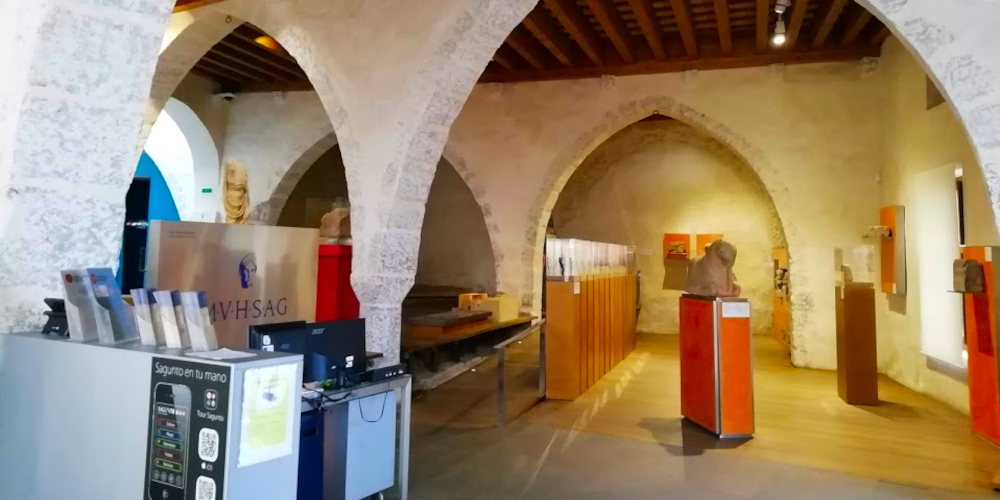 OPENING HOURS
Tuesday to Saturday: 10.00am to 8.00pm (6.00pm October to March)
Sunday and Fiestas: 10.00am to 2.00pm
Closed Mondays
ADMISSION PRICE
Free
The town's museum is right opposite where we stayed (see above) and is located in a 14th century Gothic mansion known as the Casa del Mestre Penya which was declared a National Monument in 1962. It houses the most important collection of archaeological pieces discovered in the town across a couple of floors and is worth seeing for the interior architecture alone as well as the displays telling the early story of Sagunto.
Other Sights
These are the three most prominent attractions to visit in Sagunto, the 'must-do' spots for any trip to the town. There are a number of further sites to visit, best seen as part of a walk around the town and there are various themed walking routes available from the Tourism Office, located in Plaza del Cronista Chabret, the main square.
Remains of the Roman Bridge.
Remains of the gateway to the Roman Circus.
The tower of Carrer de Escipions.
Museum 'Via del Portico', remains of a Roman road
The church of Santa María, 14th century
Casa dels Berenguer, a 14th/15th century palace, now a Visitor Centre
The Jewish Quarter.
The Plaza Mayor.
WHERE WE REPLENISHED
Mesón El Castillo
Ideal for: lunch, dinner, drinks
Located next to our accommodation, this rather unassuming bar-restaurant looks dangerously like it could be a tourist trap but is actually a great little place for both its well-priced and very tasty food and very friendly staff.
El Templo de Diana
Ideal for: lunch, dinner
This is a modest little bar-restaurant located just around the corner from the accommodation, a small and rather unassuming doorway leads into a rather dark but comfortable interior. The menu offers a decent range of tapas and gourmet burgers (for which it is renowned). We had a very nice evening meal here.

LINK: El Templo de Diana
La Taberna de la Serp
Ideal for: drinks
Located just a few steps away from the imposing rear wall of the Roman Theatre, this little bar is a perfect place to enjoy a refreshing drink after exploring the history of Sagunto above it. Look out for the special craft beers on offer. There is also a comfortable wooden terrace outside and a full menu available when the kitchen is open, dishes that have a certain 'Hobbiton' feel about them.
LINK: La Taberna de la Serp
---
OPTIONAL EXTRA
Playa de Canet
If you want to combine exploring history with a relaxing few hours on the beach (weather permitting), the coast is just a ten-minute drive from Sagunto. You could head into the more industrial port area of Sagunto but we found that the Playa de Canet in Canet d'en Berenguer was a much nicer option. There is a wide sandy beach lined with low-rise apartments and restaurants as well as a sports harbour.
---